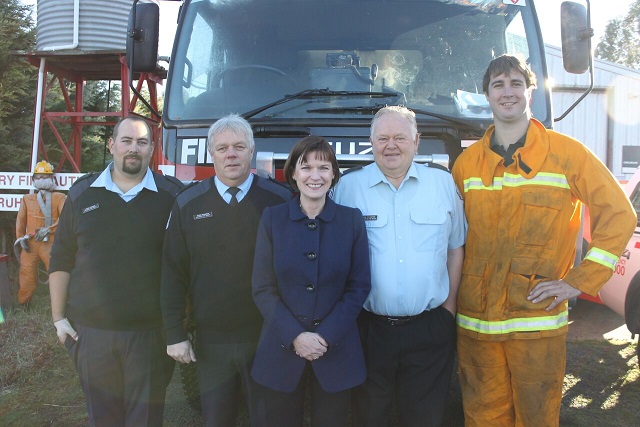 News of a new fire station is an early birthday present for Carlsruhe Fire Brigade as it prepares to celebrate 60 years.
The brigade can expect to settle into a new site next year, calling home to a multi-bay facility with kitchen, meeting room and other enhancements for volunteers, following the surprise announcement of $600,000 allocated in the State Budget.
Brigade captain Peter Baldwin said the news was "one of the best birthday presents the brigade could get".
"We're going now from a shed to a fire station – that's the biggest thing. It will encourage new members and allow us to grow the brigade – we are also looking to get another tanker," he said.
"We're all in a little bit of shock at the moment. It was all kept on the down-low and we didn't know this was coming! It means so much to have something like that in the area."
Kyneton Group Officer John Pearce said the new station would likely move to a new location and would have improved amenities for volunteers.
"They have looked at a number of sites (within the Carlsruhe area) and there are one or two preferred sites and negotiations are taking place at the moment," he said.
"They are looking at a safe location away from the busy road but central to the brigade area."
Making the announcement last week, Macedon MP Mary-Anne Thomas said the energetic and community-minded brigade was growing and deserving of new home.
"The station has got some charm…but let's call a spade a spade: it's a shed," she said.
"We still have some things to decide, like exactly where it (the new station) will be built, but the money is all there and it will be built."
The welcome news almost brought the brigade's former captain of 20 years, Joe Fleming, to tears. Now first lieutenant Mr Fleming was active in a campaign for the site upgrade and his father Joseph was one of the brigade's founding members.
"I've seen a lot of changes in my time with the brigade and this is the best one yet," he told the Express.
"The town is growing, the community is growing so there is a need to update – this is brilliant!"
The brigade now has 54 volunteers and responds to about 80-90 call-outs each year.