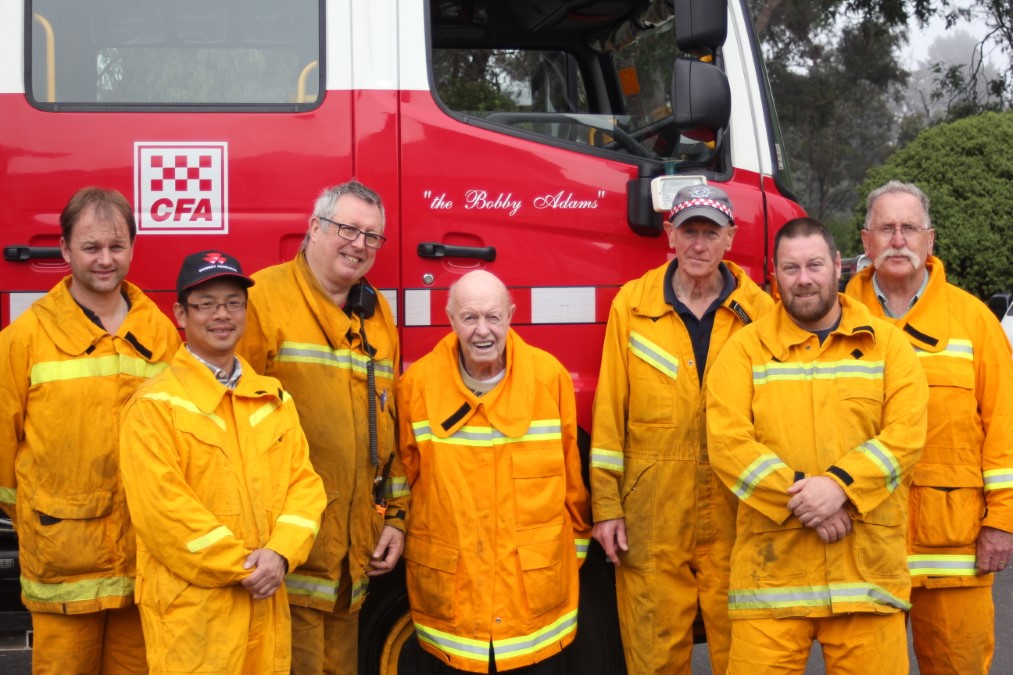 Bobby Adams joined his local brigade to fight fires when he was just 14 years old. Today at 95 he still takes a big interest in his home brigade, Newham, nearly always making a guest appearance at its special events and supporting it strongly financially.
In fact, the newest four-wheel-drive support vehicle the brigade has to back up its two tankers was made largely possible because of a generous donation from Bobby.
But that aside, is Bobby himself. In his room at Bupa in Woodend is his 75-year service medal from the CFA. But that did not create the stir that his 70-year medal did. Nobody had ever achieved that milestone and a new medal had to be created. Others have since followed, but Bobby is the very first in the state to accumulate so many years membership of the CFA and nobody can overtake that!
Newham members wanted to acknowledge their local legend and so now the brigade-owned Tanker Two is known as 'The Bobby Adams'.
The tanker now displays Bobby's name, not once but three times so it certainly won't be missed.
When Bobby was told of his newly created namesake, he really didn't believe it…and it came as something of a surprise when Newham brigade members took the tanker to show Bobby at his home last Sunday morning.
"There it is…it's on it!" Bobby declared with a somewhat delighted grin when he sighted the tanker.
Newham Captain Steve Flounders said the naming of Tanker Two in Bobby's honour was a nice way to be able to acknowledge Bobby's input to the brigade over such a long time.
"It's also a lovely reminder to us, when we turn out, of the path that he forged," Steve said.