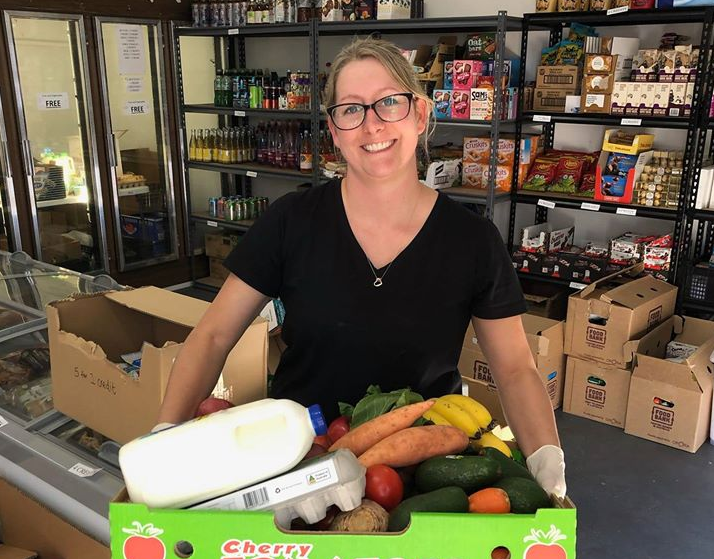 Foodbanks in Kyneton and Gisborne are preparing to meet the changing needs of Macedon Ranges locals amid the coronavirus pandemic.
Kyneton Caring Community's Kerryn Wildenburg said the Kyneton foodbank experienced a spike at the end of March as many workers were stood down and unable to access basic necessities.
Ms Wildenburg anticipates more people will be seeking assistance as time progresses and is working with volunteers to provide options for those in need.
"I don't think that we've seen the full impact of the coronavirus on the financial situation for people yet," she said.
"We want people to know that we're still here to help those who are in need. We've got food here to support the community and together we'll get through this. It will be okay."
With stage three precautions in place, the service has moved to offer deliveries for those unable to leave their homes and is now asking people to make appointments when they visit to ensure packages are made and adhering to social distancing.
The foodbank has had strong support in stocking its shelves and distributing care packages from local farmers, Watts Fresh, TTN Fresh Produce and Zig Zag Winery, among many other generous donors.
Ms Wilenburg said the foodbank was grateful for all financial and food donations. She said volunteers were asking for financial donations to meet some specific shortages and requirements, while food donations in high demand were rice, pasta, pasta sauce and tinned items.
Gisborne Foodbank has experienced a similar change in needs among community members.
Manager Jenny Barnes said volunteers had also begun offering home deliveries of food packages to those in Gisborne and surrounds and were asking people to make appointments ahead of their visit.
"Anyone who is in need is welcomed. People should not worry or feel bad about needing support: a lot of people are finding themselves in difficult circumstances at this time," Ms Barnes said.
"We've had extra people visiting in need of supplies and we've had people donating too. The response from the community has been really good. We are really happy that we have been able to help."
Ms Barnes said donations to the foodbank had been gratefully received, however big or small.
Gisborne volunteers are pre-packing food parcels and adding to them for individual needs.
The Gisborne Foodbank is open each Wednesday and Friday from 10am to 3pm. People wishing to make donations can do so at drop points at Gisborne's Coles and IGA supermarkets.
Kyneton's foodbank is open Monday to Friday from 10am to 3pm.
Local residents can contact the foodbanks to make an appointment or learn more about home delivery options.
POP-UP WOODEND FOODBANK
Ongoing donations have led to a pop-up foodbank operating seven days a week at St Mary's Anglican Church, Woodend.
Rev Melissa Clark is thrilled with the level of support, with her motto for the food bank being: 'Take what you need – Give What you can – Go in Peace'.
The free foodbank operates from 9am to 6pm, and goods are available to anyone who needs them.
Woodend Neighbourhood House and Macedon Ranges Sustainability Group have been collecting items and passing them on to the vicar, and other donors have come forth from around Macedon Ranges.
"Now, more than ever, we need to come together to support those in our community who need our help," Rev Clark said.