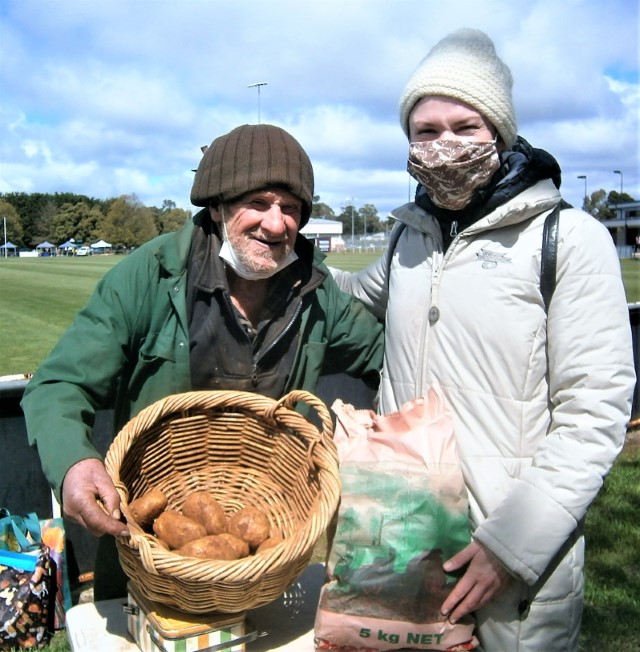 Castlemaine resident Isis Jordan is thrilled to be the new manager for Lancefield and District Farmers Market.
"We all have stories to tell, and I'm committed to honouring and sharing yours," she assured stallholders in the lead-in to the monthly market held at Romsey Park on Saturday.
For the second month in a row, the market was held at Romsey, after uncertainty around whether it could continue to be held at Lancefield because of concerns about the COVID-19 pandemic.
Formerly from Daisy Hill, between Brisbane and the Gold Coast, the new market manager moved to Castlemaine five years ago.
"I'm a dairy farmer who continues to work making artisanal goats' cheese in Sutton Grange, and I find great joy in sharing my product and its story with the general public," she explained.
The award-winning Holy Goat Cheese proprietors encouraged her to apply for the market manager role.
Isis paid tribute to former long term Lancefield Farmers Market manager Meggs Haines, stating she had made an extraordinary contribution to the life and spirit of the popular market.
"Without her leadership and conviction, we would not have this beautiful market, or benefit from the connection to community it cultivates.
"Thank you Meggs, and the Lancefield Neighbourhood House, for nurturing a space for authentic, local producers to share our bounty in a sustainable way."
Meggs Haines came to the district and worked in vineyards, and originated the idea of utilising the centre plantation in Lancefield's High Street for a farmers market.
While there were initially plenty of sceptics about the idea, the neighbourhood house provided its backing and the market grew into one of the most successful in the state.
Weekend regional Victoria welcomed the return of primary producers who sell non-food products, and also the non-food speciality makers.
Saturday morning brought mixed blessings weather-wise for the market, with stallholders spread around the oval perimeter. Patrons were required to observe pandemic protocols.