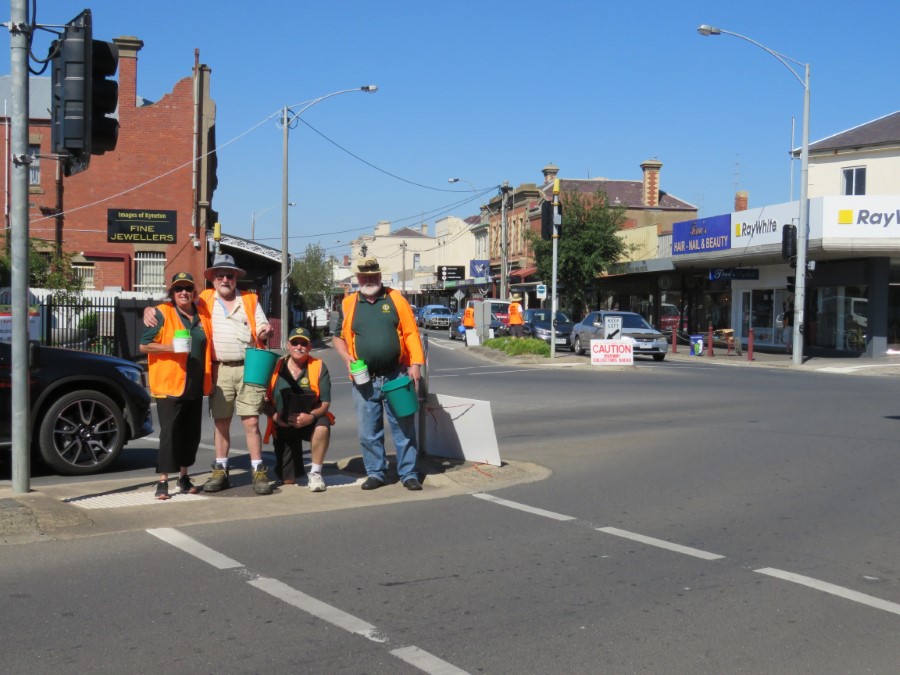 After a COVID-enforced hiatus in 2020, tin rattlers at the traffic lights and street walkers were back, collecting for the Royal Children's Hospital Good Friday Appeal from residents and holiday travellers throughout the Macedon Ranges and beyond.
More than $18,500 was collected from the Kyneton area, with Kyneton cubs and scouts, fire brigade and residents walking the streets for the cause, adding to the state-wide total of more than $17 million.
Kyneton's area manager Roley Sandilands said "it was a great result, one in which all who contributed should be very proud". He thanked all the volunteer collectors who helped out, and of course all those who donated.
Mr Roley said the Lions Club collectors at the Mollison Street/ High Street traffic lights did a fantastic job collecting $7502.75 on Thursday and Friday.
District fire brigades were out collecting again, with Taradale raising $1048.85, Metcalfe $1735,40, and Tylden $250.
Woolworths raised $2587 throughout the year, and Kyneton's RSL raised more than $1700, while Tyquin Earthmoving collected $1900.35 and of course many businesses around town returned full tins of donations collected throughout the year.
Mr Roley thanked the Commonwealth Bank, Agricultural Society, Midland Express and Kyneton Police, who offer support and assistance for the appeal each year.
Macedon Fire Brigade reported collecting $2494.10 through their members and virtual tin, Woodend Fire Brigade reached $14,520 and Gisborne Fire Brigade raised $15,222.90.
Gisborne Fire Brigade thanked the New Gisborne Scouts for providing ground troops, senior and junior brigade members, Gisbus for providing three buses for the day to ferry troops around, and Goodstart Early Learning New Gisborne for providing staff to serve troops lunch.
Gisborne's Williamson's Foodworks raised a whopping $25,000 for the appeal, bringing the store's grand total raised to date up to $200,000.
The store held a family fun day on Good Friday with a range of activities including a visit from the Easter Bunny.
The store's staff donated their day's wages for the cause and residents contributed to the total through their regular shopping, with a percentage donated, and generous donations.
Woodend and district residents also threw their support behind Theo Tullio's virtual tin, which had raised $11,751 by Monday morning.
Young Theo, a Woodend resident, was born with bilateral renal cystic dysplasia and requires regular visits to The Royal Children's Hospital to manage his kidney condition in the lead up to his kidney transplant.
Theo's tin shake also included a huge raffle of prizes donated from many local businesses and individuals.
Other strong performing virtual tins included Woodend's town tin with $1809, Romsey's town tin with $1806, Macedon Ranges Early Learning Centre with $3056 and Springfield Fire Brigade with $1127.
In Mount Alexander Shire, the dedicated volunteers from the Castlemaine Fire Brigade were out in force last Thursday collecting funds outside Maxi IGA Castlemaine, Castlemaine News and Lotto and Castlemaine IGA in Barker Street. They were also at the intersection of Barker and Forest Streets on Friday and invited community members to also drop into the fire station to drop off their contributions throughout the day.
Brigade member and local RCH collection coordinator Bill Maltby said the brigade was proud to collect $11,686.95 thanks to the generosity of the community and those visiting the region for the Castlemaine State Festival, Castlemaine Fringe Festival and Maldon Easter Fair celebrations.
At Newstead the local brigade was also out and about collecting funds from community members and those passing through including members and visitors at Welshmans Reef Caravan Park. The brigade was proud to collect a total of $4500 towards the CFA's total of more than $1 million.