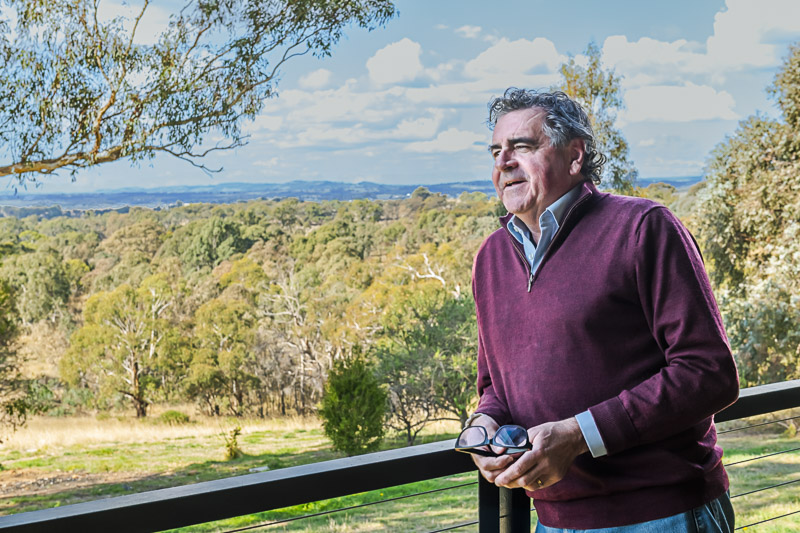 Barfold's Andrew Ferrington is the Kyneton Agricultural Society's new president.

It is one of the oldest continuous agricultural societies in the state, formed in 1856.

"I am honoured and flattered," Mr Ferrington said. "This will be the 160th show so it's an extraordinary time to be here."

The first Kyneton Show was in November 1858, making it one of the longest running shows in the state.

"The show is a pivotal thing for the community and we have not had one for two years," Mr Ferrington said.

The society held a free fireworks extravaganza instead of the show last November. It was the first significant community gathering after two years of COVID restrictions.

"The atmosphere that night was fabulous, with everyone just enjoying being out again," Mr Ferrington said.

"There was a real need for that community connection and people meeting together and lots of people travelled to enjoy it too.

"It was a down payment on the show to come, to remind everyone that we're still here and that we will be back in November."

Josephine Rutledge continues as show secretary, having started in 2012. She maintains decades of commitment to the ag society by Baynton's O'Sullivan family.

Grandfather Bartholemew O'Sullivan joined the committee in 1958, followed by her father Michael senior and eldest brother Michael who both served as president.

Mr Ferrington is chair of the Barfold Hall committee and a member of the local CFA.

He and wife Deb moved to Barfold from Melbourne 16 years ago.

"We thought, 'This is it!'" he said. "It was love at first sight when we saw the landscape and that area."

They have poultry and bees, while Mr Ferrington works full-time as a financial services consultant in Melbourne.

He said the ag society celebrated the area's long agricultural history as well as the newer crop of tree changers like him and smaller scale farmers.

"The show embraces them all, the diversity of the district and the town," Mr Ferrington said.

"It's successful because it's inclusive, with something for everyone, all ages and abilities, and because it's affordable.
"It's a valued show. It's as much about people as animals."

The 160th Kyneton Show will be held November 18 and 19.