You'd be surprised at the number of famous people living just down the road, in hidden little valleys, tucked away in the bush, or living in plain sight. From the super famous to the somewhat famous, and even the famous adjacent, we're going to bring you their stories in this monthly column.
This month features musician and actor Tim Rogers, best known as the front man for the rock band You Am I. Tim talks to the Express about his journey into music, how he met his wife, his pride in his daughter and his love of cricket.
Tim and his wife Alice had the most extraordinary 'meet cute'. Many years ago, Tim was travelling on a plane and when it hit a patch of turbulence, Tim picked up an inflight magazine to distract himself, and saw a photo and article about Alice's work with the Australian Ballet.
"I was probably a few jars in, but I just concentrated on the photo of her and thought, 'that's someone I can trust'," Tim said.
"Ogling someone in a magazine – I could put it that way, but it definitely wasn't. It was reading the way that she talked about her art, her craft. I got a lovely sense of peace, but also dynamism."
Months went by and when Tim was introduced to Alice at one of his gigs he said, 'wait I know you! You helped me through a bad flight!'
Many years later, after connecting again romantically and living peripatetic lives, the pair decided it was time to relocate to the country.
"It sounds a little too prosaic, the old tree change business," Tim said. "So my line is – I grew up in the Goldfields of Kalgoorlie in Western Australia and if I die in the Dja Dja Wurrung Goldfields of Victoria, they'll be nice little bookends.
"It's been the best decision I've ever made and I'm in no hurry to go anywhere for holidays. Looking out the back door is enough holiday for me at the moment, or going for a walk in the national forest – that'll do it.
"We have some great neighbours and it's a great community."
Front man for You Am I since 1989, Tim also plays with The Bamboos, The Twin Set, and has recently joined his childhood heroes, the Hard Ons, plus a few forays into the world of acting.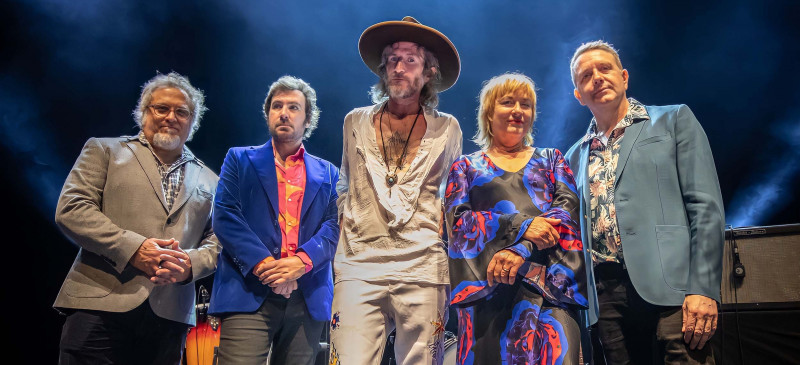 "Switching between jobs and bands can be difficult sometimes – they're not asking me because I've got this wonderful voice or because I'm a good-looking rooster, it's because of something else that's innate, whether it's genetics or just enthusiasm. So, rather than be crippled with self-doubt, I make sure I'm over the material and am cognisant of the different characters.
"I'm a bit of an inconsistent performer and can be a little laissez-faire about the seriousness of performance at times.
"With the rock and roll or folk music, whatever I'm doing, this is part of the looseness of it and so you're just carrying on the great tradition of looseness and ripe old bad behaviour.
"If one thing that's happened in the last couple of years is that money is tight for everyone, they don't necessarily want that (looseness), they want to be entertained with some level of professionalism, and while I'll never be a professional performer, I take that on."
Growing up, Tim's focus was solely on cricket and footy. Until one day in 1981 when he was getting a tooth pulled at a mobile dentist in Adelaide and the new Rolling Stones single Start Me Up came on the radio. Jumping out of the dentist's chair he ran home and begged his mother for a guitar.
"My mum got me a $100 gut string classical guitar and I never looked back. My life's been a mess ever since.
"I didn't think music was viable at all, it was just fun."
After getting kicked out of school in year 11, Tim thought, given it was the last thing anyone would expect, it would be a good idea to apply law school.
"I got in and was a little disheartened to learn that other students already had corporate jobs lined up before they started their first lecture. It was not what I had been expecting. I thought it was all going to be all Rumpole of the Bailey looking after people who needed help. I didn't feel a lot of that in the three years of doing law so when the opportunity came to join a band, I did – but that was just for fun. I had a couple of university bands going, Blood Nose was one.
"My best friend Nick and my brother started You Am I. They didn't have a guitarist and I could play a little bit. They wanted to play hardcore punk and I just wanted to play rock and roll, but we got it together – that mix of styles, although it took us a long while to write anything of any worth, anything that was good, and it was decades before I had any interest in trying to write songs.
"Other bands, Silverchair, Powder, Jet, these friends of ours that became wildly successful. We didn't have that. It was a very slow burn and it wasn't like people acted weird around us. We were just the band that people – boys, girls, men, women, non-binary people, whoever – could look at us and think, 'oh I could do that'. We weren't freaks and geniuses, we were just s**t kickers and we liked the work, loved the fun.
"I'm still just chasing how to write a good song, only one out of 50 is good, but I love it, working with wordplay, the melodies and chords, but the wordplay more than anything. It's something to look forward to every day sitting at a desk and working on tunes, it's wonderful.
"I used to only write in bars but it just became a little impossible to do that in some sort of peace. I think the best ideas happen when you're doing something else. And definitely, whether it's pushing a lawn mower or optimistically planting a tree, it's definitely where my best material is coming these days…and then I hit the pub."
Tim told the Express that outside of his work and sports he chooses to give his energy to close friends, his wife and 22-year-old daughter Ruby who lives in New York.
"I get over there when I can, but I thank God for modern communication.
"She's a wonderful human being. She's great fun to hang around with and really smart.
"She gives me the energy to be a good human, just watching the way she goes about life is just beautiful. She's smart, she's funny and cooler than I could ever pretend to be in a hundred lifetimes. And yet she's really lovely to people and empathetic and likes to make sure everyone is comfortable and feeling okay. She's not a dickhead.
"If I had her charm and intelligence at that age I'd be an awful human."
So what's Tim up to now he's left the city lights and settled in the country? One of his favourite pastimes is reading, particularly fiction.
"There's a veracity of imagination and I feel calmer and I feel energised by something as simple as reading a book and staying off telephones and computers.
"The only mantras I have are; to err on the side of kindness and always bring a book. It's a gentle way of achieving joy and optimism, releasing your blues."
With experience working in pubs and bars, he's also taken to lending a hand at a local wine bar occasionally.
"I don't think I'll go back to working in pubs. I think I'm a little too in love with hugging trees at the moment – lawn mowing or landscaping. I love working in pubs, but to a point. The great irony being, that drunk people can be obstreperous. I thought I was the most charming person in the world when I had a skin full, but I don't know whether I was. But these days I'm more likely to be the scruffy looking guy sitting in the corner reading a book."