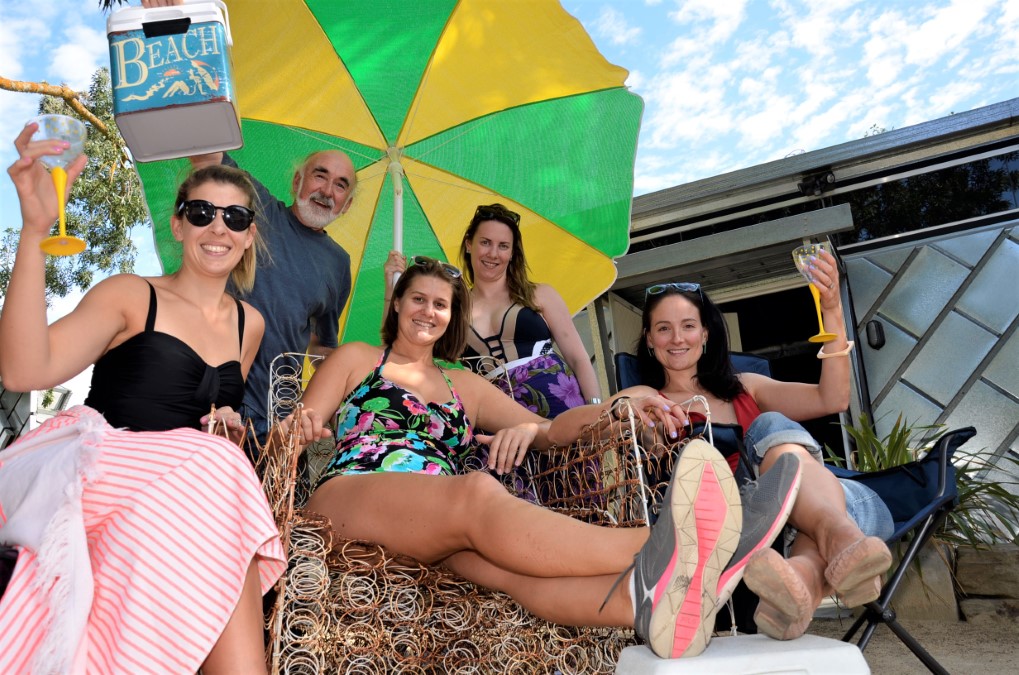 Taradale slapped on some sunscreen, cracked open an esky and eased back into a deckchair as Melbourne's famed La Mama Theatre transported the town to the beach over the weekend.
The much-loved Melbourne live performance institution staged Ladies of the Bay at Taradale's Ash Tree Studio as part of Castlemaine Fringe Festival.
The show had added significance in that it was the very first time this little surprise packet local venue has been used to stage live theatre.
Not all that long ago, venue owners Tony and Jenni Redmond started running this intimate little creative space as an art gallery – a move which has been well received by locals and visitors alike.
But with connections to La Mama going back to his former life in theatre production education at Australian Catholic University, Tony could see potential for more.
"It's been quite successful as an exhibition space but I saw the opportunity, and it will just be a wonderful extra dimension to the space if we can get regular visits from La Mama and other performance organisations," he said.
It's hoped this weekend's debut live show will be the first of many more for Ash Tree Studio, which is conveniently situated behind local wine and pizza place, Taradale Wine and Produce.
This is particularly so as La Mama looks to tour live performances to regional locations to complement their ongoing program of metro productions at their Courthouse venue in Carlton's Drummond Street as they also rebuild their main Faraday Street base in Carlton after last May's fire.
"La Mama Mobile is a project that La Mama's undertaken to bring their work to the regional areas," Tony says.
"And La Mama have said this is the type of space they like to use so I'm going to work hard at getting them to bring something back."
Ladies of the Bay director Jennifer Monk said the weekend's show was also another first – the very first performance of Ladies of The Bay as a regional show following its debut in Footscray last week.
Jennifer said she even adapted the script especially for Taradale – interviewing residents of the area to work in some special local references.