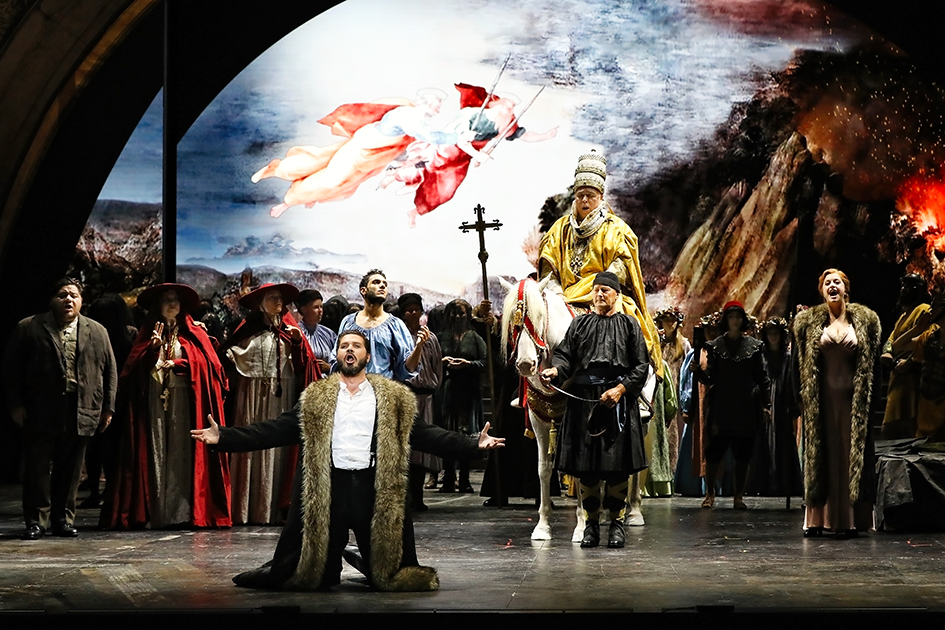 Zulu and Sinatra are the envy of every horse paddock. It's not often equine stars get the chance to shine on stage at the Sydney Opera House.
The Newham stablemates threatened to steal the show as handsome steeds in Opera Australia's ambitious production of Attila.
Their commanding presence helped bring to life the legend of Attila the Hun and his marauding fifth-century forces.
Opera Australia's artistic director Lyndon Terracini said the pair was adored at the show's opening night on March 12.
"To have two magnificent horses in this magnificent production was something you rarely see and it had a tremendous effect on the whole show," Terracini said.
Zulu took to stage as the steed of Ukranian-born bass Taras Berezhansky, in the title role. The eight-year-old black Friesian is no stranger to the spotlight and is making a name for himself in competition dressage with his rider Nirrelle Somerville.
Entertainment king Sinatra (Frank) is a 10-year-old cremello quarter horse named for his stunning blue eyes. He carried Russian-born bass Gennadi Dubinsky as Pope Leo I.
Both perform along leading female, soprano Natalie Aroyan, who has referred to them as "the stars of the show".
Indeed, the geldings held an impressive stage presence and were unperturbed by the bright lights, loud music and dramatic movements of performers.
It was the result of several months of preparation with Newham-based senior horse trainers Stephen Cox and Nirrelle Somerville from talent agency Paws on Film.
Zulu and Sinatra were specially trained to become desensitised to loud and sudden sounds and the large draping costumes used throughout the production.
Cox was also fitted for costumes to join the horses on stage as their handler, and described the atmosphere as "incredible".
"This was a once in a lifetime experience," he said.
"I'm tipping there are not many trainers who get to say they have been on the Sydney Opera House stage with their horse for this kind of performance."
Riding lessons were also in store for Dubinsky and Berezhansky who got to know their co-stars before taking to the stage.
Zulu and Sinatra took part in seven rehearsals before the big opening and never failed to impress.
The pair were set to perform at all Sydney shows from March 12-28 and at the Arts Centre Melbourne from May 25-30, but COVID-19 precautions has seen these performances cancelled, along with Opera Australia's remaining season.
While Zulu and Sinatra had to farewell their opera co-stars earlier than expected they will never forget their Sydney Opera House adventure.