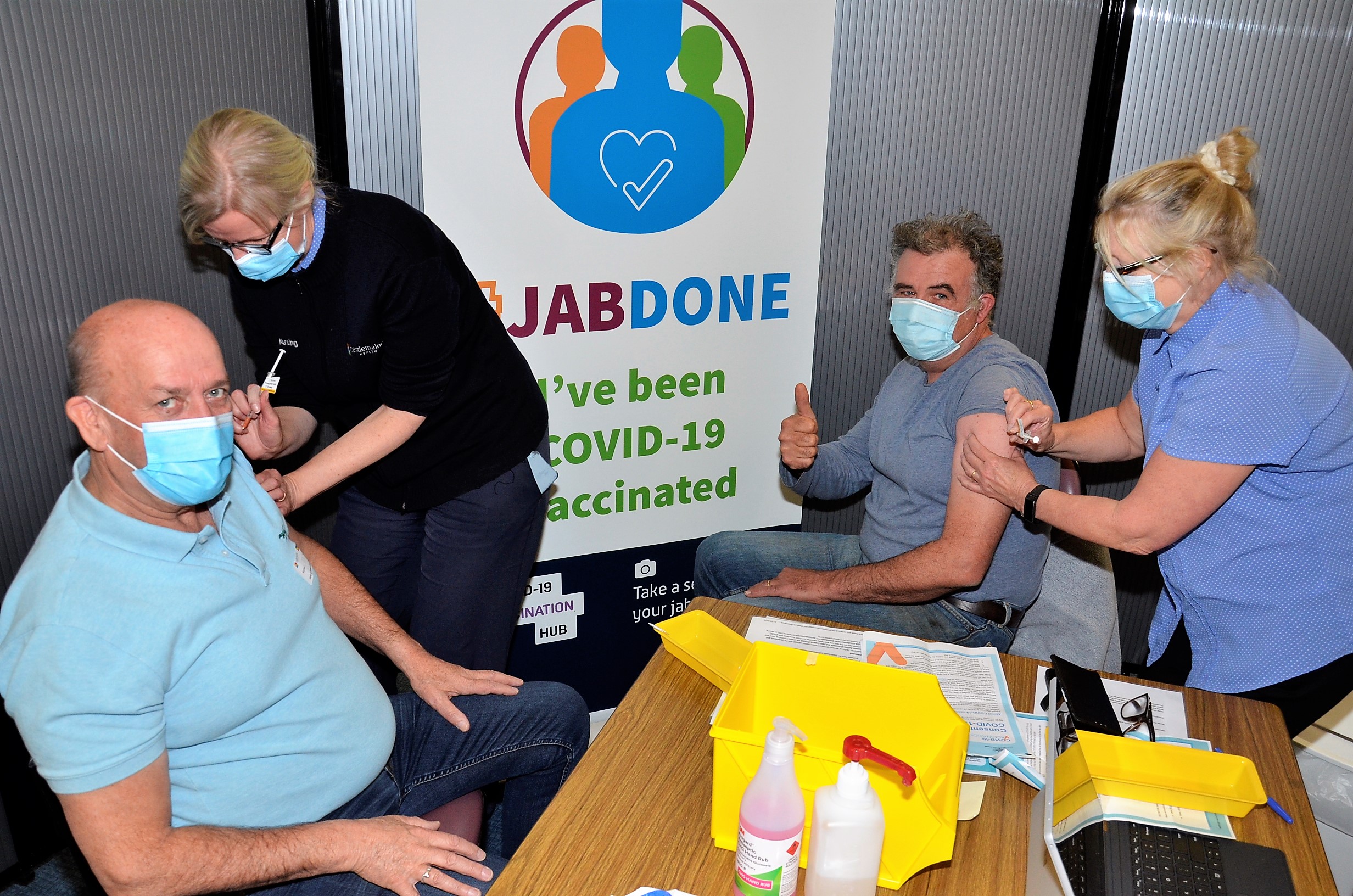 Some Mount Alexander Shire councillors were among those lining up on Friday morning to get their COVID-19 jabs, joining the increasing number of people in the state who might now be called 'Vacctorians'.

Mount Alexander Shire's deputy mayor Cr Bill Maltby and Tarrengower ward's Cr Stephen Gardner were both anxious to get their first jab over and done.
Cr Gardner confided in the Express that he was a bit of a needle phobic and initially had some personal reservations about rolling up his sleeve for the cause – due to the much publicised concerns surrounding an extremely rare blood clotting response associated with the AstraZeneca vaccine.

But it seemed Cr Gardner was typical of many who had been 'waiting to see' while COVID case numbers languished at zero – that is until the state's more contagious outbreaks abruptly changed all that.
"I was a bit reluctant at first due to the blood clotting publicity but now I just think if we want to get out of this situation we've got to get this done," a freshly vaccinated Cr Gardner said.
"Just get the jab. I didn't feel anything. I feel better now that it's done."

Cr Bill Maltby was similarly stoic about receiving his first dose of the AstraZeneca vaccine.
"Just get it done is the message," he said.
"It's very important if we want to keep moving ahead."

Nurse unit manager on site at Friday's clinic, Shelley Leathem said local demand to get vaccinated had continued to climb strongly with the hospital now putting on more admin staff to operate its vaccination clinic that's administering the vaccine on Mondays, Wednesdays and Fridays.
"As of Monday (yesterday) we have increased our admin staff to cope with demand," she said.
"We're accepting limited walk-ins, pending vaccine supply, up to noon, but we do prefer bookings."

Castlemaine's first Pfizer vaccination clinic for the general public 40 to 49 age-group is scheduled for June 10 and is being delivered as a Bendigo Health Outreach clinic.
A reliable source told the Express that the term Vacctorian "can be attributed to Professor Benjamin Cowie, senior medical advisor, Victoria State Government Department of Health".

And while the term Vacctorian may, or may not, be gaining traction, the addition of the Castlemaine clinic's COVID vaccination selfie banner was adding a sense of historic occasion that was not lost on the councillors – who must now wait a few weeks before receiving their second dose.