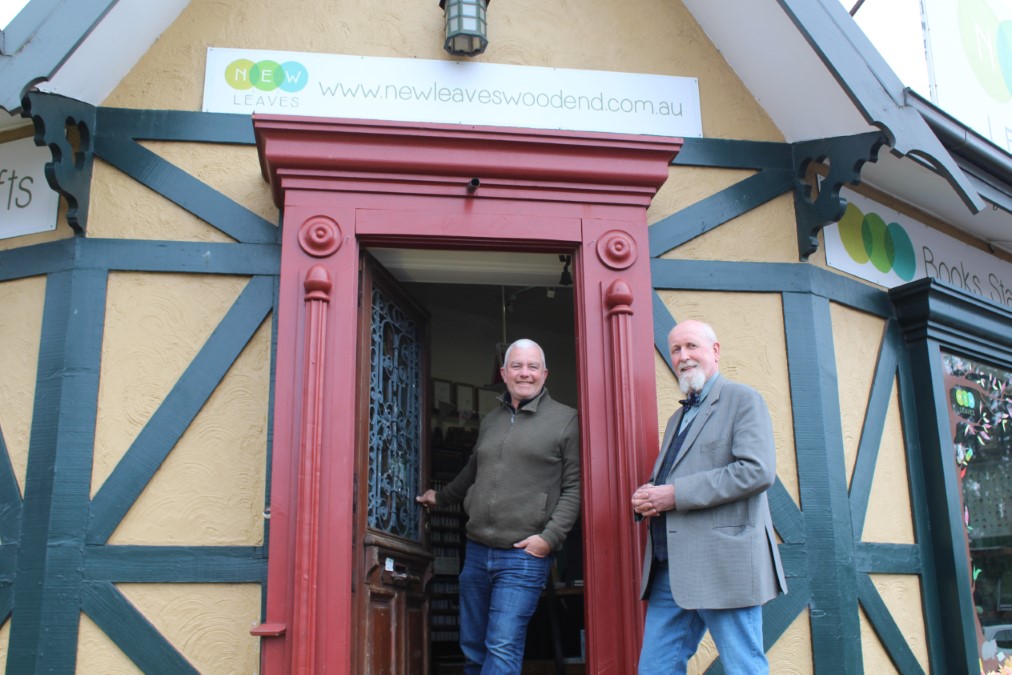 Woodend's place in the region's literature circuit will be highlighted on Postcards.
The town's two bookstores and their owners will feature in a future episode of the television travel series alongside the Vic Hotel and il Caffe.
Presenter Shane Crawford enjoyed Woodend's hospitality and wandering the shelves of New Leaves with Anthony Woodcock and Woodend Bookstore with Ed Irons.
Both came into their trade with a passion for literature and connecting community. Locals and Melbourne day-trippers alike visit in search of rare, collectable books, new and local titles or just a wonderful bookish experience.
"You can't live in a town without a bookstore," Anthony told the Express.
Next stop, New Leaves
Anthony, better known as 'Woody', did not want to see a local independent close and purchased the trade name to open his own store about six years ago.
A creative layout meets readers, showcasing dozens of new titles for children and adults alike. Walls feature graphic design by Kathryn Steel and beautiful timber bookshelves created by Woody himself.
The cosy feel continues to a reading nook where there's a chance to relax by the fire with store cat Jupiter.
While all communities have a mixed reading taste, Woody has found local residents have a strong interest in sustainability and green living. Sometimes there are requests for specialist subjects such as politics and languages. Art and cooking are also popular.

"Woodend is a very intelligent community," Woody said. "A lot of people come into the store and talk learnedly about their specialty subjects. They are also very aware of local and world issues."
The store showcases some of Macedon Ranges' own talented authors including Katherine Brabon, Kirsty Manning and Kathy Mexted.
"It's a good community and we like to support each other," Woody said.
Of course the two bookstores, opposite each other on High Street, often share customers too.
Woodend Bookstore wonder
It's a job Ed has says his life has been in preparation for. He took over Woodend Bookstore ownership three years ago.
Ed studied art and literature at university and worked as a learning skills advisor supporting students in several universities. He has spent most his life around books.
"This is a wonderful thing to do when you're about to retire," he said. "Lots of people envy me: I have the best job ever!"
The store has a carefully curated selection from rare collectables to an ever-revolving list of bargain quality books in all genres.
"People often do the 'book circuit' – Woodend, Castlemaine and Daylesford – to see what they can find," Ed said. "And, you never know!"
There are 20,000 titles to browse – some even out of print. If people are in search of a specific title Ed may just have it – or knows how to source it.
There is also a dedicated children's section in store where people are encouraged to sit and browse.
Woodend is expected to feature on Postcards at the end of June.