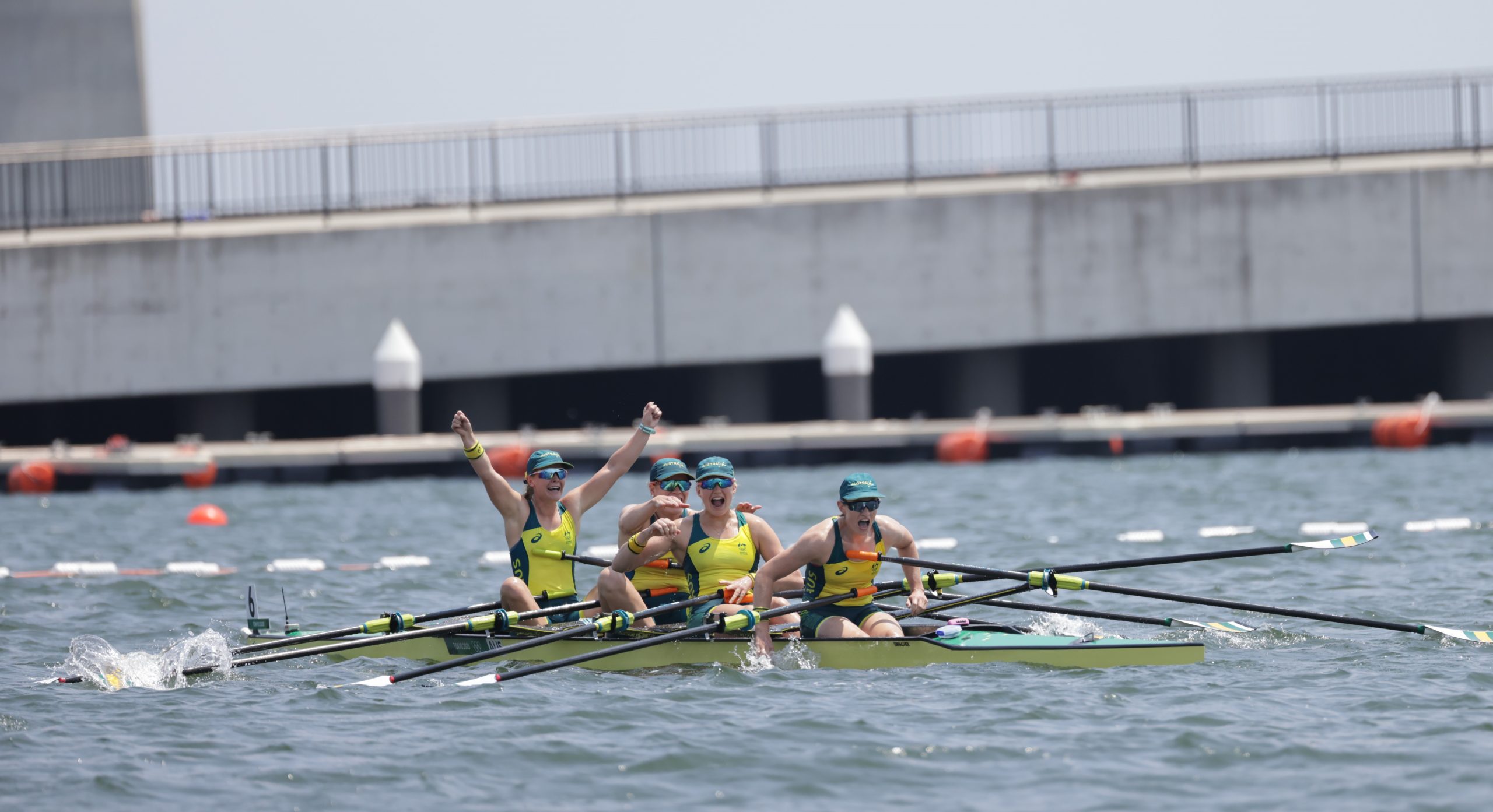 Water sport was never on the horizon for a young Ria Thompson growing up in Woodend.
But that didn't stop the now 23-year-old from scoring a bronze medal in her Olympic debut in Tokyo last week.

Together with her rowing crewmates, Harriet Hudson, Caitlin Cronin and Rowena Meredith, Thompson secured a podium position by powering from fifth place to third in the dramatic final moments of the Women's Quadruple Scull.

Proud mum Kerri said there were tears and excitement as her family watched the event unfold from their lounge room in Point Lonsdale.

"We're the sort of parents who pace up and down the side of the rowing course, and that was incredibly difficult in the lounge room," Kerri told the Express.
"The tension in the house in the morning was incredible.

"We were watching them and they were sitting back there in fifth and then they crept up into fourth and you could see them working hard.
"Ria's in the bow and makes all the calls and I could see her yelling her lungs out and rowing her hardest and then when the Germans blew up they were just there, and she just called it as though her life depended on it.

"The plan was to just run a clean race and they were rowing very carefully and cleanly and that technique worked really well for them in the end. Her brother was in tears, we were all in tears."
ROWING NOT ON THE RADAR

Thompson grew up in Woodend as a very athletic all-rounder. Talented in cross country running, little athletics and basketball, rowing had never been on the radar for the country town kid.
That all changed when she reached secondary school and went to Lowther Hall in Essendon.

"They had a small rowing program, and she came to us in year seven wanting to take up rowing and we thought 'how's this going to work?!" Kerri said.
"She rowed through school with some success and in year 12 she started rowing with the Melbourne Rowing Club and that year she won Head of the Schoolgirls Regatta, the biggest rowing event for schoolgirls in Victoria."

Thompson first entered international competition in 2018 as a member of Rowing Australia's National Training Centre.
She made the U23 Women's Double Scull for the Junior World Championship and finished fifth in the medal race.
The following year, she was the 2019 World Rowing U23 Champion in the Women's Single Scull.
At the 2021 Final Olympic Qualification Regatta, Thompson and her crewmates ensured the participation of the Women's Quadruple Scull in Tokyo, with the four earning gold in the final to secure an Olympic berth.

"She was overwhelmed with the whole thing – as were we – because it was not expected at all," Kerri said.
"They had to come through and qualify in Switzerland and then come back and spend two weeks in quarantine.
"They went in as underdogs."

Kerri said her daughter would likely take a long break and give her body a rest when she returned home.
"The first thing she's got to do after hotel quarantine is compete with her boyfriend in the Coastal Rowing Championships and then settle down and continue studying medicine at university," Kerri said.
"She will continue rowing and maybe have a tilt at the Paris Olympics in 2024."

Plenty of old schoolmates from Thompson's days in Woodend were thrilled to hear of her bronze medal performance … just another example of what someone from a small country town can achieve.