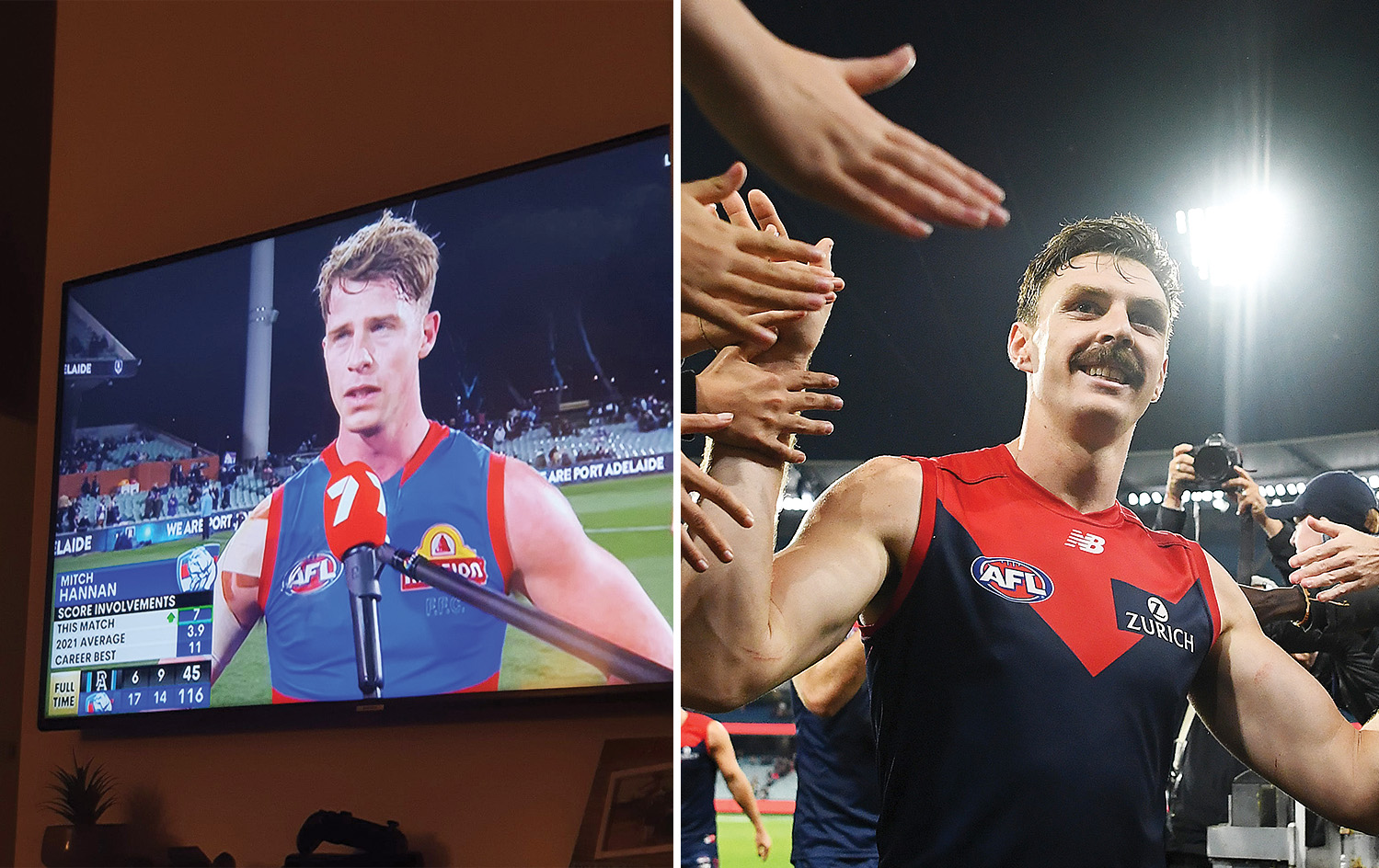 The 2021 AFL Grand Final is taking place far away in Perth on Saturday, but there's an extraordinary level of interest through much of the Macedon Ranges.

Two of the players taking part, Jake Lever (Melbourne) and Mitch Hannan (Western Bulldogs) played with Riddell League clubs as youngsters, and attended secondary schools in Kyneton.

This week Kyneton High School and Sacred Heart College students excelled in celebrating Lever and Hannan's achievements in reaching the pinnacle of the AFL.

"Jake was solely focused on his football and determined to play AFL," KHS careers and pathways coordinator Kate Sims said.

Sacred Heart principal Darren Egberts said "it is always fabulous when we learn of past students realising their goals".

Jake Lever has always described himself as "a Romsey boy" and at the age of 25 is at his peak as a top line intercept defender, forming a strong alliance with Demons fullback Steven May.

Lever was selected in the All-Australian side this year. He has notched up 116 games, with Adelaide initially and now with the Demons, and completely recovered from a knee injury that saw him miss a season of football.

Mitch Hannan, a 27-year-old versatile and skilled forward, grew up in Gisborne playing juniors with the Rookies, and was a member of Woodend-Hesket's all-conquering 2011 Under 18s team before embracing a career that has seen him play with both the Demons and Western Bulldogs. His form in finals matches this season has been excellent.

Hannan knows what premierships are all about, being in flag-winning sides with St Bernards (VAFA) and Footscray (VFL) in successive seasons.

Their former Riddell League clubs, both senior and junior, wish them well on Saturday, as does the RDFNL.

Kate Sims provided a pen picture of Lever from his days as a student at KHS, when he was an avid Sydney Swans supporter with Barry Hall his favourite player.

"As teachers, we encourage our students to have back-up career plans, and options, but Jake was never interested in having plan B.
"He was totally determined that plan A (playing AFL) was where he would be.

"As a school we feel immensely proud to see our students succeed, and in Jake's case, finding himself in an AFL Grand Final is an amazing achievement that has taken a great deal of work.

"During his time at Kyneton High, Jake was never seen without a football in his hand, and he possibly had it confiscated numerous times.

"If we searched through the P.E. cupboards I'm sure we'd find a football with LEVER on it."

Lever began playing with the Romsey-Lancefield Rangers at the age of eight, and went on through the ranks showing great leadership qualities and representing his state in under-age matches. The disappointment of being in a losing Grand Final for Adelaide Crows in 2017 is well behind him.

Dr Darren Egberts reflected the enthusiasm felt by SHC students and staff about Mitch Hannan's achievements.

"The Sacred Heart College community congratulates Mitch on the success he's already achieved in his AFL career, and we wish him and the Western Bulldogs the very best for the Grand Final."