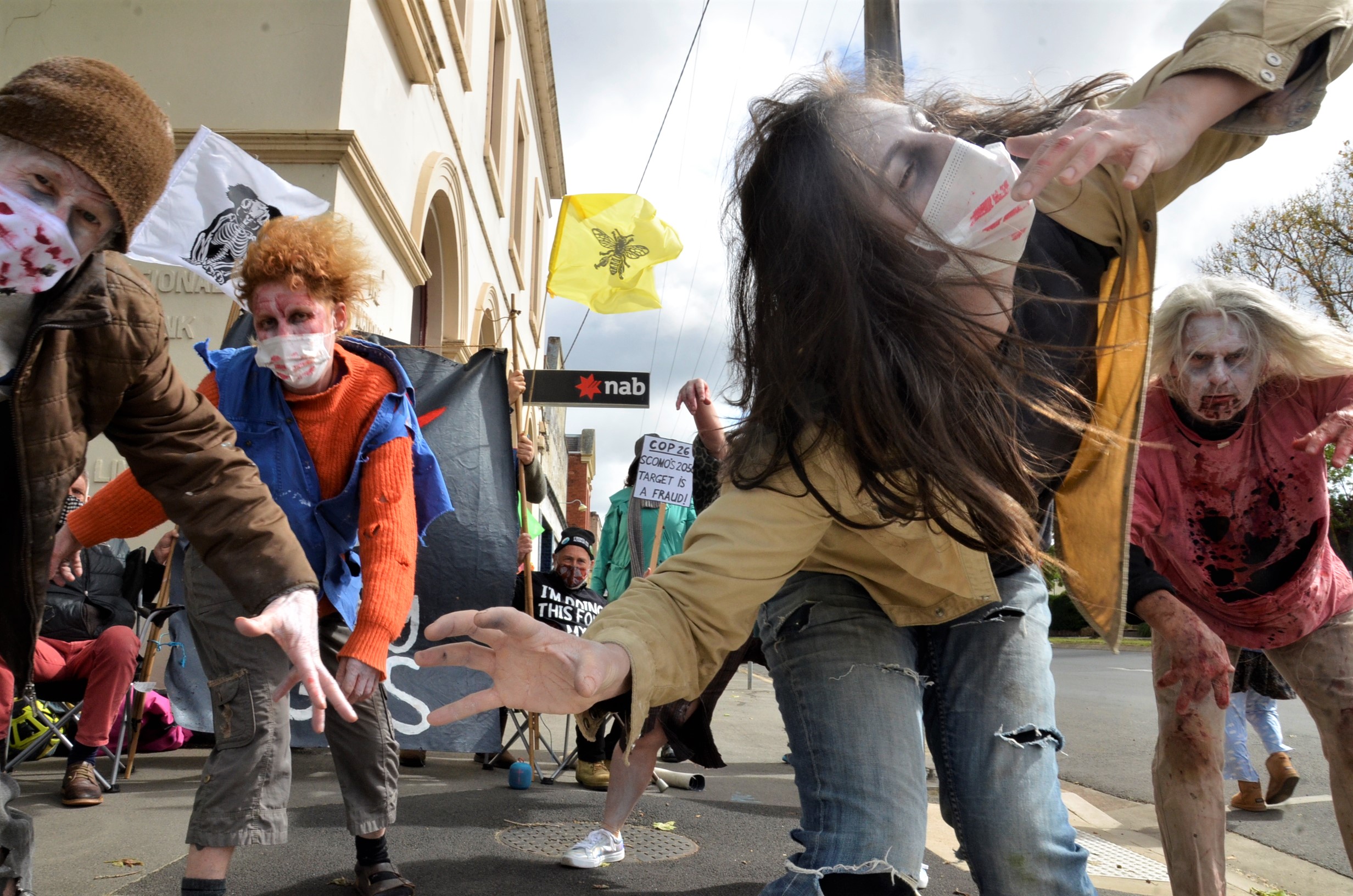 Things got a little creepy on the streets of Castlemaine last Friday.

Halloween-themed 'ghouls' were out in force, strategically positioned at the front of the National Australia Bank on the town's main drag, and dancing to the tunes of Michael Jackson's Thriller.

Capturing the attention of passing motorists and media, the Zombie Apocalypse being staged on Barker Street was a demonstration organised by local climate activist groups calling for more effective policies to address climate change.

Rolling enthusiastically with the Thriller-themed dance moves, one of Friday's demonstrators, Castlemaine's Bernard Tonkin, was also focused on the rolling over of super funds, away from those whose investment portfolios continue to finance the fossil fuel sector – and was keen to encourage others to do likewise.

"People can join a collective super rollover, a boycott of the major fossil financing funds, on November 28th," he said.

"We're all rolling over together.

"If you can't join us this rollover you can join us in the next rollover or just become a supporter."

Friday's apocalyptic-point making was timed both for Halloween on Sunday and for the start of the world's COP26 Climate Summit in Glasgow.

"We're here to tell the National Australia Bank to stop funding fossil fuels," Castlemaine's Emma Dubuc said.

"The UN has said we are now facing a Code Red for Humanity and we have to, right here and now, stop digging and exploring for fossil fuels including coal and gas.

"A lot of the big banks support fossil fuels.

"We need to make sure everybody looks at what they're putting their money into, and that's a good way to help make change, to bank with banks that are going to do the right thing for the future and finance renewables, and looking to super as well because a lot of superannuation funds are actually funding the fossil fuel industry.

"You can join a local group, write letters to MPs, so many ways that people can help.

"It gives us hope to dance together, and bring the community together, so we're going to start a Dance for the Climate group. Hopefully every week at the Botanical Gardens."