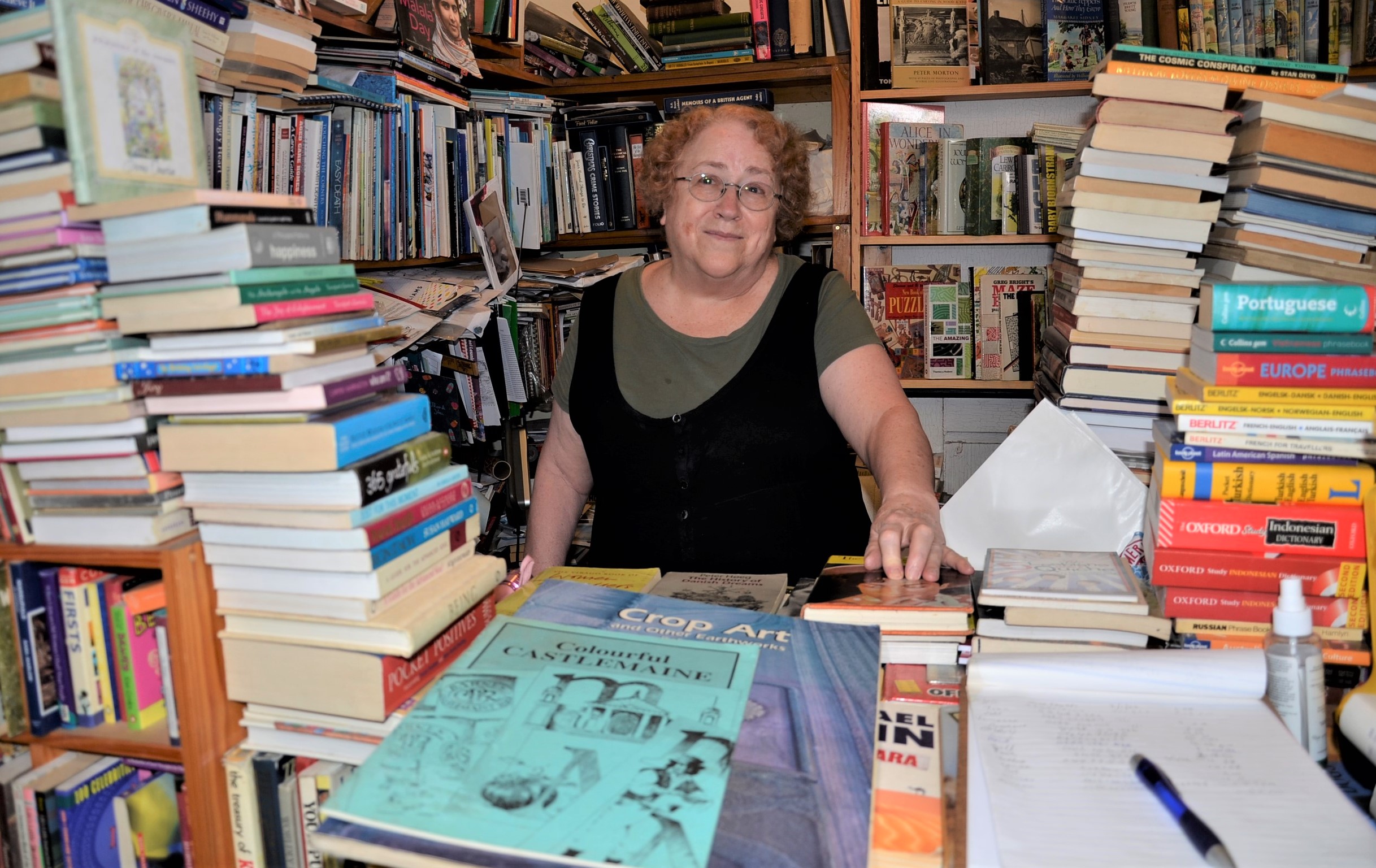 It's just shy of two decades since Joyce Sanders opened her character-packed bookshop on Castlemaine's Barker Street.

The Soldier and Scholar second-hand store rapidly became a favourite shopping experience for bibliophiles from near and far.

But time marches on, and so it appears will the inimitable Soldier and Scholar and its well-read owner who hails originally from Cullman, Alabama, in the US's deep south.

After coming out to Australia originally as a teacher in 1973, Joyce worked in education with stints also in touring educational live theatre in Tasmania, and as a tour guide at Canberra's Australian War Memorial.

"I got into the book trade in about 1975," says Joyce who has previously run bookshops in Echuca, and also in Wiltshire during a three-year sojourn in the UK.

Returning to Melbourne – "so my daughter could be near her dad, I started another bookshop in North Fitzroy and that was the first of the Soldier and Scholar Bookshops," she recounts.

But when her daughter finished her schooling and started at Melbourne Uni, Joyce felt the time had arrived for a change.

It was a compulsion that led her to Castlemaine, which reminded her in some ways of her hometown back in Alabama.

Here, almost 20 years ago, she established what was to become her second Soldier and Scholar Bookshop at 215 Barker Street, a main street premises that she acquired.

The building had originally contained the British and American Hotel after it shifted from Chewton back in the early days.

"You can still see, out on the footpath, the doors for putting the beer barrels down," Joyce, now 73, says.

In days gone by, the premises also served as the offices of solicitor and politician Sir James Whiteside McCay.

"He was the general from the Battle of Fromelles," says Joyce who coincidentally ranks military history among her top reading genres of choice.

In her hands, No 215 Barker, now packed to the rafters with an eclectic wealth of pre-loved volumes, has in the past two decades become a must-do 'Maine experience for bibliophiles and readers.

In that time, its proprietress has also run a couple of successful local book clubs and penned her own debut book, a lively little read entitled The Old Woman who Hated Rupert Murdoch, self-published through Castlemaine's Graffiti Publications.

But now some health issues, and a wish to move back to Melbourne to be near her daughter who works as a museum conservator, are prompting Joyce to sell the freehold and shift back to the city.

And so the freehold including the historic shopfront is listed with Maltby Property and is currently attracting some serious interest.

It's the historic double-storey premises complete with cellar and detached two-room cottage that's for sale – not the business as Joyce hopes to establish a third, smaller, iteration of Soldier and Scholar in Footscray.

"I have an interest in a much smaller shopfront in Footscray," she says.

"I can live at the back of it and run the shop at the front and walk around to my daughter's," says Joyce who also has another daughter living in Seattle, Washington.

"I've signed a sort of contract, but it depends on this building completing its sale," she says as she sits, literally framed by towering book stacks, behind the counter of her idiosyncratic little well-loved shop.

"I don't want to retire because I like having books around me too much.

"But I want to contract my life, make my bookshop much smaller and my life less demanding," she says.

Whittling down the huge number of titles ahead of the planned move is a massive task, and is not proving easy despite the significant book sale discounts she's offering.

"I had initially looked at selling it as a going concern but we couldn't get someone willing to run the book shop," she says.

"You don't want to have to pick up all these books and pay to have them transported so I'm stuck here for the time being selling books until I can get it down to some manageable size. It's quite a desperate situation."

It's no secret that real estate in Castlemaine is in hot demand.

When the sale does eventually go through, and it's looking like one may any day now, the well-known bookshop operator says she's going to miss this place.

"I love the history of the building," she says.

"I'm hoping that whoever moves into the building will love the heritage as much as I do."