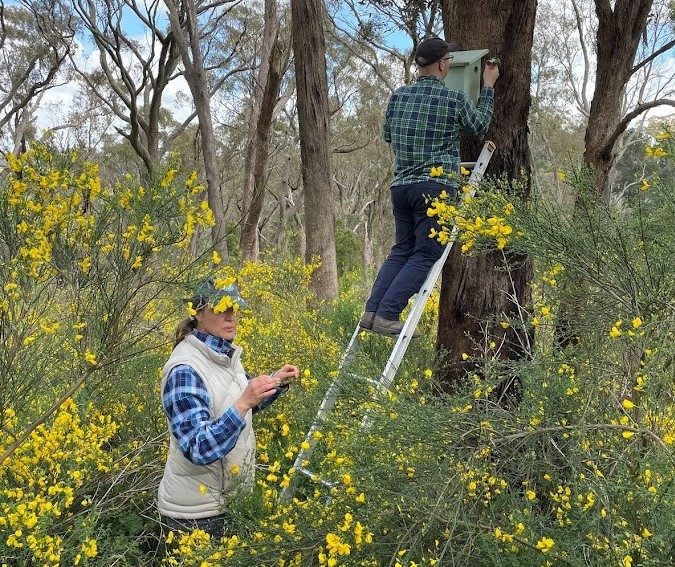 Woodend Golf Club is going back to the wild in a plan to future-proof the sport there.

Members have seized an opportunity to pilot a Green Sport Action Plan for the region.

Sustainability is the focus with the crucial element of 'rewilding' the grounds for flora and fauna that call it home.

"Golf courses are often very manicured but they don't have to look like that," said Annabel Sides, the club's project manager.

"We can make positive environmental changes that won't interfere with play."

The concept of 'rewilding' is to restore land to its natural state. Areas around the golf course have been identified for regeneration and protection.

Woodend Golf Club also seeks to enhance that rewilding process through installation of nesting boxes and planting new native seed.

It's a passion for Ms Sides who founded Green Planet Sport, a regenerative sport consultancy business specialising in climate change action.

"There is a lot of space at the club that has never been cultivated or fertilised where seed has now come up," she said.

Some species identified already include wallaby grass, kangaroo grass, chocolate lilies and milkmaids.

"The idea is to look after what is there and to enhance it. In 10 years, the Woodend Golf Course will look completely different," Ms Sides said.
Ms Sides recognised potential for change at her own local club after Macedon Ranges Council launched its 2020 Cool Changes program.
She approached club president Barney Hearnden when she saw an opening to apply for financial support. It was through the environmental stream of Macedon Ranges Shire Council's community funding scheme.
The funds enabled the club to engage Environmental Golf Solutions to create an environmental master plan. Ms Sides has also provided in-kind support for action planning, member surveys partnership development and future-proofing sport planning.
Plans include 'no-mow' zones, greenfield sites and a pollinator zone. Protected insect and lizard areas are also on the agenda.
There is a strong focus on five plots within the first year of the plan. There are a further 22 future sites within the golf course area.
Woodend golf course superintendent Grant Davies has been active in assisting to identify and preserve areas of interest.
He is already conscious of much of the natural flora and now learning about seed collection for pollinator plots.
Mr Hearnden said the project presented many opportunities for the club, even beyond the environmental change.
"Improving the course will benefit the local flora and fauna. It will also reduce maintenance for the club and enhance the natural beauty of the site," he said.
Another benefit has been the increased opportunity for partnerships, collaborations, sharing ideas and creating connections.
Woodend Golf Club has partnered with Woodend Landcare on a project that will enable healthy connections to Five Mile Creek.
The Woodend Bee Friendly Society has also applauded the club for its plans for a pollinator plot. In the future, the club may be a candidate to host threatened flora species.
Next for the club is further discussion about cultural changes and small ways members can help the community contribute to a better environment. This includes talk around waste and opportunities to host recycling collection posts.
"There's been a lot of enthusiasm," Ms Sides said.
"There's already a really good community feeling at the club and this has project has been an extension of that."
The club will enter the second year of its plan later this year.