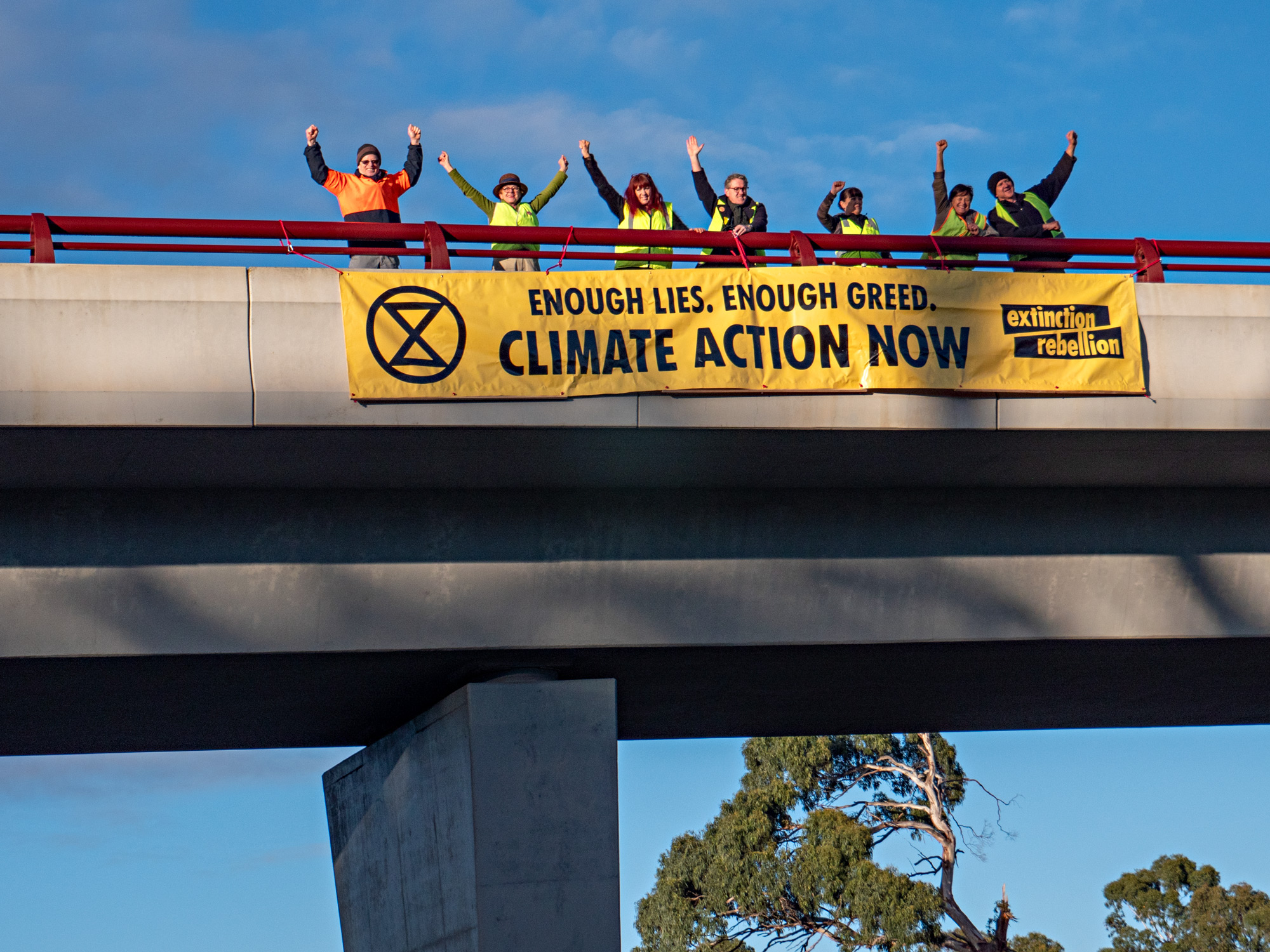 Eve Lamb
Local climate activists have been visibly ramping up their activity in a quest to see climate put firmly on the agenda as Australians get set to head to the polls on Saturday May 21.

Determined to get their message through to candidates of all political stripes, for the past couple of weeks members of the Central Victoria XR (Extinction Rebellion) group have taken to a Calder Freeway overpass at Trio Road near Kyneton, unfurling a large banner demanding "climate action now".

Determined to have their call heeded in high places, they targeted early morning traffic heading towards Kyneton on Monday April 4 and again on Monday April 11 before upping their efforts to catch motorists headed in both directions last Thursday afternoon.

And kitted out in high-vis vests, the activists from Castlemaine, Daylesford and Kyneton, appeared to be achieving their goal of getting noticed – by both motorists and police.

Police attended at the overpass when the banner was unfurled on Monday morning April 11, but left soon afterwards, having determined that the action was peaceable and did not warrant further law enforcement attention, Central Victoria XR member, Castlemaine's Trevor Scott said.

"We've had so much positive feedback from motorists tooting their horns and showing their support," Mr Scott said.

"Enough lies, enough greed, Climate Action Now, is the message on the banner we hung over the bridge near Kyneton early last Monday morning and the Monday before," Mr Scott said.

"Members of Extinction Rebellion Central Victoria are wanting commuters on the Calder Freeway to understand that we are in a serious climate emergency and we have very little time to turn this crisis around.

"It really fells like it's an idea whose time has come. It should be front and centre of the election."

"Government needs to act. In the words of Greta Thunberg 'I want you to act as if your house is on fire – because it is'."

Group members are now actively inviting anyone who shares their concerns to join them, with further actions on the cards in the lead up to May 21.

XR Central Victoria member, Castlemaine's Serena Everill says the group is interested only in the issue, not in endorsing any particular political party or aspirant.

"We're just wanting to make people aware of the importance of taking action around the climate emergency," she said.

"This is a big election and there's always energy prior to an election but we're not focusing on any particular party or candidate."

However Ms Everill believes the issue is not yet being given anywhere near the prominence it warrants by political candidates.

"No. They're absolutely not paying enough attention," she says.

"We are really just out there raising awareness.

"We'd love people to come and join us. Just come and say 'Hi'. It's so good to be doing something."