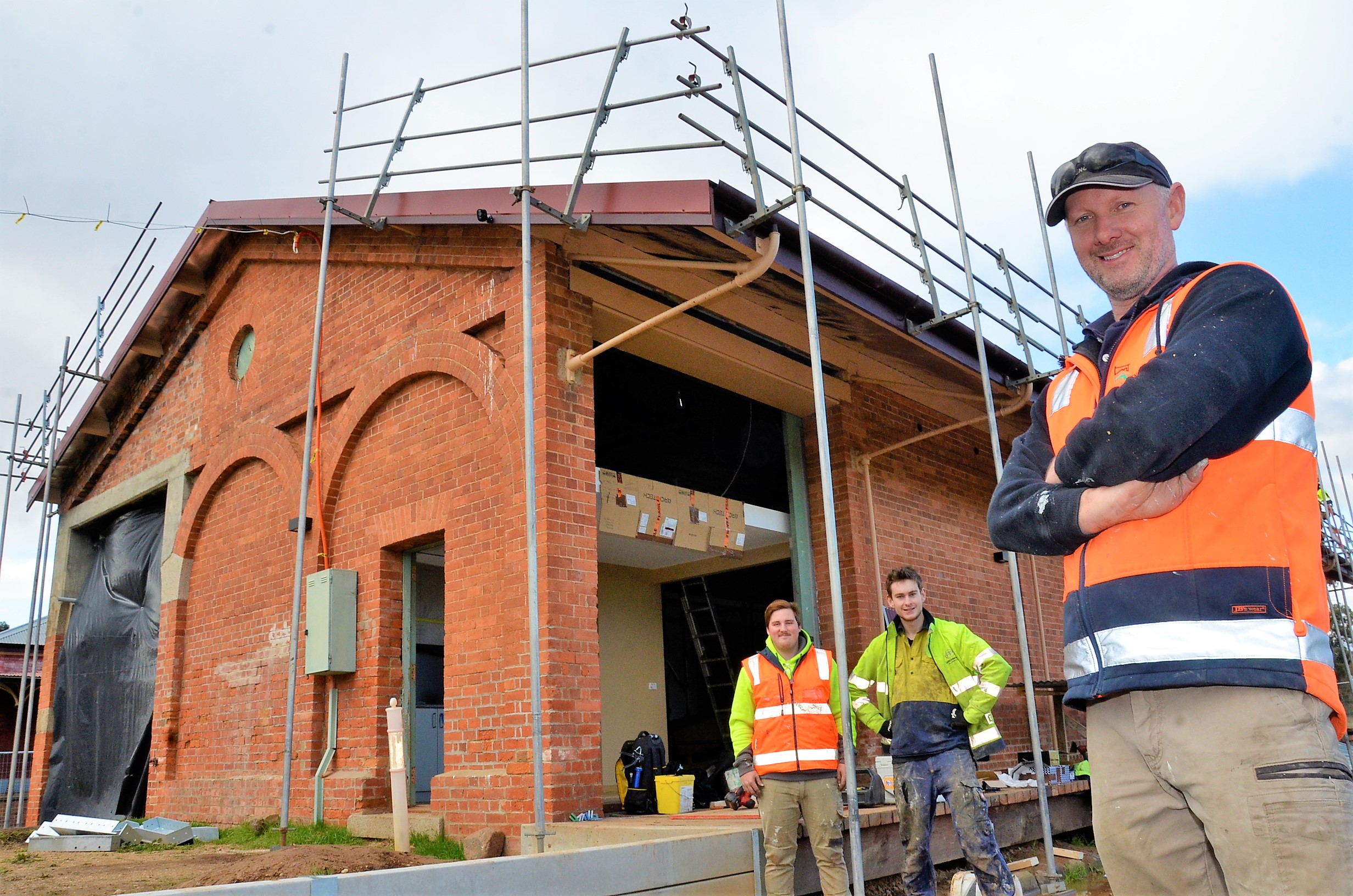 Eve Lamb

Driving past the old railway goods shed in Newstead it's hard to miss the fact that work is well under way towards transforming the long idle slice of local railway history into a lively community space.

Scaffolding is up and workers in high vis vests are busy on site with Bendigo-based construction company BLR Provincial carrying out the works.

The VicTrack project will revitalise both the old Newstead railway goods shed and Harcourt's vintage railway station building, transforming the atmosphere-drenched, but long languishing, local railway heritage buildings into new community spaces.

"The historic railway building restorations at Harcourt and Newstead are progressing well, and on track to be open to the public in the coming months," a VicTrack spokeswoman told the Express on Friday.

"The restored buildings will provide the communities of Harcourt and Newstead with new community meeting spaces, including modern accessible facilities."

The works are being funded through the state government's Community Use of Vacant Rail Buildings Program, which refurbishes vacant station buildings state-wide so they can be opened and used by local communities.
BLR Provincial has experience in carrying out heritage restorations on many buildings in Bendigo and was awarded the contract for the works following a competitive tender process.

Last year it completed works to upgrade the Bendigo Station waiting room.

Works on both the Newstead and the Harcourt buildings include carrying out structural repairs and refurbishment, as well as installing a kitchenette and accessible toilet so the buildings can be used for community events and meetings.

"They are beautiful old buildings," BLR Provincial's Dan Bahen told the Midland Express.

"We're just rapt to help reactive these old buildings and bring them back to life for the next hundred years."

Once the works are complete, Mount Alexander Shire Council will be the head tenant of the Harcourt Station building and the building will be managed by the Harcourt Progress Association as a community neighbourhood house with meeting, training, office and performance spaces.

Community Bank Maldon and District will be the head tenant of the Newstead Station Goods Shed and the building will be managed by the Redshed Arts Workshop Inc as a community arts workshop, learning and skills centre.

Both projects are being delivered in conjunction with an expert heritage architect, to ensure the restorations are sympathetic to the historic values of the buildings.