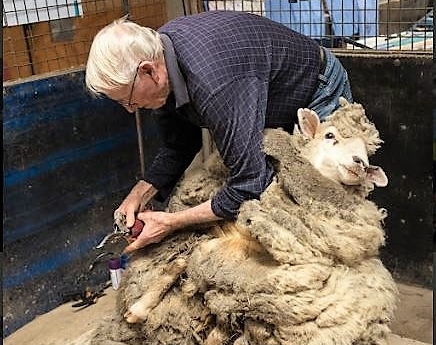 A Castlemaine shearer has played a key role in the triumphant yarn of Victoria the overly burdened sheep, relieving her of a massive matted fleece following her hairy rescue from the wild.

It took 18 kind hearts a total of five hours on steep and rugged terrain in the bitter cold and rain, but lost sheep Victoria, carrying a whopping 26 kilos of wool, has finally been brought to safety.

About four years ago, Kilmore East local Vicki spotted eight abandoned sheep roaming in the rugged mountainous area just shy of the Monument Hill Reserve. As time passed, that number had dwindled to a lone one, with Vicki's concerns mounting.

"With her fleece growing longer and longer by the day, I didn't know how much longer the poor animal would survive," Vicki said.

Reaching out to multiple agencies for assistance, the final call landed on the kind-hearted ears of Edgar's Mission, not-for-profit haven for formerly farmed animals based in Lancefield.

"After a previous failed rescue attempt in summer, we'd all but given up hope of finding the sheep as she then went missing," said sanctuary founder and director Pam Ahern.

Their second attempt was met with the challenges of a bitter winter's day, complete with heavy fog, chilling winds and rain, while they tried to navigate the mountainous terrain.

"It was indeed the hardest rescue we have ever undertaken," Pam said.

"We knew this would be our last chance to catch this poor sheep, so we gave it all we had.

"Our rescue team of 18 split into several groups, with scouts stationed at strategic points across the rugged terrain."
Rewarding their arduous efforts some five hours later, the 'woolly mammoth's' daring escapades came to an end in a scene worthy of the Man from Snowy River, except the colt from old Regret was a wayward sheep.

"I am just so proud of our team and their tenacity to bring a good outcome for this abandoned animal," Pam said.

"She surely would not have survived another winter with all of that wool burdening her down."

Now relieved of 26 kilos of matted, twig, blackberry and insect-infested wool, an operation that took local Castlemaine shearer, Ray Sharrock, just under an hour to complete, Victoria is as defiant as ever and is in surprisingly great condition.

Victoria will now live out her days in peace at Edgar's Mission, where she will never be abandoned again.
Yarns don't have much better endings than that if you are a sheep.