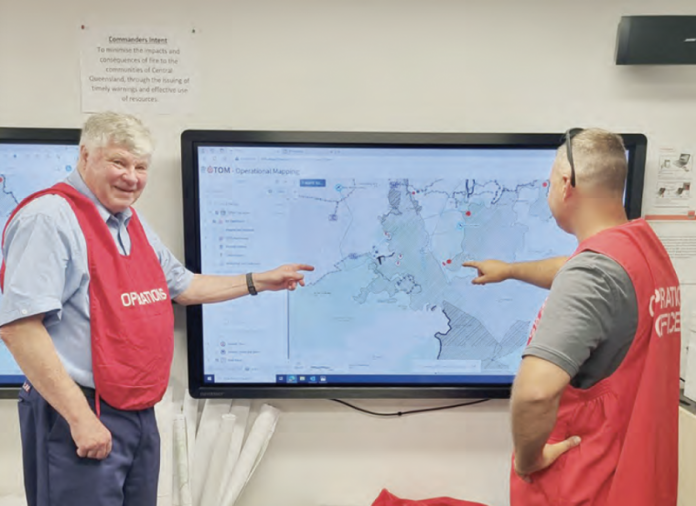 Kyneton firefighter John Pearce and Coliban group officer Andrew Jan were among a contingent of volunteers deployed this month to Queensland to assist in a massive bushfire crisis.
Arriving as more than 100 fires raged at once, incident management teams from Victoria, consisting of planning, intelligence and logistics officers, worked closely with local crews in Toowoomba and Rockhampton, while aircraft assistance and strike force units were also provided.
Working from the Rockhampton Incident Control Centre, Mr Pearce said the large fire in the national park at the Carnarvon Gorge had a perimeter of about 850 kilometres.
"It's size was in excess of 360,000 hectares and still growing," he said.
"The District 2 CFA crew were working in the incident control centre in various role, myself and Andrew Jan were working in operations, others were working in planning, public warnings and logistics.
"The Malmsbury tanker went up and worked around the Toowoomba fire, and we had other CFA crews at Tara and Cairns.
"We had two CFA strike teams at the Carnarvon Gorge.
"My main role was supporting operations, and for my last few days I was coordinating the air activity over the fire."
Mr Pearce said the local landowners were mainly large cattle station owners who had experienced 10 years of drought before this year producing feed after rain for the first time in a decade.
"They had a very big vested interest in making sure the fire didn't come out of the national park," he said.
"The Carnarvon Gorge is very similar to the Grampians topography, so not easy.
"There were no tracks in, you had to fight the fire by air attack and contain the perimeters on the ground with the construction of containment lines.
"The weather was different because it's not just straight winds – because of the mountains twisting and turning, and valleys going in all different directions, the winds are all in different directions at any time of the day.
"The prevailing wind might have been northerly, but on the fireground it's coming from the south because of the way it swirls around valley and swaps and changes, so that was interesting."
Mr Pearce said the CFA and their Queensland counterparts worked well together.
"It was very arduous, we were working 12-hour days, seven to seven," he said.
"They certainly appreciated it and they'll repay the favour, we'll have fires down here in our fire season and they're more than happy to come down and help us in a similar way."
The major Carnarvon fire is not expected to be brought under control until the end of the month.