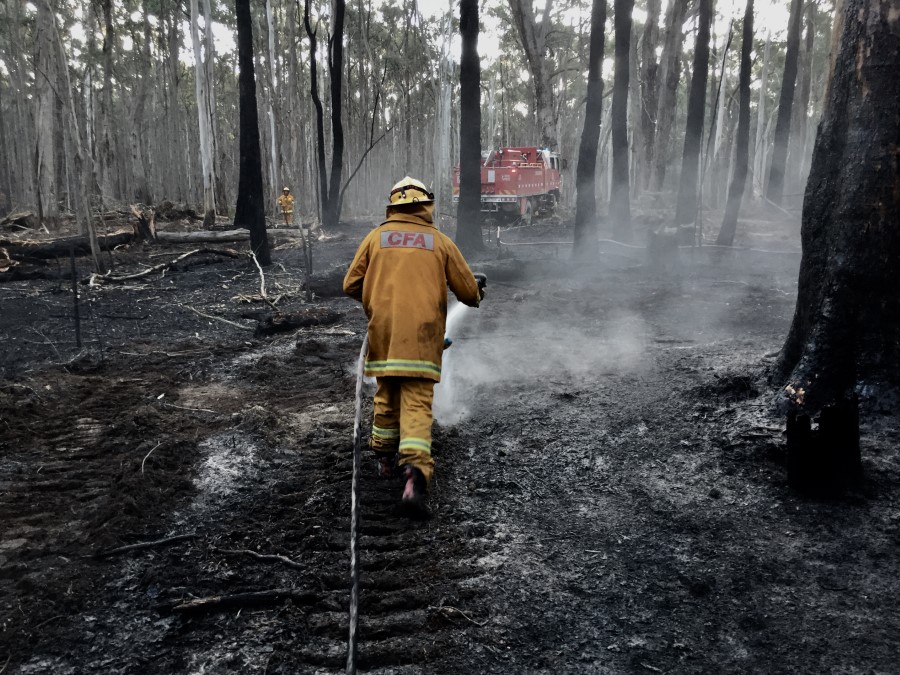 A fast-spreading fire in the bush at Ashbourne last Thursday is a sign of things to come, local fire brigades warn.
Tylden and Trentham brigades were called to an out-of-control burn off on Keyes Road just after 2pm.
On route Tylden captain Marcus Fidler saw a large plume of smoke and immediately called for five tankers.
On arrival he realised more resources were needed and called for 10 tankers as well as support from DELWP.
Fanned by strong winds, the burn off had spread into nearby bush and quickly took hold.
The initial response was joined by CFA volunteers from Woodend, Carlsruhe, Malmsbury, Bullengarook and Musk, and additional trucks from Tylden and Trentham, as well as several vehicles from DELWP including a dozer to build an earth break around the fire, which had spread to around five acres. It took about four hours to bring the fire under control and black out.
Woodend captain Mike Dornau said the fire was the second his brigade attended that afternoon with another burn off spreading into trees near the township.
"The forest is very dry and a sign of a very dangerous fire season ahead, especially as this is early October," Mr Dornau said.
"If you look at what's happening in NSW at the moment, we feel like we're immune because our paddocks and fields look so green, but it's sort of a false green, just a surface green … the paddocks are actually quite dry."
Mr Dornau said the landowner carrying out the burn off wasn't doing anything wrong, but it was a little windy.
"When some embers blew into the nearby bush it took quite quickly and we were surprised at that," he said.
"Normally when things are a little damp it just wouldn't take off that quickly."
Mr Dornau said the brigade now expected to be called out to a lot of burn offs done badly.
"Over the summer 50 to 60 per cent of calls to burn offs could be avoided if people took a little extra care," he said.
"Look at the weather forecast, if it's going to be a day with reasonable to strong winds, it's not really the right conditions to burn off in.
"If you do want to burn off, please be aware of weather conditions and make sure you take all the required safety precautions.
"Make sure you clear an area around the fire, make sure you have a water supply and don't burn too close to trees."
Also, register any planned burn, even a small one, with the burn off notification line on 1800 668 511 to ensure fire services are aware of what is taking place on your property.