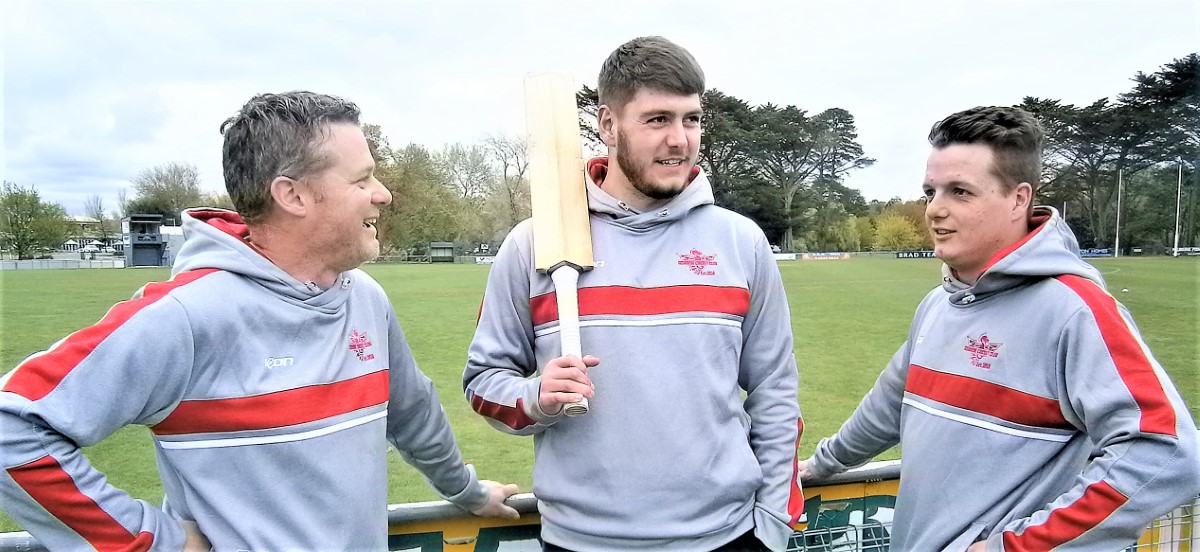 "There's quite a lot of people from Denby who are now following Gisborne cricket from thousands of miles away – all thanks to Tom."
That's how Denby Cricket Club's secretary Jimmy Gumbert summed up the impact of 19-year-old Tom Sanders bypassing university in England and coming to Australia joining Gisborne Cricket Club this season.
A quietly spoken avid cricketer who describes himself as "a bowling all-rounder", Tom is a strapping 6ft 5ins tall with ambitions to become a professional cricketer – this season at Gisborne is part of his journey.
"I'd never heard of it (Gisborne)," Tom confided at last Thursday's busy training training session.
His father Craig played for a long time at Denby, and Tom gained a special exemption to go straight into one of the long established club's senior sides at the age of 12.
"I was a big lad then …I've never played junior cricket, and grew up at Upper Denby, a small village in Yorkshire."
Yorkshire rates as one of the most famous county cricket sides in the UK, and Tom says he just want to keep improving his cricket.
"I'm enjoying it here … Gavin (Mackay) is a really good coach."
"And I like working part-time work with Brett Vernon's glass company … so far it's good living here," Tom said.
Tom has played in several age representative sides in Yorkshire, and made an impact in the Huddersfield Drakes League.
He said he owes his chance to play with Gisborne through a South African coach with overseas connections, and his immediate challenge is adapting to playing on non-turf wickets.
He has only ever bowled and batted on turf pitches in Yorkshire.
Tom top-scored with 42 for Gisborne in an exciting first-round win over reigning premier Bacchus Marsh on October 5, and on Saturday he bowled five overs with the new ball and later watched quality opener Mick Allen compile an unbeaten 88 for the Dragons against Sunbury United.
He said he was used to batting anywhere between number three and six, and didn't mind bowling long spells if required in the two-day matches coming up.
Last season West Indian speedster Recordo Gordon made an impact with Gisborne, and Tom is hoping he can also contribute to earning a place in the finals, with a big chance of a premiership.
Gavin Mackay said Tom had settled in well, and "bowls a heavy ball", as well as showing he could certainly bat.
"A TOP LAD"
Denby Cricket Club has a long and proud history, and secretary Jimmy Gumbert told me "Tom's a top lad, both on and off the cricket field".
"He's been a key player for Denby in the past two seasons, and was unanimously voted 'Players' Player' for 2019."
Gumbert said in a crucial match against promotion rivals Emley Tom came to the wicket with Denby struggling at 4/48, and finished 161 not out (17 fours, nine sixes) in a winning total of 304.
"The last wicket stand put on 150 runs — a bit like watching Ben Stokes and Jack Leach against Australia in the recent Test series.
"He's getting better and better bowler wise, and we fully expect him to come back from Australia with another yard of pace – he's already too quick for some Denby bats in the nets."
The GDCA is certainly becoming much more multi-cultural with players with Indian and Sri Lankan backgrounds making an impact, particularly with clubs to the south of Macedon Ranges.