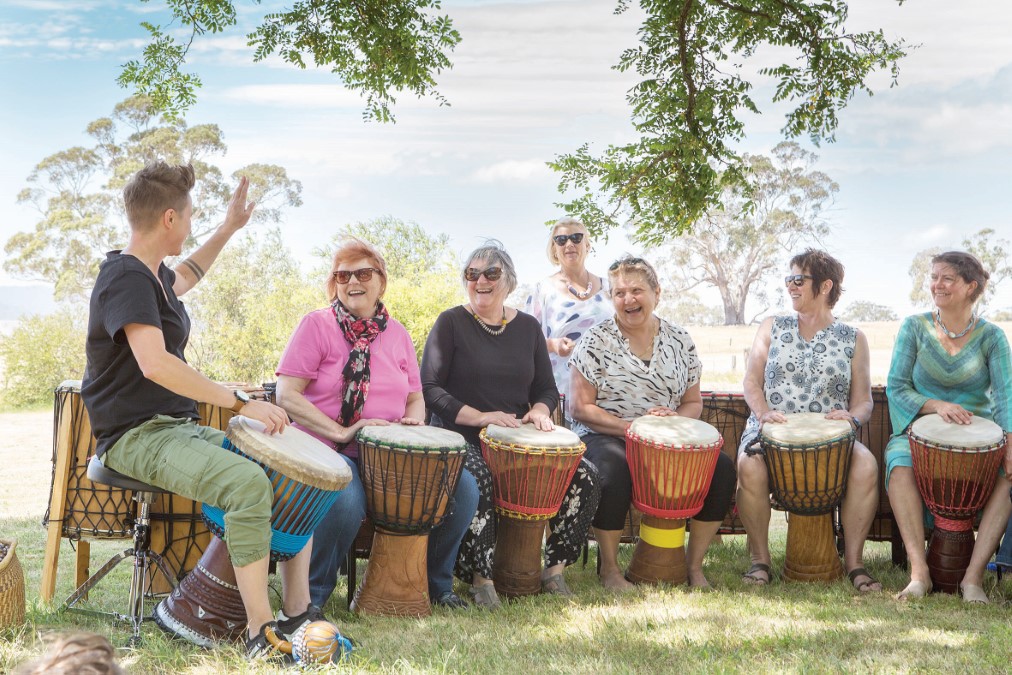 Traditionally, in Africa, women don't drum: they dance.
But that's the one tradition that Simone Lang doesn't mind breaking if it means spreading joy of the djembe.
"I found my voice through drumming and teaching. I think it's beautiful for women to say, "Here I am", through drumming. It's the antithesis of being seen and not heard," Simone says.
As founder and creative director of Drummergirl she has introduced rhythmic beats of West African drumming to Newham and the Macedon Ranges with her charismatic energy and belief in the uniting power of the drum.
"Drumming is inherently about bringing people together – that's what the djembe was created for," Simone says.
She has studied traditional West African drumming rhythms and culture for much of her adult life with some of the finest exponents of the tradition. She immersed herself in community and culture of Guinea, Senegal and The Gambia during her travels, and imparts that knowledge with her students.
"I teach a lot of the traditional rhythms. My teachers want their culture to continue and it's important that the rhythms are played as they were intended," Simone says.
The Newham classes have helped to inspire and empower many women who have returned week after week to hone their skill and continue as part of the new-found drumming community.
They all have different reasons for taking up the art: whether it was an interest African culture, re-connection to community, escape to find joy, to reconnect with self or "a wonderful accident".
"A big part of it, for me, is about connecting African culture. It's not just to play something: it's to play something that is meaningful," Lancefield drummer Leonie Farrugia says.
"I've always had a real passion and interest in Africa. There is something about the energy and stories."
Many use the djembe drums they have built themselves under Simone's guidance through the workshops offered.
Simone says crafting your own drum is an intensely satisfying experience. She tells her students, "there are three parts that go into making the drum: the spirit of the tree from which it came, the spirit of the animal whose skin has been sacrificed to be on the drum and your spirit that you put into the drum while you're making it."
The process involves sanding and oiling the wooden shell, followed by wrapping the rings, roping up the drum, then skinning and tightening/tuning. This can take three to five hours, and allowing days for drying time, the drum is fit for use within one to two weeks.
"One of the things about making your own drum is that you have a special connection with the instrument. It's a really special thing to get the opportunity to do that," Woodend drummer Susan Davie says.
Drummers have played at local markets, and events such as the Macedon Ranges Sustainability Festival, and another highlight was drumming for the 16 Days of Activism against Gender-Based Violence event in Melbourne.
The Newham class has about 15 regular members but is always open to more. The classes and workshops are open to all – no experience is necessary.