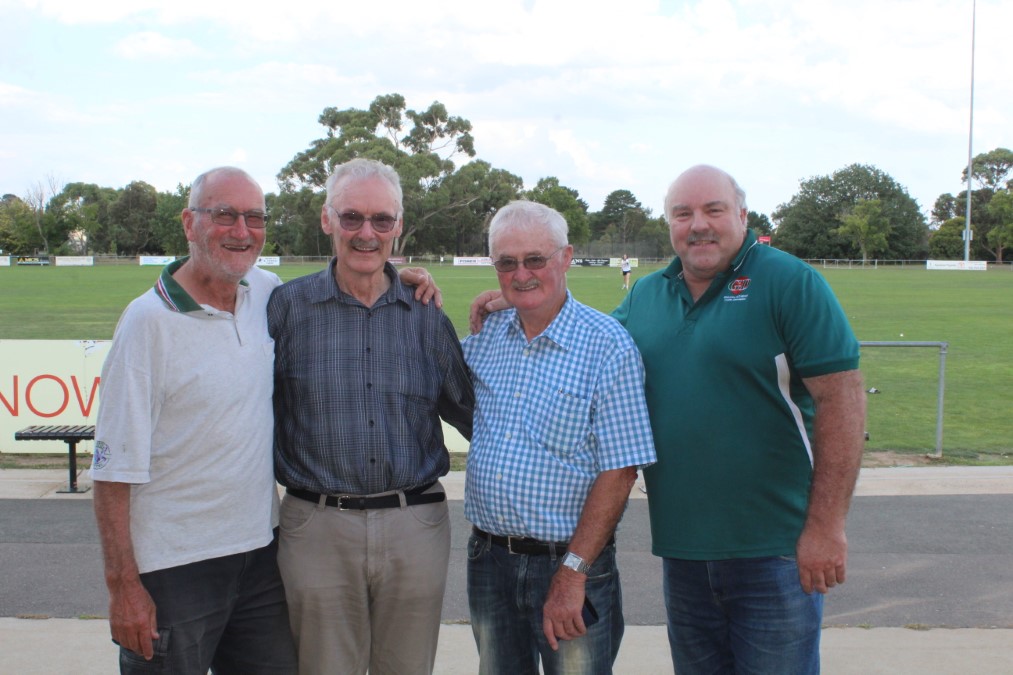 Gisborne District Cricket Association celebrated its centenary in style with a memorable gathering at Romsey on Sunday afternoon.
The milestone was marked with 36 inductees into the new Hall of Fame to honour former players, administrators and umpires who had played prominent roles in the GDCA's growth from humble beginnings into one of the strongest cricketing bodies in Victoria.
With regional under-age cricket matches conducted on the Romsey ground during the afternoon, the highlight inside the packed main function building was the naming of four outstanding contributors to the sport as 'GDCA Legends'.
And true legends they are! It's now official.
The late Doug McIntyre, whose involvement as an outstanding player and administrator with the Romsey Cricket Club and the GDCA spanned over half a century; run machine and GDCA treasurer for 40 years Kevin Sullivan, Lancefield's outstanding all-rounder Miles Johnstone – both in the Bendigo Country Week Hall of Fame – and Gisborne's Gary Sanders, a master batsman and coach who has played a major role in the development of junior and women's cricket over a lengthy period.
GDCA president Rob McIntyre accepted the 'legends' plaque on behalf of his late father, and presented Sullivan, Johnstone and Sanders with their recognitions as well.
"Something that my father believed and instilled in us was that you play the game but you give back too. It's an honour for him to be named a legend alongside these other deserving members today," he said.
The 'legends' had earlier been applauded into the Hall of Fame, with their outstanding and remarkable records and contributions outlined along with the other 32 Hall of Famers, dating back to the era when the association was former in 1919-20.
There were a variety of proud responses from the inductees, either in person or by representatives from their individual clubs.
Compere Gerrard 'Collis' Nolan, from Riddell, read out the credentials for the Hall of Famers. He was also one of the 36 inducted.
Rob McIntyre revealed there would be many more inductees into the Hall of Fame over the next few years, with around 80 individuals believed to meet the strict criteria for Hall of Fame status.
Former Victorian Minister for Sport and long-time Romsey resident, Tom Reynolds, a fine batsman and an association president, travelled from Queensland and was also one of the inclusions in the Hall of Fame. (Full list of inductees below)
ONE OF THE GDCA GREATS
The Midland Express' own sports correspondent Bill West was among the 36 inducted into the Gisborne and District Cricket Association's Hall of Fame.
Bill was honoured for his sporting achievements and ongoing dedication to the association in various capacities.
Bill is a GDCA life member and was GDCA president 1977/78 and 1978/79 and GDCA secretary 1973/74. He was the GDCA Country Week captain (Ballarat) and twice took the GDCA batting average award.
He is a life member of the Lancefield Cricket Club, of which he was also president 1962/63 to 1975/76 and served on the committee for 19 years.
Bill was the opening batsman and member of Lancefield 1968/69 premiership team and has received numerous Lancefield CC batting average awards.
Bill is an accomplished sportsman and has also seen success in lawn bowls, football – Lancefield's 1966 premiership side – and golf over the years.
He has played bowls for 30 years and was part of the team that won two fours titles at Bendigo Country Week in successive years. He counts himself as "lucky" to have been able to have played in teams with such success.
THE INDUCTEES
John Beattie (deceased), Gisborne, administrator, 1920s
Rupert Brown (deceased), Romsey, player, 1920s
Stan Brocchi (deceased), Gisborne, administrator, 1930s
Harry White (deceased), Romsey, administrator, 1930s
Brian Fitzgerald (deceased), Gisborne, administrator, 1940s
Les Kays, Gisborne, administrator, 1950s
Cliff Shaw (deceased), Romsey, player, 1950s
John Forbes (deceased), Sunbury, player, 1950s
Tom Sankey, Gisborne, player, 1960s
Miles Johnstone, Lancefield/Bulla Village, player, 1960s
John Clifford (deceased), Macedon, player, 1960s
Doug McIntyre (deceased), Romsey, player, 1960s
Kevin Sullivan, Woodend, player and administrator, 1960s
Bill West, Lancefield, player, 1970s
Owen Rose (deceased), Macedon, administrator, 1970s
Peter Osborne, Riddell, player, 1970s
Tom Reynolds, Romsey, player, 1970s
Bill Morrison, Sunbury/Bulla Village, player, 1970s
Alan Williams, Woodend/Bulla Village, player, 1970s
Grant Myers, Bacchus Marsh, player, 1980s
Brian Mundy, Gisborne, player, 1980s
Ron Mau, Lancefield, player, 1980s
Kinnear Beatson, Macedon/Riddell, player, 1980s
Gerrard Nolan, Riddell, Player, 1980s
Rob McIntyre, Romsey/Riddell, player and administrator, 1980s
Peter Cleve, Wallan, player, 1980s
Mick Barker, Woodend, player, 1980s
Sean Huddle, Bacchus Marsh, player, 1990s
Gary Sanders, Gisborne/Woodend, player, 1990s
Mick Graham, Lancefield, player, 1990s
Alan Stevenson, Macedon, player, 1990s
Rob Thomas, Riddell, player, 1990s
Geoff Pitts, Romsey, player, 1990s
Mick Jensen, Sunbury/Sunbury United, administrator, 1990s
Brian Smith, Wallan, umpire, 1990s
Jack Code, Woodend, administrator, 1990s