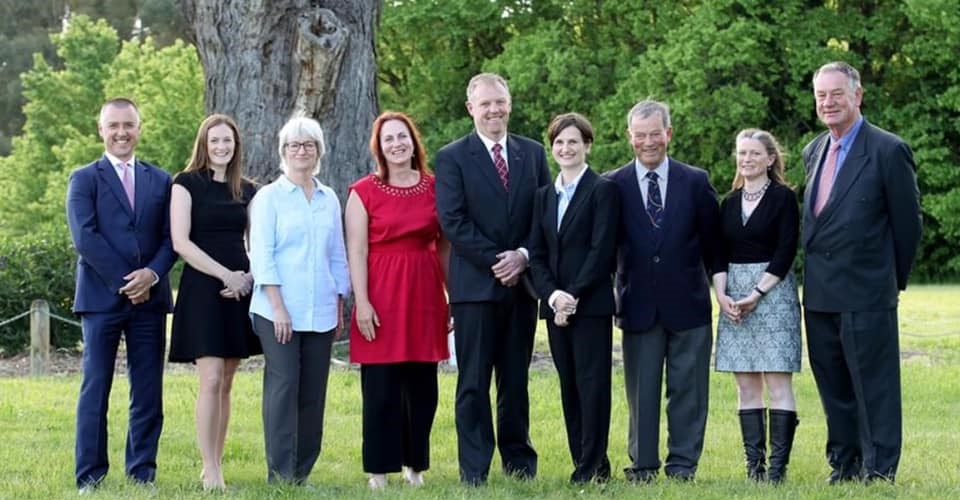 Six of Macedon Ranges' current nine councillors have confirmed they will seek re-election in October and one will bow out after serving 12 years.
Roger Jukes, one of the longest serving current councillors, told the Express he would be "retiring from local government at this election" after chalking up three terms.
"Although there is still much to do to continue providing for the needs of our growing community, l feel the time is right for me to step out and by doing so it allows a new candidate to add to the great work council has achieved over the last 12 years," he said.
"I will be busy with new challenges but still very much interested in the Macedon Ranges' future."
While Cr Jukes will not contend for West Ward, there will be two strong candidates in former three-time mayor Jennifer Anderson, seeking a third consecutive term, and Janet Pearce – mayor of the past two years.
All three current East Ward councillors: Bill West, Henry Bleeck and Natasha Gayfer, will again vie for a place on council, bringing years of community connection and experience to the field.
Seeking to add to that know-how is Helen Radnedge who will contend for a second term as the sole return for South Ward. Both Andrew Twaits and deputy mayor Mandi Mees revealed they would not renominate in October.
Cr Twaits said he was stepping aside for more family time as his teenage sons enter their important final years of schooling and was confident in the direction of the council.
"I have a great deal of confidence in the future of MRSC and its connection with the community as a result of the fundamental and difficult transformation work that's been done in an organisational and governance sense over the past few years," he said.
Cr Twaits said he hoped to see councillors continuing to work well together and continued strong support for the CEO and management team.
He said his own experience had been rewarding.
"It's been inspiring to see the level of community engagement, spirit and commitment that exists across a range of social, cultural and sporting pursuits. As demanding as the workload on council can be – and as difficult as some of the decisions are to make – I'm really grateful for the opportunity," he said.
Reflecting on the past term, Cr Mees said some highlights included establishing an early climate change target – leading to progress and innovation in waste and energy and setting planning rules to protect Macedon and Mount Macedon from overdevelopment.
Cr Mees was also a key supporter of start-up social enterprise Macedon Community House and was proud the council had completed master plans for Ash Wednesday Park and Kyneton Airfield.
"It has been an honour to serve such an active, ambitious and passionate community to achieve their goals," she said.
Macedon Ranges welcomed seven new councillors at the last election. Six were experiencing their first ever term while Henry Bleeck had previously stood on council.
Cr Twaits encouraged anyone who was considering standing for council to put themselves forward with opportunities to campaign effectively still available via digital communication tools.
"Four years is a long time to wait for the next opportunity," he said.
Note: The Midland Express contacted each councillor following the Minister for Local Government's announcement that local government elections would proceed on October 24.