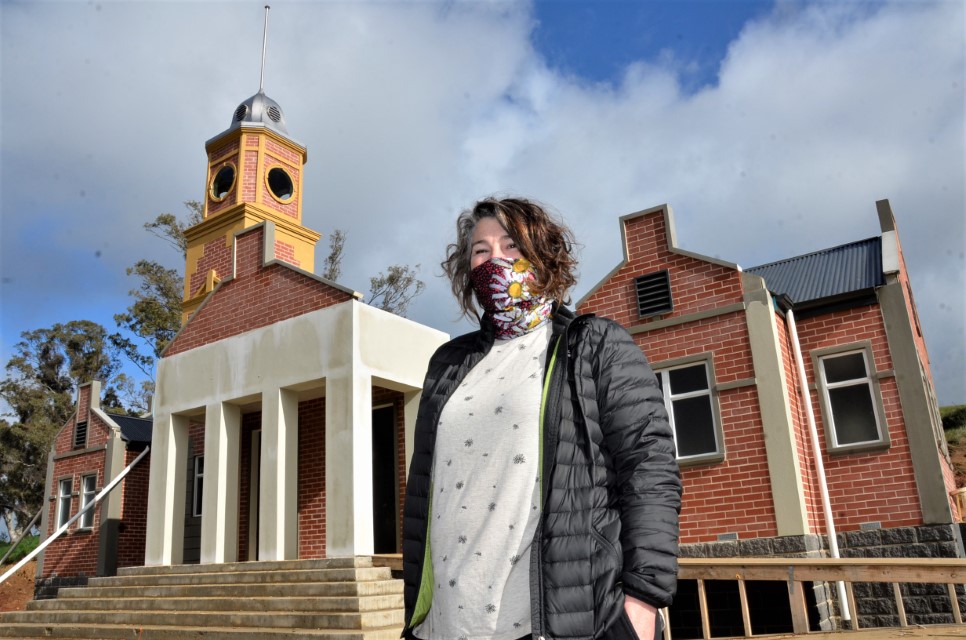 It's an imposing sight.
The newly built replica of Maryborough's grand 1870s railway station, complete with newly added clock tower, stands testament to the massive work that's already been done towards creating Harcourt's Miniature Railway.
Now Stage 3 COVID-19 restrictions have placed Victorian Miniature Railway's work to realise its grand vision on hold.
But the VMR and its swag of enthusiastic volunteers and supporters can hardly wait to get cracking again, and in preparation for that day they're now appealing for any funding support they can get.
"We're thinking of setting up a GoFundMe (online crowdfunding) campaign," VMR president Andrew Mierisch said.
"Anything from $50,000 to $500,000 would see us fly.
"It's going to be Australia's best miniature railway."
Situated on a sprawling 60-acre site off Harcourt's Harmony Way, the vision features 20 kilometres of track to be built in stages.
One of VMR's 40 club members, Harcourt businesswoman Donna McMahon said about one kilometre of track was already down.
"Stage one is for three kilometres, but it's not just about the track," said Ms McMahon whose husband and young twin sons are also keen club members, and whose family background at Harcourt goes back many years.
With the local Lions club already throwing its support into the project, Ms McMahon said there was huge scope for a wide range of additional community groups to get involved, naming landscaping with indigenous plantings as just one possibility.
"I can't wait to see the project up and running," she said.
"I think it's going to attract a more diverse group of people than the bike park and will bring significant benefit for our community and the shire.
"I think it's going to be awesome and it's important that we all get on board. Money is a huge issue."
Mr Mierisch said while current coronavirus restrictions had meant on-site work, including engagement of a local builder, had temporarily ground to a halt, it was hoped to resume soon.
Installation of a vintage railways signal box to serve as a club house for the Harcourt Lions is planned for the near future, as is the installation of four working clock faces – all able to be illuminated – in the new station clock tower.
"There was an indicative promise given to us that there would be some more VCAL funding around June," Mr Mierisch said.
The involvement of local VCAL students has to date been a particularly significant aspect.
"We were trying to open at the end of the year and we're still hopeful," Mr Mierisch said.
Keep up to date with developments via the website at www.vmr.com.au