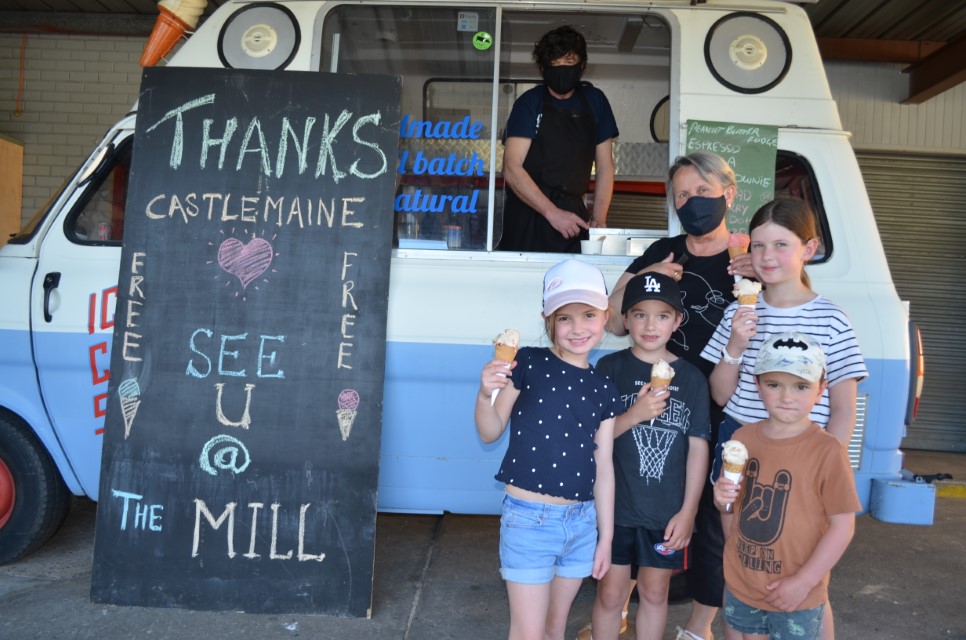 Pressures from the coronavirus pandemic have led to the closure of Castlemaine's much-loved Icecream Social ice cream parlour at the corner of Forest and Hargraves Streets after three years of trading.
Operators Helen Addison-Smith and Craig MacDonald said they were devastated to have to close the doors last week but unfortunately the extended lockdowns had taken their toll.
It was the couple's dream to offer something grand, like the ice cream parlours and milk bars that used to be all through country Australia.
However, the good news is the popular local business lives on at their factory outlet at The Mill complex in Walker Street and their popular retro Icecream Social van is still set to be a regular fixture at the weekly Wednesday Castlemaine Farmers Market.
The couple will also retain their Thornbury store.
To say farewell and thank the people of Castlemaine for their support, the Icecream Social team were giving away free ice creams from their van in Forest Street last Friday.
The balmy spring day saw lots of locals and visitors turn out to enjoy an ice cream and wish the team well with their ongoing ventures.
Operator Craig MacDonald told the Express they were shattered to have to close the doors to their beloved parlour.
Craig said a lot of their trade at the Forest Street store was supported by tourists so the lockdowns were tough. Regional tourism collapsed and weddings and big events, their major source of income and the subsidy for the parlour, vanished.
"We thought about adapting to provide takeaway cafe offerings but Castlemaine already has such a rich cafe culture and we didn't want to take away from anyone else," he said.
Craig said fortunately Uber Eats had been a godsend for their Thornbury store and kept it ticking over.
You can get your ice cream fix at the Icecream Social window at The Mill every Friday, Saturday and Sunday from 12pm to 4pm and at the market every Wednesday at the Western Reserve from 3.30pm.