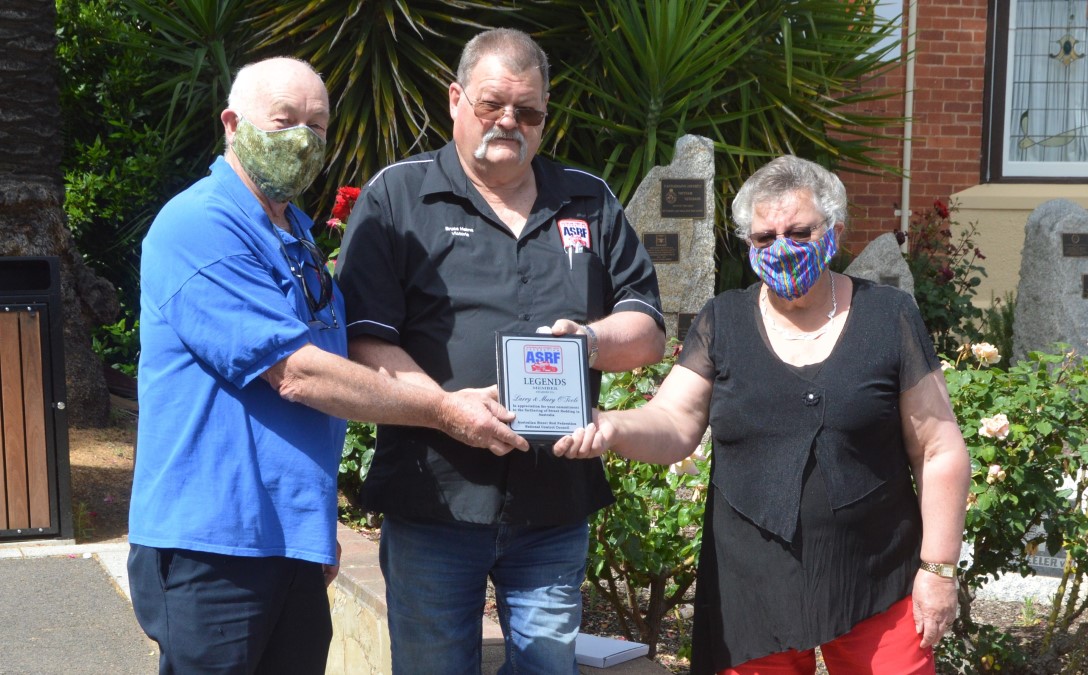 Castlemaine hot rod stalwarts Larry and Mary O'Toole have been recognised with a special 'Legends' award by the Australian Street Rod Federation.
The founders of Graffiti Publications and creators of Australian Street Rodding magazine were awarded the honour by the ASRF National Control Council, the governing body for street rodding in Australia.
It is understood to be the first ever presented to a couple and recognises the incredible contribution the pair have made to the iconic industry and their commitment to the furthering of street rodding in Australia.
Larry and Mary received the honour in a surprise presentation at the Castlemaine Hot Rod Centre's monthly Castlemaine Coffee Cruise on Sunday November 15.
Their son Alistair, editor of Australian Street Rodding magazine, said his parents were shocked but delighted by the honour.
"I had known for a couple of weeks and it was so hard to keep it a secret but it was absolutely worth it to see their reaction. They were really humbled," he said.
It was the first Coffee Cruise event since COVID struck and couldn't have been a more fitting time for the Castlemaine Hot Rod Centre chairman and wife Mary to be recognised for their incredible efforts with more than 70 cars in attendance.
The couple created Graffiti Publications and founded the Australian Street Rodding magazine back in 1977. Fifteen years ago, Alistair joined the team and they continue to go from strength to strength producing world-class magazines that celebrate all things rodding – both in Australia and internationally – through their prized annual special publication Hot Rodding International.
Larry said he was well placed to create the magazine.
"I worked at the Swan Hill Guardian. I knew the industry and combined with my hobby interest in hot rods it was just meant to be," he said.
They have now produced 357 magazines, 12 Hot Rod Internationals, 60 plus editions of the former Streetcar magazine and more than 25 books. Graffiti is also Australian distributor for six other international magazines on the subject.
The O'Tooles have been privileged to have had a front seat for the evolution of rodding in Australia and beyond.
"It really is a big family and everyone has been so welcoming and supportive of us. Wherever you go in Australia and overseas you receive a warm welcome," Mary said.
In fact, Mary recalls that Larry was at a national hot rod show in the US when a man called out to him 'Hey Mr Graffiti, I need to talk to you!'. The man had spotted 'Graffiti' emblazoned across the back of Larry's signature yellow t-shirt.
"He wanted to speak to me about potentially setting up an agency here in Australia and he has since done that," Larry said.
The family had just sent the latest magazine off to print as the Express called in. However, there was little downtime as they switched gears to complete the finishing touches on their newly revised and expanded edition of Street Rod Engineering – a bible for street rodders.
"The new 176-page full-colour book is a complete technical guide on all aspects of how to build a street rod and is set to be released early in the new year," Larry said.
The Castlemaine Hot Rod Centre's next Coffee Cruise will take place on December 20 and will culminate at Autoplex Castlemaine at Etty Street. Check out their Castlemaine Coffee Cruise Facebook page for details.