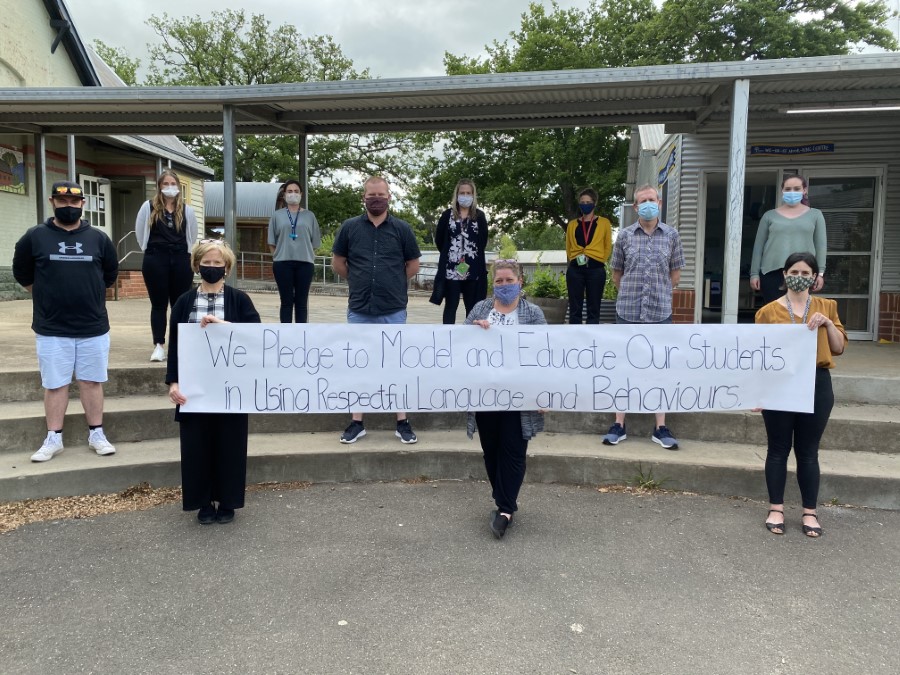 Three local primary schools are making a pledge to be proactive in the prevention of family violence and the promotion of respectful and positive relationships.
To mark the 16 Days of Activism Against Gender Based Violence, and as part of the Lancefield Romsey Stand Together Campaign, teachers at Lancefield Primary, St Mary's and Romsey Primary schools are taking a stand by sharing a photo of themselves in front of a banner stating their pledge.
"We lead by example, working together in a considerate manner using respectful language and behaviours," said Jo Emond, principal at Lancefield Primary School.
"Our students learn about gender equality through our participation in the Resilience, Rights and Respectful Relationships program, which is designed to support students' social, emotional and positive relationship skills."
The Stand Together Campaign was initiated by a group of local residents participating in a community wellbeing project facilitated by Swinburne University and supported by Cobaw Community Health.
Margaret McDonald, CEO at Cobaw said that as we reflected on how COVID had impacted lives it was important to understand that family violence incidents have increased in the past year.
"We continue to support any activity that results in the reduction of family violence that endangers the lives of women and children," she said.
All community members are invited to participate by taking a photo of themselves holding a sign showing what they will do when it comes to promoting a more equal society free from violence.
"Preventing family violence is a shared community responsibility and we need to be united," said Julie McDougall, principal of St Mary's Primary School.
"The school community is often the first place many families turn to during a time of need. We strive to live by our school's anti-bullying message – we extend our hand and united take a stand."
Principal Kimberley Nicholls said Romsey Primary School proudly supported the Stand Together campaign.
"We all have a role to play in supporting families and preventing family violence within our community," she said.
"As a school we do not accept abusive language toward any member of our staff or our students. We believe that by working together in a respectful way, we can support each other to create a safe environment that promotes respect, gender equality and inclusion for all."
The Lancefield Romsey Stand Together campaign will be promoted during the 16 Days of Activism and at the end of the campaign the photos will be on public display.
To submit your photo, email lauren.tyrrell@cobaw.org.au.