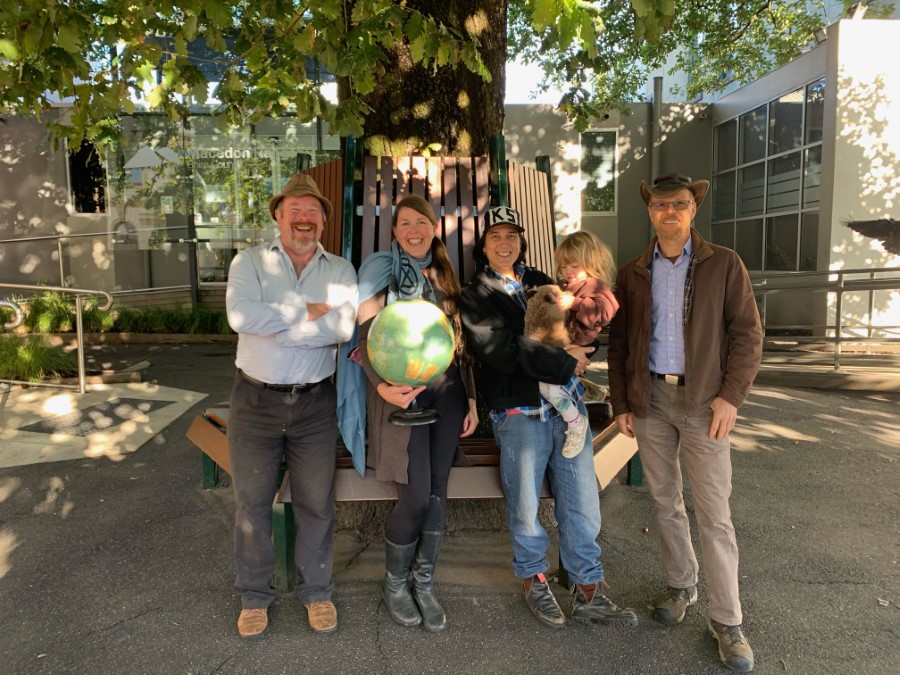 Macedon Ranges has joined 32 Victorian local councils in declaring a climate emergency and stepping up its plan for action.
In its next budget the council will consider increased climate action response, which includes two paid staff ($189,000 total), and $50,000 over two years to accelerate its Cool Changes program to all towns by 2023.
The move includes updating council policy, creating response plans and proactive advocacy, and was the most intensive of four options considered at the council's ordinary meeting last week.
Leading the push, Cr Mark Ridgeway wanted to show that the Macedon Ranges was serious in its approach to climate change.
"Declaring a climate emergency brings all our activities together under a single policy umbrella. It makes a strong statement to ourselves and to the community regarding what our priorities are," he said.
Cr Ridgeway said it was important for the council to consider resources toward addressing climate change in "an ongoing sense" and stressed the significance of local government action.
"Councils themselves can play a role in addressing climate change through their operations and practices and in leading the community, advocating and educating residents and businesses into adopting practices that reduce emissions," he said.
"We already put a lot of resources in but that doesn't mean that we have to stop here."
Macedon Ranges Council's work in recent years has primarily focused on reducing the organisation's corporate emissions and helping to develop local community climate change action plans.
Crs Geoff Neil and Dominic Bonanno challenged the need for a declaration when the council had already proven its commitment through its actions.
Cr Neil sought community feedback, suggesting many "just want council to get on with the job", while Cr Bonanno expressed concern over the financial cost to ratepayers.
"Unfortunately it's such a great ratepayer cost when it's something the federal government should be leading us on," Cr Bonanno said. "We are already doing over and above what other councils are doing who have declared a climate emergency."
The state government's Victorian Climate Predictions 2019 indicates that current trends follow a high emissions scenario that is likely to result in the Loddon Campaspe region experiencing longer fire seasons, change in rainfall and, by 2050, temperature increases of up to 2.4oC (from 1990).
Council's director of planning and environment Angela Hughes said climate change was becoming an increasing priority for the community as global emissions continued to rise, threatening communities and ecosystems.
"While declaring a climate emergency is not a pre-condition for continuing council's climate change initiatives, it sends a strong message to the community and provides a policy basis to inform council's corporate planning and decision-making," Ms Hughes said.
Macedon Ranges Shire Council officially declared a climate emergency on Wednesday in a 7-2 vote, and will consider further steps to address climate change in its next budget, which will go out for public comment.
Community push for action
Macedon Ranges Council's climate emergency declaration has gained immediate support from the Macedon Ranges Climate Emergency Declaration Coalition.
The lobby group lodged a 405-signature strong petition calling for council's declaration of a climate emergency and taking steps to address the emergency, which was tabled on the night of the decision.
The Climate Emergency Declaration is part of a global campaign that calls on elected leaders to declare a climate emergency and help initiate a nation-wide response to environmental damage.
The coalition comprises community organisations, neighbourhood houses, and local shop traders, including Macedon Ranges Sustainability Group, Woodend and Kyneton Neighbourhood Houses, Extinction Rebellion Woodend; Macedon Ranges and Kyneton, Vegan Delicious, The Last Straw Marketplace and others.
MRSG president David Gormley-O'Brien said members were "over the moon" with the council's decision.
"There's a feeling of hope and it means we, in the Macedon Ranges, can hold our heads up high to know we are joining this large movement," he said.
"The council has been involved with some terrific and innovative projects like FOGO and this a continuation in that same trajectory.
"And it's not just flag-waving, this move is considering resources for mitigation and adaption to climate change. The MRSG congratulates the councillors who voted for this position – it's both a courageous and insightful move. Now the heavy work begins."
Fellow Ranges resident Lenka Thompson said members of the community were excited and would be watching with interest.
"It was wonderful to get confirmation from our community leaders and to hear them speak about how important this step is," she said.
"Some say that climate change is a federal issue but we all have some responsibility and role to play in addressing this. You can find a way to take action on any level."
Program in brief
Macedon Ranges Council's existing climate change work program includes:
1. Participate in the council-only renewable energy buying group to secure 100 per cent of council's electricity from renewable sources.
2. Facilitate the development of community climate change action plans on a town-by-town basis through the 'Cool Changes' program.
3. Begin preparation of a Zero Net Emissions Plan for council operations, in accordance with a council resolution from October 2017.
4. Deliver council's National Landcare Program funded Private Land Conservation Program, including promotion of regenerative agriculture that builds the capacity of farmers to enhance carbon storage in soils.
5. Transition council's fleet to hybrid and electric vehicles as opportunity arises.
6. Implement environmental building upgrades as opportunity arises (subject to approval as a part of council's annual budget process).
7. Integrate climate change mitigation and adaptation in the Council Plan and other strategic documents in accordance with the requirements of the new Local Government Act 2020.
8. Advocate for action and support by responding to state and federal government inquiries and consultation processes, subject to officer workloads.
9. Remain an active member of the Central Victorian Greenhouse Alliance, particularly in regional projects and joint advocacy work.