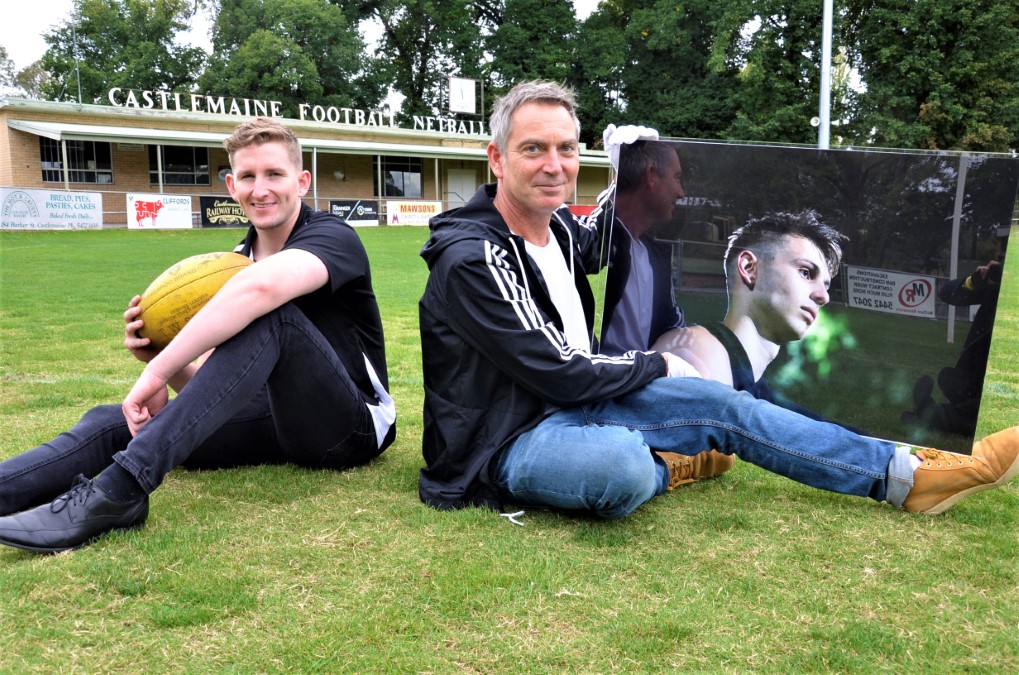 Sport and art are often pitched as polar opposites.
But now a Castlemaine artist has teamed up with the Castlemaine Football Netball Club to bring the two fields much closer together, creating a two-channel video to be projected onto the CFNC clubrooms.
Play On is the brainchild of Castlemaine's Martin John Lee and explores the loss of social and physical connections experienced when contact sports – particularly local footy – were cancelled as a result of COVID-19.
Lee worked with footballers at the local club – and with videographer Simon Green to create the video scenes that will be projected onto the clubrooms each evening between 8.30pm-10.30pm from tomorrow to Sunday.
"It's two projections so it's synchronised," he said.
"The projections will be shown with geo-located sound and the sound will actually cover the whole area of Camp Reserve.
"It's one of those things that you can wander in and out of because the projection looping goes for nine minutes," explained Lee, who also worked with photographer Emma Byrnes to create an accompanying series of photos.
The video deals with the social, mental and physical importance of sport in people's lives, and with loss, especially that felt during last year's COVID-19 lockdowns when sport was hard-hit.
"For a lot of people their identity can be tied up in sport," Lee said.
CFNC president Caleb Kuhle said the longstanding local club was very focused on inclusivity and was enjoying a return to training following the impacts of the pandemic.
"COVID affected everyone and this was a really good opportunity to bring everybody together," he said of the Play On project.
"It's about bridging the gap with different groups of people. All walks of people are welcome at Castlemaine Football Netball Club."
The video projections and accompanying photographic exhibition can be seen each night 8.30pm-10.30pm from tomorrow Wednesday March 31 to Sunday April 4 at the clubrooms, Camp Reserve Castlemaine.