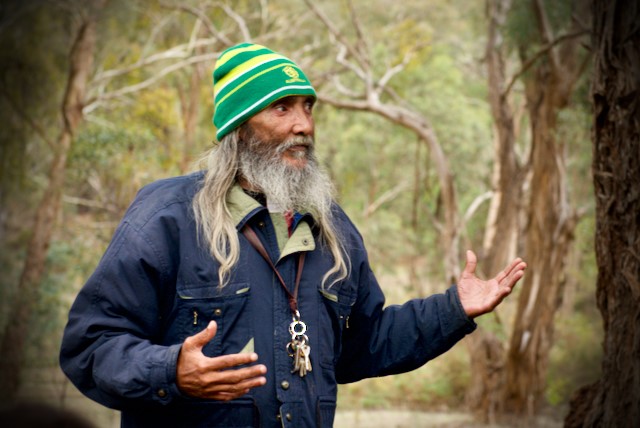 A rich program of cultural events, tours and activities are in store in Castlemaine and surrounds during Reconciliation Week launching this week.
Nalderun Education Aboriginal Corporation and Mamunya have organised a packed program that opens with this year's Sorry Day commemoration at Castlemaine's Market Building steps tomorrow, Wednesday May 26.

Starting 11am, tomorrow's Sorry Day program features an introduction by MC Vic Say with Dja Dja Wurrung Indigenous elder Uncle Rick Nelson performing a Smoking and Welcome to Country ceremony as part of the program.
Tomorrow's program will also feature speakers including Indigenous elders Aunty Maxine Briggs and Uncle Larry Walsh.
On Thursday, Castlemaine's Reconciliation Week official launch takes place at 10.30am in the Market Building where a Reconciliation exhibition will also be on display throughout the week that runs through to next Thursday June 3.
This Thursday's launch features speaker Uncle Ron Murray.

On Friday the Castlemaine Library hosts Aboriginal storytime at 10.30am while another attraction this Friday is the Dja Dja Wurrung cultural walking tour of Castlemaine is set for 9.30-1.30pm with bookings available at the Market Building.
Uncle Rick says it has proven popular when held in previous years.
"We've done it for a few years now. It's a 45 minute walk around Castlemaine CBD," he told the Express.
He says the walk takes in multiple sites of Indigenous significance and incorporates research drawn from historical records and 1800s newspaper clippings.
"For example we know about a coroboree that took place outside the town hall around the 1870s," Uncle Rick said.

The following Wednesday, June 2, offers another great chance to gain insights into the local area's Indigenous heritage when Uncle Rick will lead participants on a unique cultural awareness event visiting multiple sites of Indigenous significance – with bookings available via CHIRP.
"We'll look at Franklinford where the old Aboriginal station was, and cultural sites on the way back to Castlemaine like the grinding stone site at Vaughan Springs and a couple of canoe trees," Uncle Rick said.
"As people should be starting to realise, we're strong on reconciliation and working with the community – Indigenous and non-lndigenous to achieve it."

Film screenings at Castlemaine's Theatre Royal, special guest discussions and audience Q&A sessions are all part of the program.
This year's theme for National Reconciliation Week is "More than a word. Reconciliation takes action".
"The theme for Reconciliation Week this year strongly encourages a movement towards braver and more impactful action as we continue to acknowledge our past and work towards reconciliation," said Sharna Cropley, Inclusive Communities coordinator with Mount Alexander Shire Council.
Those seeking more info about the week's activities can go to Nalderun's Facebook page at www.facebook.com/nalderun, pick up a program from the Civic Centre, the Castlemaine Library, and other locations across the shire.