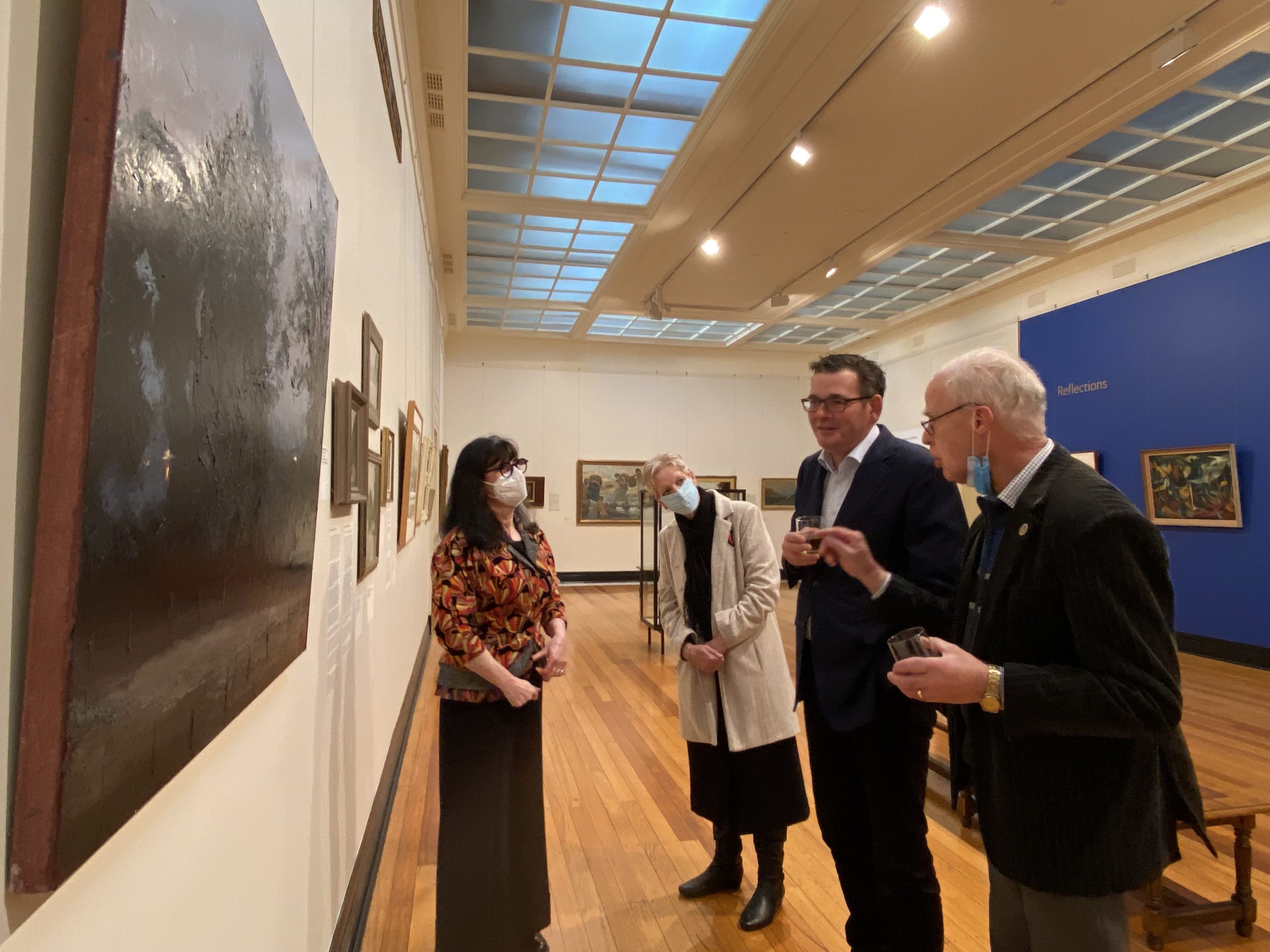 Lisa Dennis
Premier Daniel Andrews stopped over in Castlemaine on Friday to enjoy a tour of the Castlemaine Art Museum with Bendigo West MP Maree Edwards.
The visit follows the state government's commitment of $6 million in May towards upgrades at the gallery and a master plan for redevelopment.
The funds will enable CAM to begin the first stage of construction including critical improvement works to protect the structure of the building, in particular the roof, and improve lighting, atmospheric conditions, security, undertake painting and provide universal access at the entrance.
The master plan for the redevelopment of the rare art deco building, which was opened following a grassroots push by the community in 1931, is being developed by John Wardle Architects and the works will be carried out in close consultation with Heritage Victoria.
The funding will also include planning towards stage two of the master plan, which includes grand plans for expansion, including a lift to a new glass upper level that would boast 360 degree views of Castlemaine.
The redevelopment aims to enhance the local art venue's profile statewide and beyond, attracting more tourism to the region.
Mr Andrews was welcomed to country by local Dja Dja Wurrung elder Auntie Kerri Douglas before undertaking a tour of the local venue with gallery director Naomi Cass, general manager Sarina Meuleman and deputy chairperson Helen Symon, local artist and board member Melinda Harper and trustee George Milford.
Mr Andrews wandered the gallery and museum taking in some of CAM's key works and new exhibitions, Reflections on the Castlemaine Art Museum Collection and Malmsbury artist Gabrielle Martin's Through the Long Grass.
The Premier took a keen interest in the works of Clarice Beckett, Jeffery Smart and Eric Thake's linocut, An Opera House in Every Home, and also enjoyed the chance to view the vote card of Castlemaine's infamous first female voter Fanny Finch in the museum.
Mr Andrews acknowledged it was important the atmospheric conditions in the gallery were suitable to be able to display its significant works and that the space was easily accessible for all.
"It's not just about providing wheelchair access, but universal access for people on a whole, including those with mobility issues and families with prams," he said.
Mr Andrews also made some positive suggestions to the CAM team about the possibility of loaning significant works from other galleries as a drawcard to Castlemaine.
Ms Cass said the Premier's surprise visit to CAM with Bendigo West MP Maree Edwards was an exciting opportunity to share CAM's vision and thank the state government for critical capital works funding.
"We were astonished at Dan Andrews' interest in and knowledge of Australian art and many artists in our collection. His respect for Castlemaine's fabulous heritage-listed art deco building was greatly appreciated. He seemed totally on board with CAM's role in the local art ecology," Ms Cass said.