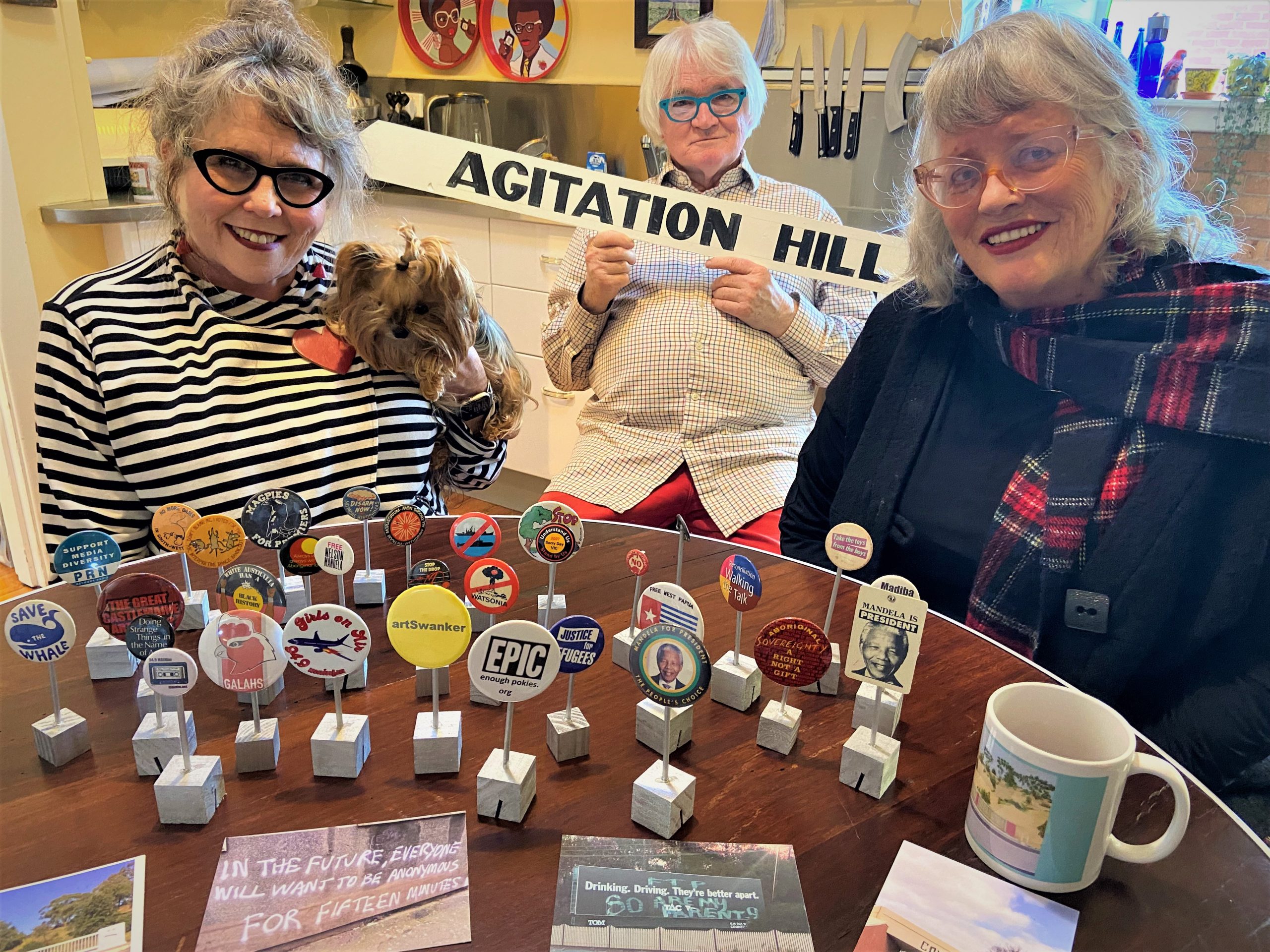 A new exhibition that celebrates the human mark and the signs we make to tell our stories is set to be unveiled at Castlemaine's Lot 19 Arts Precinct this Saturday.
The new offering will has been curated by respected local arts commentator, author and radio presenter, Suzanne Donisthorpe, and features graffiti, protest posters, T-shirts, billboard enhancement, revolutionary jam labels, and secret signs left by swaggies.
Donisthorpe says it is the story of people power.
The show features some of the who's who of the local arts community including Annabel Nowlan, Bob Clutterbuck, Tracey Naughton, Sir Leslie Thornton and Ben Laycock and is to be opened by the highly renowned and elusive street artist Banksie.
Donisthorpe says the intrinsic and identifiable characteristic of Annabel Nowlan's art practice stems from a long connection to land; the land of her family farm and of the Wiradjuri people, at Bimbi in south western New South Wales.
"In this show Annabel is exploring the human marks left by swaggies post WWI as they sought work, food and shelter in their travels.
Messages about whether those that followed could find good food, a warm bed, kind hosts or were best to steer clear," Donisthorpe says.
"There is evidence these covert communications are still used by itinerants internationally: by the Romani of Europe to the 'hobos' of America and the swaggies, wanderers and homeless of Australia".
Bob Clutterbuck was a founding artist at the famous Redletter print workshop in the 1980s, a teacher of vast experience the scenic artist has worked in TV, theatre, trade shows, advertising and amusement parks.
"He is currently working on establishing the Newstead Red Shed Arts workshop. Some of the brightly coloured and iconic union and campaign t-shirts created on the press at Redletter will be among the items to feature," Donisthorpe says.
Tracey Naughton was born a textile artist and after a career in the arts took on global campaigns advocating for media freedom, pluralism and independence. Her marks on the world include road signs, banners, multi-media productions, telecommunications legislation and United Nations Declarations.
"Tracey's revolutionary jam is legendary and will feature in the latest exhibition, along with an array of tiny 'button' signs crafted from badges from campaigns and causes close to the heart of Castlemanians and those further afield," Donisthorpe says.
Naughton and Donisthorpe have also teamed up on a visual presentation of signs they have collected on their travels throughout the years and Tracey also has plans for an interactive QR code installation – a real sign of the current times!
Sir Leslie Thornton's work is whimsical, beautiful, invigorating, compelling and lighthearted. With an abiding interest in geography and geopolitics, he looks at cities, landscapes, buildings and places in a unique way.
"Leslie takes what may seem mundane subjects and honours them with a tinge of facetiousness. Sir Leslie's famous 'B class' buildings of Castlemaine are duly honoured in his work," Donisthorpe says.
Thornton is creating a unique signpost centrepiece for this particular exhibition, which will be a nod to all the places early settlers found 'disappointing', one of the most identifiable being Castlemaine's own 'Agitation Hill'.
Ben Laycock, self-proclaimed Barefoot Economist Chief Assistant to the Assistant Chief, Castlemaine Chamber of Commerce, says his chamber is focused on creating a society based on the exchange of good, not goods.
It is anticipated his contribution to the exhibition will look at feminising some of Castlemaine's more traditional signage.
The exhibition opening at the art space 19 Langslow Street, Castlemaine will be held from 2pm-4.30pm this Saturday August 6, with Banksie to officially open proceedings at 3pm.
Signs of the Times will be open weekends (Sat-Sun 11-4) until August 28.