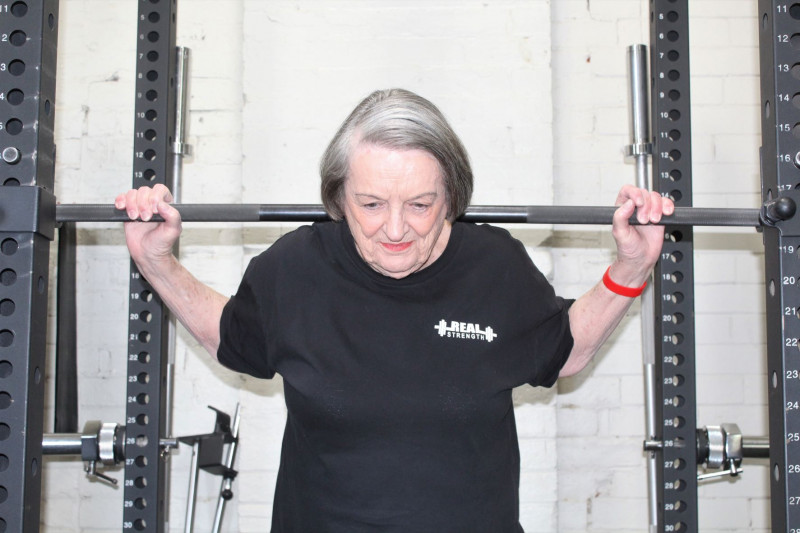 Jade Jungwirth
When someone mentions the word gym, the image of sweaty, muscular men, pumping iron while watching themselves on a wall of mirrors, immediately springs to mind.

So it's a welcome surprise to walk into Real Strength Studio in Castlemaine and be greeted with the smiling faces of an enthusiastic group of women in their later years of life.

Jayne Mayes, the eldest in the group at 82 years young, has been part of the Never Too Late program since its inception in 2019.
Being the powerhouse that she is, Jayne is able to squat 40kg, bench press 30kg and can deadlift an incredible 60kg all while looking fabulous and having fun with a wonderful group of women!

"I have found new and lovely friends to share experiences and laughter," Jayne said.

"I love the ambience that exists in the gym…. My favourite things are the lovely friends I have made along the way and the fun and happiness it brings. Plus it has given me the confidence to challenge myself."

The older men and women in the program say joining the gym has built their confidence, self esteem and they have made some wonderful friendships along the way.
Some of the members have came to the program through their GP's recommendation or have recently recovered from surgery.
They have noticed a big difference in their overall strength, bone density, increased flexibility and have reported having better mental health through regularly working out.

Dave Gittus, one of the Never Too Late regulars, said that before joining the program, his strength and fitness were "pretty ordinary". "I was quite unfit for my age and needed to rebuild," Dave said.

"Since joining, I feel a lot of pride in my progress (however slow!). The knowledge that I can continue to improve is very important, and the great friendly atmosphere I look forward to.

"There is no pressure, which means I work at a pace that feels safe. I enjoy the music too!"

Real Strength owner Daniel Pollard is passionate about making the gym accessible to people of all ages.

Through the Never Too Late program, people who couldn't get up from a sitting position or struggled to hold the weight of a broomstick have been able to lift incredible weights – holding their own against the much younger members.

Daniel, who started his own strength journey at the age of 13, got his mum Therese into powerlifting and after a long career as a nurse, she is now working as one of the coaches at Real Strength.

Daniel told the Express that often the people who needed the gym most were the ones who weren't going to mainstream gyms with mirrors and complex equipment.

"Here we do exercises that are basic and everyday movements that make you strong. And there's not a mirror in sight," Daniel said.

Real Strength is opening up spaces for new members to join the Never Too Late program in early June 2023. Information sessions will be held at The Real Strength Studio in The Mill Complex on Wednesdays May 24 and 31 at 10.30am.