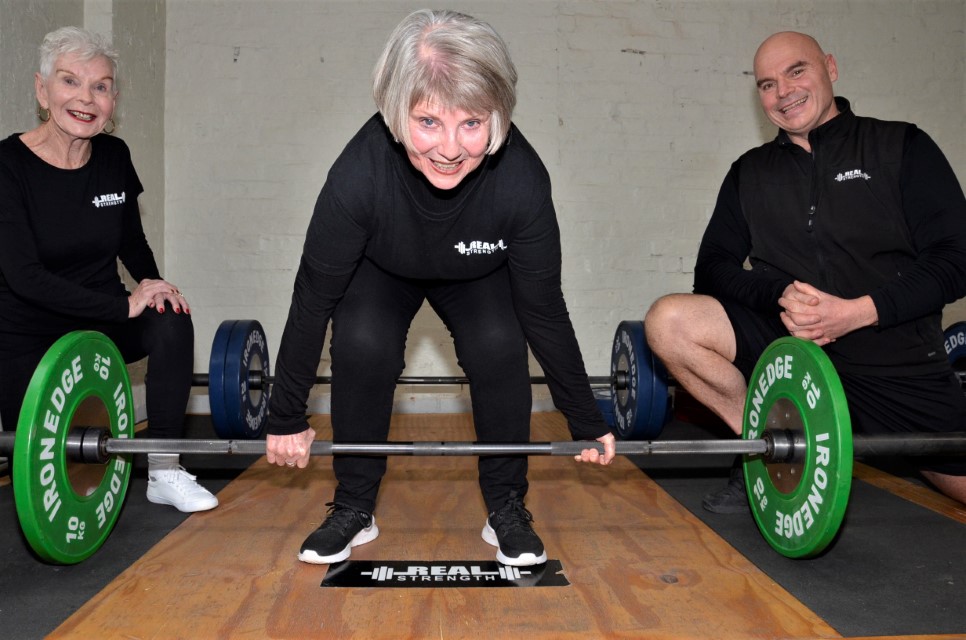 Thirteen Castlemaine women who participate in powerlifting have contributed to a study investigating factors that may deter older women from strength training.
Aimed at helping to overcome barriers to strength training, which is known to stave off many undesirable health conditions in later life, the newly released study is called If they can do it, I can do it: experiences of older woman who engage in powerlifting training.
Completed by a team of researchers with the School of Health, Medical and Applied Sciences, Central Queensland University, it has just been published in the international Journal of Women and Ageing.
Thirteen local women aged over 50 who train at Castlemaine's Real Strength studio were approached by the researchers to participate in the qualitative peer-reviewed study.
Real Strength powerlifting head coach Dean Mawby said there were many myths that often prevented people – especially older women – from participating in powerlifting or strength training, thereby meaning they missed out on considerable benefits it could bring.
"We have more than 60 people who train with us who are over 60 and our eldest is 83," Mr Mawby said.
"In fact we have five people who are over 80.
"There's a lot of research that's come out about why it's critical for people over 50 to do strength training but many people who are older are scared of it and there's some very big misconceptions about it."
He said those included notions that women who did powerlifting or regular strength training might "become bulky", might injure themselves, might not find gyms welcoming for them, or might not be capable of engaging in powerlifting at all.
"This study is valuable for breaking the myths down," the local coach said.
"One of the things this study highlighted is the value of the social aspect in training, in being able to have a chat with other people while you're training."
And while they did not participate in the study themselves, Guildford's Pam Adams and Castlemaine's Jill Murphy are both in their '70s and last year took up regular powerlifting classes.
"I'm loving it," said Pam who took to powerlifting to help recover from a broken leg.
"It's just a real buzz to be able to lift these weight. My kids think it's hysterical."
Both women said they'd noticed significant health benefits but Jill said getting started involved overcoming preconceptions about gyms as places for young men who sweated a lot.
"I feel so much better. More energy," Jill said.
The new study comes as Australia anticipates that by 2050, around a quarter of the nation's population will be aged 60 years and older.