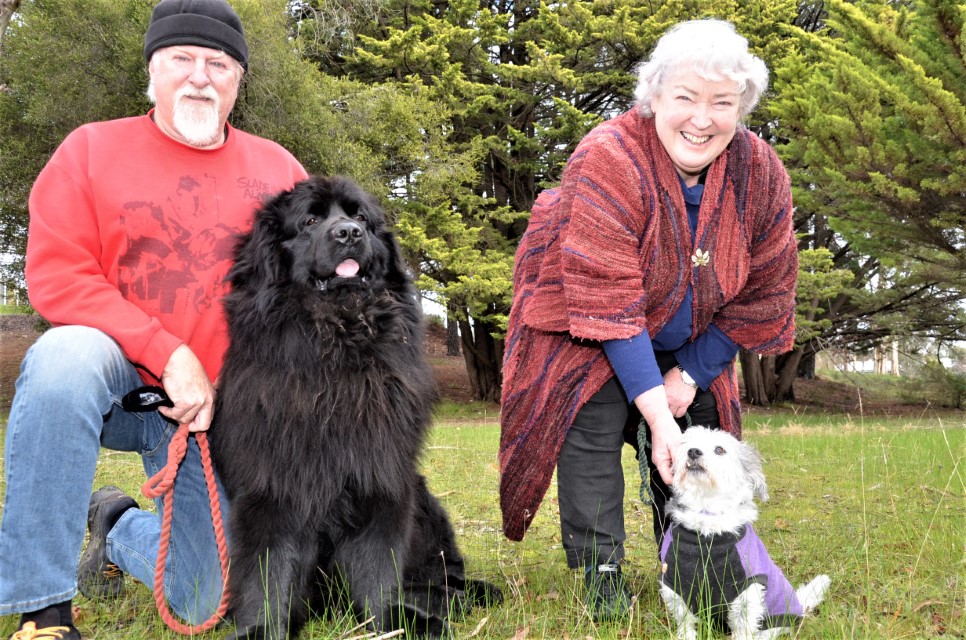 It's official – Castlemaine finally has a site for its first off-lead dog park.
After many years of speculation and multiple aborted suggestions for a suitable site, the new off-lead park site was announced on the spot late last week.
Covering 1700 square metres of leafy natural space, the site occupies the Castlemaine township edge of Wesley Hill Recreation Reserve area – near the lower stadium carpark off McGrath Street.
"It definitely goes back to when Jim Norris was mayor, probably about 15 years," Cr Dave Petrusma said of the ongoing efforts to settle on a workable spot for the park.
"At least five locations have been suggested over the years," Cr Petrusma said.
"You might say there's been a pause put on it."
"You might say it's been quite a tale," Cr Bronwen Machin added.
Amid the pooch-themed puns, Cr Petrusma's newfoundland, Bogart, and Cr Machin's dog, Sunny, were busy evaluating the chosen site.
They seemed to approve.
With $60,000 carried forward for its creation in the council's '20-21 budget, the new off-lead facility will be fenced and gated.
Work is scheduled to start in coming weeks with the new park hoped to be ready for use by September.
On site for the announcement, mayor Cr Christine Henderson said creation of the park was acknowledged as being highly valuable for people as well as their dogs.
"It's at the top of our council plan, recognised as being significant for health and wellbeing, especially at the moment," Cr Henderson said.
"It's also a great way for newcomers to the community to meet established residents," said Cr Machin, anticipating many walks to the new park with Sunny leading the way.
Signage will be installed outlining rules and regulations for its use.
"Users will still have to pick up the poo," Cr Machin said.
"But there will be a dispenser and bins," Cr Petrusma said.
"It's just great to think it's actually happening after so long," Cr Henderson said.