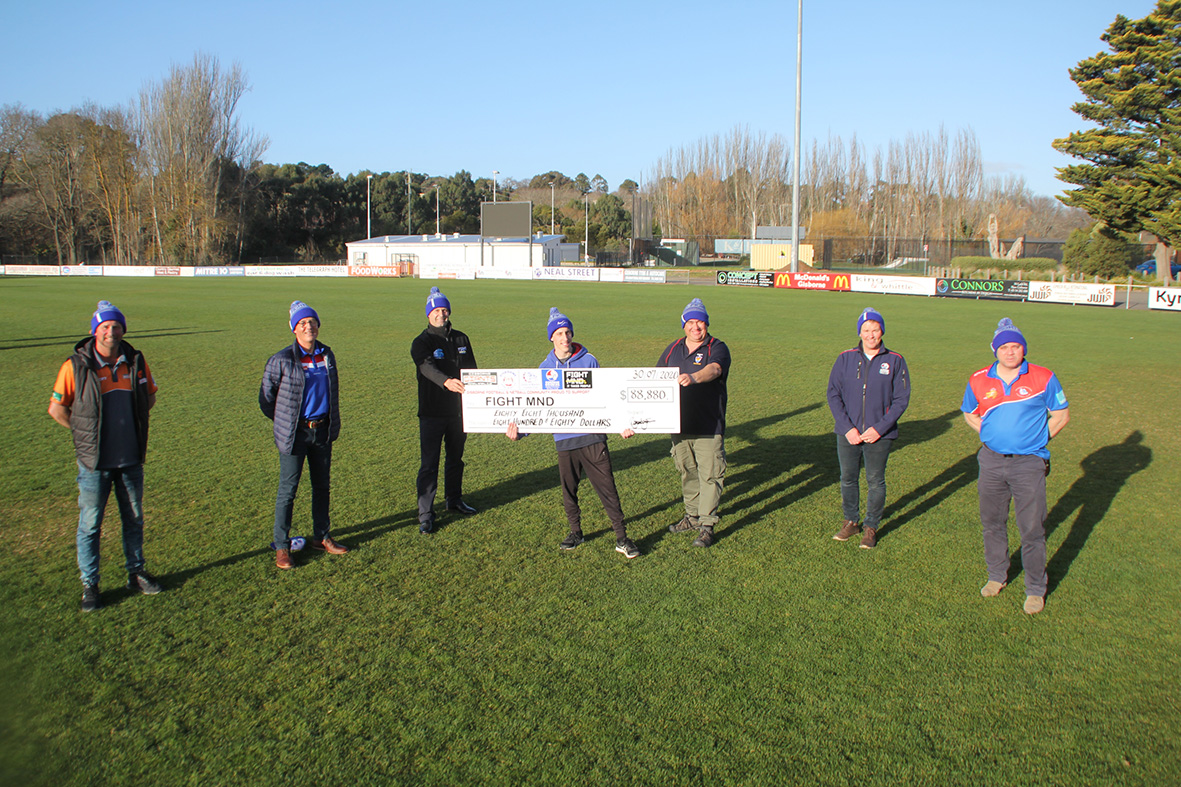 Gisborne Football Netball Club and its affiliates have raised $88,880 this year for FightMND Big Freeze 6, by far the largest amount by any community fundraising group.
"As a club, as a community, we are only too pleased to support FightMND and the battle against the deadly disease," Gisborne FNC president John Wood said at a special presentation ceremony at Gardiner Reserve in Gisborne on Thursday afternoon.
Gisborne Football Netball Club combined resources with Gisborne Masters FC, Gisborne Giants Junior FNC and Gisborne Rookies Junior FNC and their sponsors to sell 4444 beanies throughout the local community.
When the global pandemic hit Australia in March many hundreds of sporting clubs in metropolitan and regional areas faced uncertain and challenging times.
With seasons being cancelled and club revenue streams curtailed, it has become a fight for survival for many.
But Gisborne Football Netball Club 'put the gloves on' for an off-field fight of a different kind.
For the second consecutive year the club committed to play a role in the fight against motor neurone disease, a terminal and aggressive neurological disease.
Despite the spread of COVID-19 preventing the club holding its now annual matchday fundraiser for this cause, spirits were not dampened, and the Gisborne sporting community rallied.
The Golden Bulldogs, the coterie business-backed group behind Gisborne FNC, was to the forefront with Dale Pemberton coordinating much of the fundraising and beanie sales.
OVER $130,000 IN TWO YEARS
Last year the Gisborne tally for FightMND topped $42,000 through the sale of 2000 beanies and donations.
In two years, the total raised by the club has soared over $130,000 – a remarkable effort.
"While many of us are doing it tough with the challenges presented by COVID-19, those affected by MND – whether they be sufferers or family – are doing it tougher than most and thinking of those people gives us great perspective," John Wood said.
The sixth instalment of the Big Freeze raised an incredible $11.9 million to help fund world-leading research into discovering more effective treatments and a cure for MND.
Chief executive officer of FightMND, Jamie Howden, said the support of the community during such difficult times is extremely humbling.
"We were able to achieve an amazing fundraising total this year and this was only made possible by the continued loyal and passionate support of our great FightMND Army and sporting clubs and communities as we have seen in Gisborne again this year.
"It's leadership at its best and we wholeheartedly thank the Gisborne club and its many sponsors.
Howden said it was a very different Big Freeze campaign to previous years, and he acknowledged the challenges so many are facing at the present time.
"So for so many people to buy a beanie and donate demonstrates just how important people regard the need to tackle 'The Beast' head-on," he said.
The tally from Big Freeze 6 takes the total funds raised from the six campaigns to over $40 million.
Dale Pemberton said the Gisborne FNC and its affiliates combining resources so well in the important fundraising campaign had enhanced what community-orientated groups can do.
He also commended and thanked the various sponsors and individual outlets who supported beanie sales.
A special presentation of a Neale Daniher signature Big Freeze beanie was made to Gisborne FNC's young number one ticketholder Tate Kemp on Thursday by FightMND's James Garland.
It was in recognition of Tate's tremendous effort in personally selling 175 beanies and encouraging many other sales as well to reach the tally of 4444 sold and $88,880 raised by the Bulldogs this year.