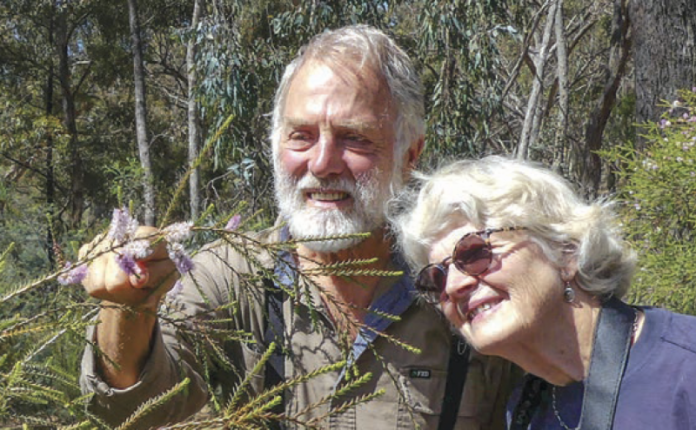 Members of the Castlemaine Field Naturalists Club are once again gearing up for the Great Southern Bioblitz from November 24-27.
Local community members are encouraged to get outdoors with their binoculars and cameras and document the flora, fauna and fungi in the region.
The Great Southern Bioblitz grew out of Australia. It has grown rapidly each year with large increases in both numbers of countries, projects, participants and observations of wildlife.
This mega biodiversity survey provides a four-day snapshot of biodiversity in environments and countries across the whole of the Southern Hemisphere.
Hosted by the Castlemaine Field Naturalists Club, the 'Castlemaine Region Project' for the Great Southern Bioblitz has been punching above its weight. Last year they placed eighth out of 86 projects in Oceania and 23th out of 242 projects across the whole Southern Hemisphere!
Castlemaine Field Naturalist member Mez Woodward said the Bioblitz was a great opportunity for people to get out in the bush, parklands or their gardens and become citizen scientists.
"It increases understanding and interest in biodiversity and contributes enormously to the scientific databases of thousands of species and their distribution," she said.
"There is also the exciting possibility of finding a species new to science. There are so many species that are as yet undiscovered, or unnamed and undescribed by science."
Castlemaine locals Geoff and Geraldine Harris have been members of the Castlemaine Field Naturalists Club since 1976 and love taking part in the Bioblitz.
Geraldine has a particular interest in indigenous flora, while Geoff's interests are with birds and trees.
Geraldine was lucky enough to identify an unknown species of beetle in the local region in 2022.
"Last year I photographed what I thought was a ladybird beetle, which caused some discussion," she said.
"Expert identifiers agreed it was probably genus Peltoschema, a member of the leaf beetle family but were unsure of the species.
"A similar beetle found later in Harcourt is now in the Australian Museum in Sydney."
SIGN UP
The Great Southern Bioblitz runs through the free online platform iNaturalist. This is a global data bank for observations of biodiversity made by scientists, naturalists and citizen scientists. There are more than 3 million registered users!

Step 1. Get onto iNaturalist on your computer or phone app to sign up. www.inaturalist.ala.org.au

Step 2. From November 24 to 27 get out in the bush, parklands or garden and take good photos or make sound recordings of wild flora, fauna and fungi. No humans or pets!

Step 3. Upload your photos or recordings to iNaturalist. You have until December 11 to identify your observations. The iNaturalist program and skilled naturalists and scientists will help.
FREE EVENTS
The Castlemaine Field Naturalists Club will also be holding a couple of free events during the Bioblitz including a 'Moth Night' at the Castlemaine Botanical Gardens and a 'Landcare and Waterwatch in Action' session in conjunction with the Castlemaine Landcare Group.
The Moth Night at the Castlemaine Botanical Gardens on Saturday November 25 will run from 8.30pm-10.30pm and will look at the vital role moths play in ecosystem biodiversity. They are great pollinators, and both moths and their caterpillars are important food sources for other insects, birds, bats, small mammals, and lizards.
Signage to the sites will be located at the main gate of the gardens and a moth scientist will be on site to help with identifications.
On Sunday November 26, Castlemaine Landcare Group will also host a demonstration of the techniques of Waterwatch at Forest Creek just off the Leanganook Track.
Waterwatch is a statewide citizen science program that helps keep track of the health of our waterways. The Landcare Group has been taking these measurements along Forest Creek for almost two decades while working to reduce impediments. Recently, the North Central Catchment Management Authority re-introduced 500 native southern pygmy perch just upstream to help return the creek to a more natural stream.
Meet at 11am at the small car park along Happy Valley Road 400m from Duke Street for the Waterwatch session. The Landcare Group will also be working on their Indigenous Food and Fibre site nearby from 11am to 1pm and are happy to talk about the work they are doing to improve habitat on public land.
Signage to the sites will be displayed on the Forest Creek/Duke Street bridge on the day.