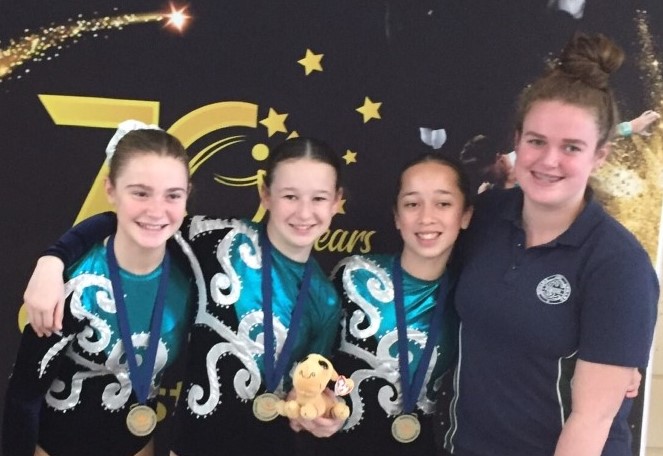 Kyneton High's gym squad has returned home with a gold medal and four bronze from the National Gymnastics Competition held in the Gold Coast.
Golden trio Evie Robert, Jessie Harrison and Caitlyn Merrall won the title for Level 3 Intermediate Trio.
Bronze was awarded to Level 3 Senior Pair: Tarnee Hammond and Emily Rowe, Level 3 Senior Group: Emily Rowe, Tarnee Hammond, Stephaine Hammond, Lilly Bromley and Jasmine Hammond, Level 3 Senior Trio: Stephanie Hammond, Jasmine Hammond and Lilly Bromely, and Level 3 Intermediate Group Evie Robert, Caitlyn Merrall, Jessie Harrison and Ruby Place.
Elaine Harrison was one of the proud mums cheering on from the sidelines.
"They did so well as the only public school. They were the little country team that just smashed it! It was a really proud moment," she said.
Kyneton High teacher Katie Matthews said the squad, in this incarnation, had only been performing together since term two this year but Kyneton had competed for the past five years. This is the second year the national competition has been held interstate.
For three years the Kyneton team was coached by mother/daughter duo Tarnee and Kerry Hammond. This year Tarnee, a year 11 student, coached the team on her own since her mother got a full-time teaching position at Newham Primary School.