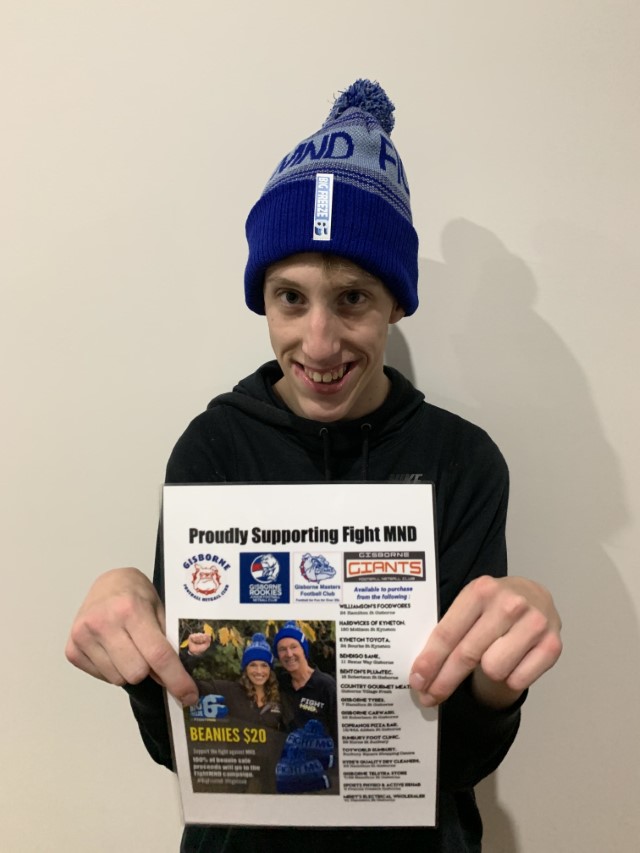 Gisborne Football Netball Club has launched a strong campaign to sell large numbers of special beanies with all proceeds to go to the FightMND program.
Last season the Bulldogs ran activities over several weeks and a massive $42,000 was raised; this year's major plans have been put on hold as a direct consequence of the unscheduled COVID-19 pandemic.
Undeterred, the club's Golden Bulldogs supporters' group is pressing ahead with Dale Pemberton the fundraising initiative coordinator.
With doubts remaining on whether this season's football and netball matches will be held, the Bulldogs are firmly focused on selling the iconic Big Freeze beanies at $20 each.
Every year a new beanie is designed and only a limited number are produced.
Gisborne has secured the support of 14 of its retail sponsors, from Sunbury, Gisborne and Kyneton.
The Gisborne Football Netball Club, Gisborne Rookies Junior Football Netball Club, Gisborne Masters Football Club and Gisborne Giants Football Netball Club are all involved in ensuring the campaign is successful.
Teenager Tate Kemp, the Gisborne FNC's number one ticketholder for 2020, bought the first beanie to set the campaign off last week.
Prior to the COVID-19, Gisborne's plans for this season to raise funds for FightFMD included a fun day, giant ice-slide, children's activities and more at Gardiner Reserve.
This was to be an inaugural event repeated on the long weekend each June, with 2021 now earmarked.
BIG FREEZE SLIDE
The club has been told there will be a first-ever official Big Freeze Slide made for Gisborne, and it is hoped this eventuates next year.
Motor neurone disease was first diagnosed more than 150 years ago, but still remains a terminal diagnosis with no effective treatments or cure.
FightMVD's vision is a world without MND, and while advances in research over the last 25 years have been remarkable, innovations and progress so far have failed to translate into significant disease-modifying therapies, or a cure.
The efforts of former Essendon star footballer Neale Daniher, who is courageously battling the ravages of the disease, had done much to lift public awareness and led to millions of dollars being donated in recent years.
Gisborne is looking for community activation, and with winter coming on, buying a beanie helps keep away the chills, as well as helping a worth cause.
The 14 retail outlets where beanies can be obtained are:
Kyneton Toyota, Hardwick's Kyneton, Bendigo Bank Gisborne, Gisborne Tyres, Country Gourmet Meats, Gisborne Carwash, Benton's Plumtec, Sopranas Pizza Bar, Hyde's Qualify Dry Cleaners, Gisborne Telstra Store, Sports Physio and Active Rehab, Toyworld Sunbury, Sunbury Foot Clinic.