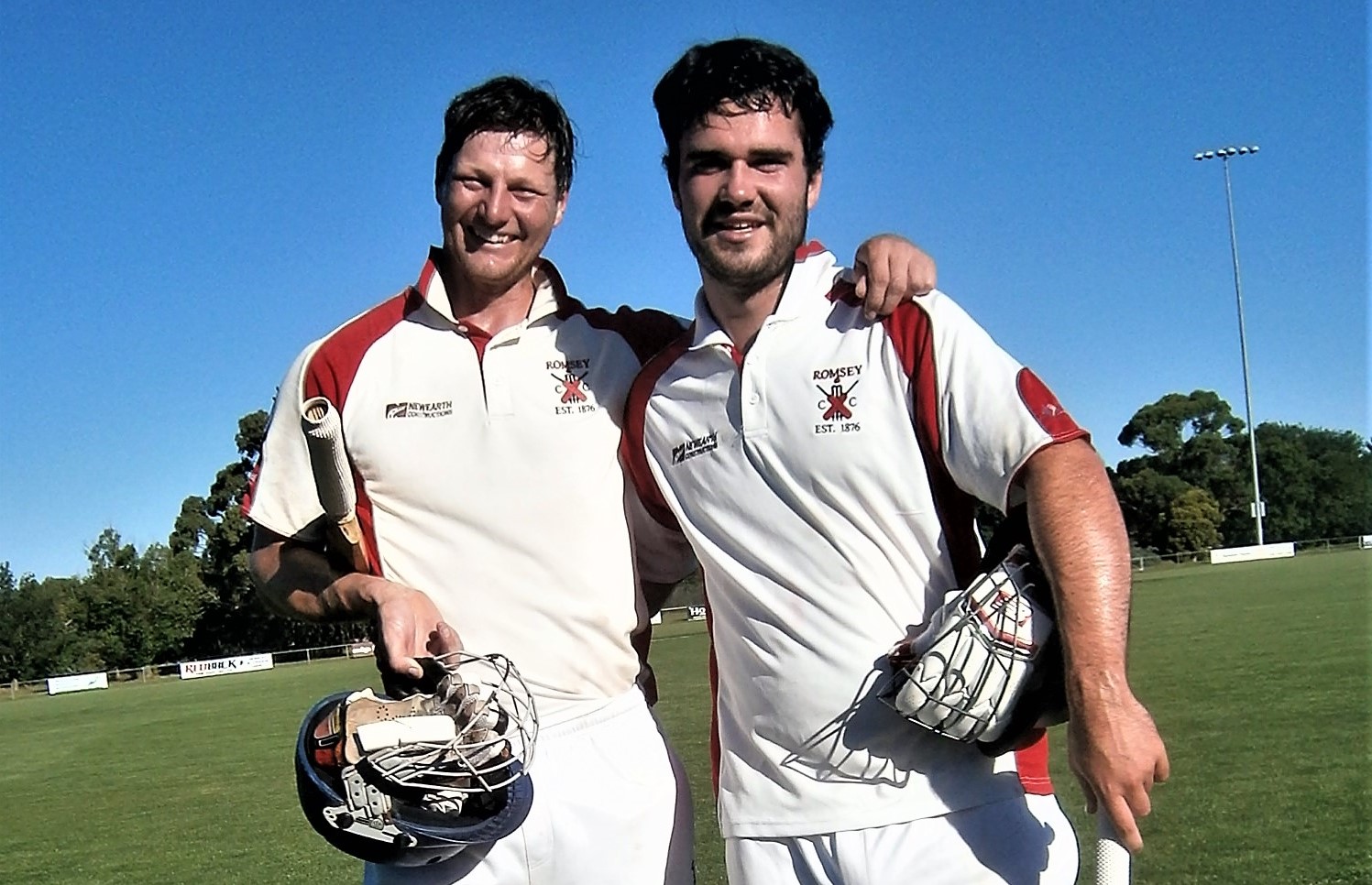 A masterful unbeaten 81 from 91 balls by captain-coach Ben Way enabled Romsey to topple Gisborne in an exciting McIntyre Cup match on Saturday.
Way and fast bowler Louis Moor added 46 runs for the ninth wicket in the last five overs to get the Redbacks over the line after the visitors compiled a healthy 7/179 c.c. from 40 overs. Prolific scoring opener Mick Allen was unavailable for Gisborne.
Spilt catches were costly as the Dragons recovered from 3/51, Patrick McKenna top scoring with 49 (four fours, two sixes). Sam Mackay, 27, Clinton Young 24 n.o., and skipper Jason Wilson 22 made useful contributions.
Romsey used six bowlers, with Aaron Paterson taking 3-25 from seven overs having the best figures, and young all-rounder Will Collins snaring two key wickets.
Way has chalked up eight centuries after joining Romsey from Melbourne C.C. and is a magnificent batsman when in full flight. He was captain of the Victorian Country Cricket League side in 2017-2018.
He has spent much time instilling self-belief into the Romsey lineup, seeking an entire team contribution.
Sean Day 21 and Corey Day 20 made early runs, but Gisborne looked to be on top when the sixth wicket fell with 94 runs on the board.
Way never panicked, monopolised the strike and continually encouraged his latter order partners, while Gisborne bowlers did their best to minimise scoring.
Picking the right ball to hit, Way launched three sixes, and Moor showed some belligerence at No. 10 to score 16 not out as the winning runs came in the final over.
Gisborne, unbeaten last season, slips to fourth on the ladder after consecutive defeats, with Romsey now third, behind Bacchus Marsh and unbeaten ladder-leader Sunbury United.
What a big match between United and Gisborne at Gardiner Reserve this Saturday. Should be worth watching. Romsey heads to Woodend looking to consolidate.
Bacchus Marsh made 7/201 c.c. (James Lidgett 89, Tom Wardell 50 not out) at Maddingly Park against Woodend, with the Woodsmen soon losing both openers for 'ducks', and slumping to 8/65 before a quick-fire 39 (seven fours) from Hamish McDonald carried the total to 115.
The remaining McIntyre Cup match was a thriller, with East Sunbury sneaking home with a ball to spare.
Diggers Rest – Bulla was bowled out for 136, and East Sunbury replied with 9/138. Neither look strong enough to trouble the top four.
Sunbury United had the bye.
OTHER MATCHES
Johnstone Shield, Jensen Shield and division one matches were played on Saturday, with the other grades still in holiday recess.
Scores included:
Johnstone Shield: Rupertswood 9/169 c.c. (J. Swallow 48, L. Shore 32 – A. Barbour 5-19) d Gisborne 103 (B. Grumont 35. Riddell 6/175 c.c. d Sunbury United 144 (J. Beever 58 – E. Mouat four wickets).
Jensen Shield: Macedon 6/145 c.c. (C. Ingleton 62, D. Trotta 46 n.o.) d Eynesbury 8/128 (N. Aikman 3-17). Romsey 6/183 c.c. (Dan Paterson 54 n.o., M. Milne 36, D. Devlin 33 n.o. M. Richardson 31) d Kyneton 68 in 29.4 overs, with young spinner Jake East taking 5-15 and Alan Stevenson executing three stumpings.
There was a tie at Gilbert Gordon Oval in division one, as Woodend bowlers stuck to their task and captured the last four wickets for the addition of only seven runs.
Woodend 8/145 c.c. (L. Barker 44 – S. Jenks 3-14) tied with Bacchus Marsh 145 (C. Dugdale-Porter 53). Gisborne 157 (C. Martin 56 – Q. Stokes 4-22) d Riddell 75 (J. Gray 39 – N. Smith 3-11, M. Baracke 3-24).
Malmsbury scored 155 (D. Nolte 45) but Rupertswood had no trouble replying with 3/156. Melton South 8/169 (M. Yates 75 n.o.) d Hanging Rock 8/165 c.c. (S. Zubrycki 57).