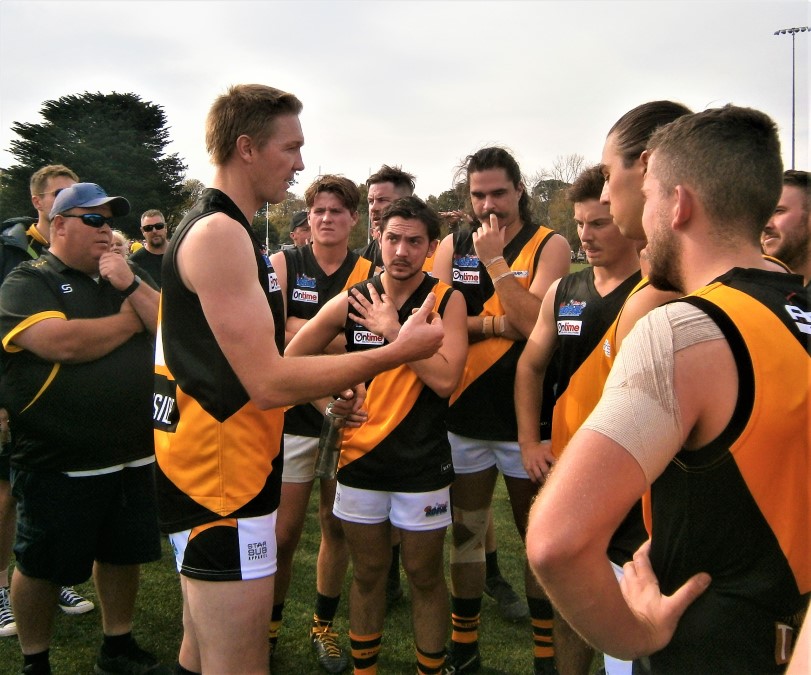 Romsey's pressure and better ball usage eventually proved too much for an improving Lancefield on Saturday, but the Redbacks face a much tougher test at home to Riddell this weekend.
Livewire key forward Jack Jedwab was a constant threat to the Tigers' defenders, and his mobility, strong marking and long kicking produced eight goals for Romsey.
After a low-scoring arm wrestle with Diggers Rest for three quarters, finals-bound Riddell broke the shackles with an impressive last-term scoring spree of seven goals.
Lancefield, despite going down by 68 points, showed enough to be confident of chalking up a victory over Western Rams (formerly Rockbank) this Saturday. The Rams failed to score against a rampant Wallan, with the Magpies now early flag favourites. They head for Macedon in another key fourth round contest.
Significantly, Lancefield Reserves scored a big win over Romsey, much to the delight of Reserves' coach Andrew Richardt and loyal supporters.
Unlike in 2019, the Tigers have sufficient numbers to choose from this season, with a strong contingent of Melbourne-based players fitting into the senior lineup.
Lancefield's senior playing coach Tom Waters said immediately after the game he was disappointed with the defeat, but optimistic about the future.
"We'll get there. There's a lot to work on," Waters said.
Romsey thrashed Woodend-Hesket by kicking a remarkable 27.4 in the previous round, and Redbacks' coach Paul Kennedy acknowledged Lancefield had played some really good football, chipping the ball around and having a real go.
"But overall our pressure was a major factor, and I felt our forwards worried them," Kennedy said.
With second-string Redbacks' ruckman Harrison Notman out for some weeks through injury, spring-heeled Nathan Hoy has a load to carry and looked up to the task for the second week in a row.
There was a large crowd at Romsey with conditions perfect for football, and Lancefield opened the scoring with a running goal from Jordan Kindred.
The home side soon realised it was not going to be a cakewalk — two years ago the Tigers battled to score at all at Romsey – and it was two goals apiece at the first break. Ben Way, five straight the previous round, missed a couple of early shots.
Romsey soon kicked a couple of quick goals, but the Tigers replied with good team football.
With nine points separating the sides, an old-fashioned dust-up erupted near the boundary line not far from the Romsey coaching box. About half the players on the ground were involved, and spectators had their say as well before order was restored.
On resumption, Romsey settled better and finished up with a match winning eight goals to one for the quarter.
Unfazed, the Tigers regrouped after the long break and kicked four goals in the third term.
Jedwab continued to win the ball with space to move in, and Romsey's accuracy from the match at Woodend continued.
The last term was five goals to three in favour of the home side, with Redbacks' supporters already thinking about the pending clash with Riddell.
HAWKS BOUNCE BACK
Woodend-Hesket regrouped after their big defeat and finished up with a solid win at Melton Centrals, much to the relief of coach Ben Tankard and supporters.
It was a match the Hawks had to win, and they took control in the second half. Centrals, hit hard by injuries, faded out and the Hawks have the bye this weekend to reflect on how they are travelling after four rounds.
Top recruit Wayne Patek turned in a big game for the Hawks, who have a strong list of players to choose from.
A positive in Riddell's convincing victory over Diggers Rest was the form of ruckman Josh Grabham, recruited from Gisborne.
Losses to Macedon and Riddell is not what the highly rated Diggers Rest expected.