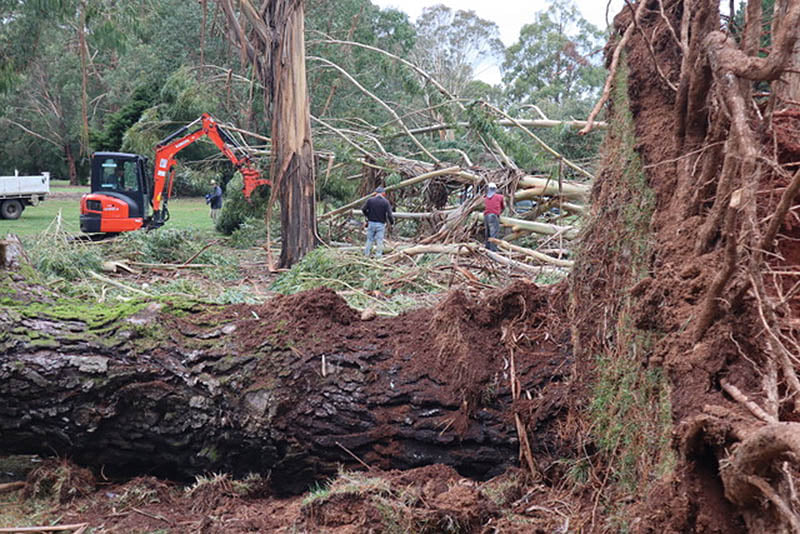 Fierce and widespread storms last week caused significant damage to many golf courses across the district, with Trentham hit extremely hard.
Countless trees have been uprooted or had limbs torn off; some courses are likely to be out of action for several days despite intensive working bees over the weekend.

The photo featured, courtesy of Trentham Golf Club, shows some of what volunteers were confronted with at the weekend.
Club captain Simon Overden said there was plenty of work to be done to make the popular Trentham course playable again.
About 20 volunteers, with an excavator helping, were in action at the weekend.
"Any helpers, particularly with heavy equipment to move fallen trees, will be very welcome," he said.
When Trentham re-opens for play, it could be initially confined to 10 holes.

It's a similar scenario at other district clubs.
"Simply devastating" was how Di Brennan (club secretary) summed up the situation at Lancefield, where working bees have made some inroads to the damage.

Kyneton Golf Course had plenty of trees – there's fewer now.
Kyneton club secretary Jenny Kerr said 20 dedicated volunteers had made a big impact with the help of an excavator on Saturday morning.
"There were four major trees across fairways … they've been cleared, but there's many damaged trees still requiring attention.
"We also lost some of the ones that seemed to get in the way of errant shots," Kerr quipped, on the way to play a social Ambrose round yesterday morning.
Kyneton is pleased to be open for play again so quickly.
"A big thank you must go to all members who have helped," she said.
Woodend was also hit hard, with Saturday's scheduled competition cancelled. Working bees have made good progress towards making the course playable.
Some of the damaged trees, whether ornamental of native, had been in their prime.

Golf has been hit hard by COVID; with normal revenue sources diminished. Now the freakish wind storms last week have been a further blow.