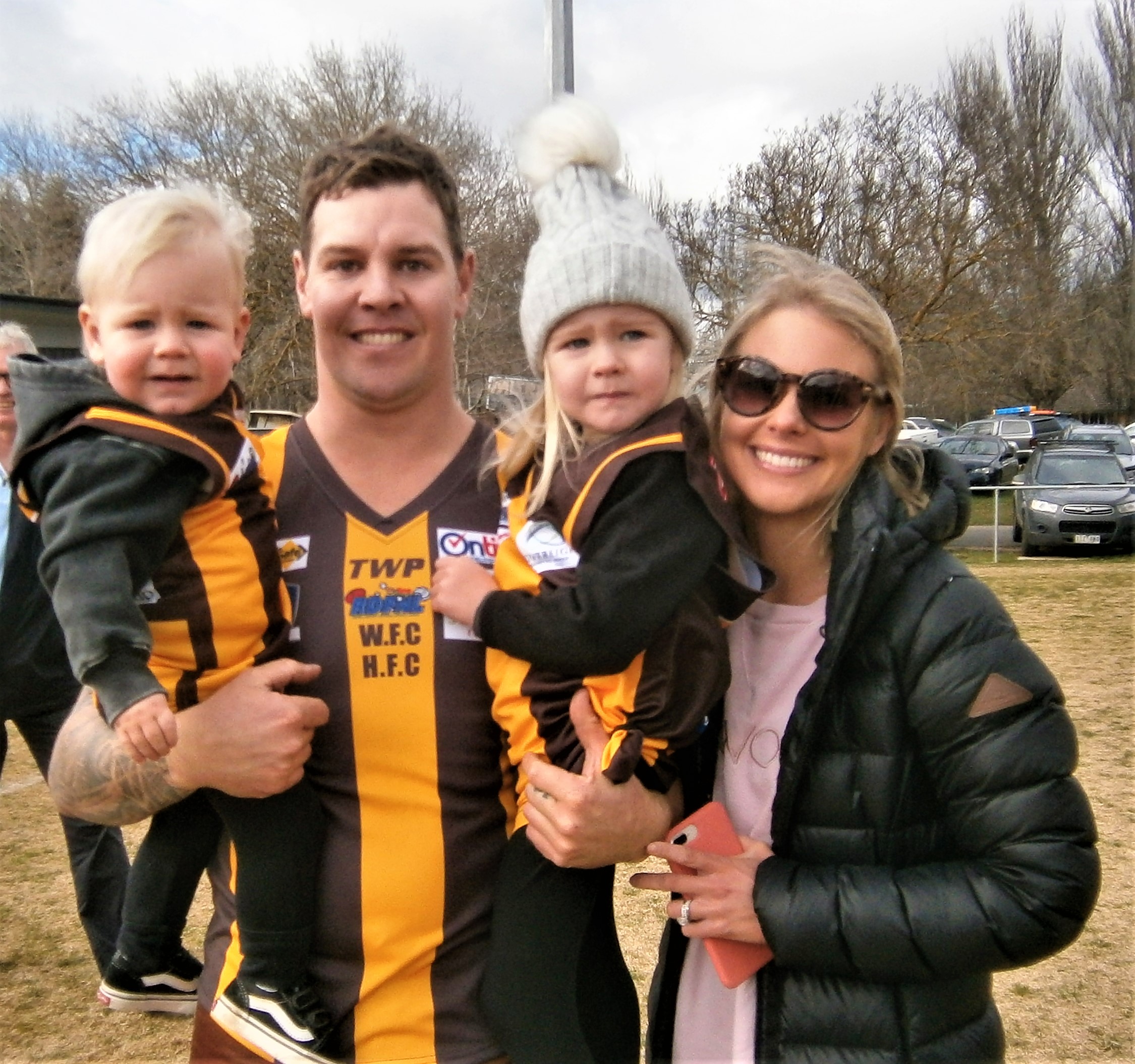 In an era where loyalty in local football has changed significantly over the years, Jesse Sheppard chalked up his 200th senior game with Woodend-Hesket on Saturday.
He is pictured with proud wife Bianca and children Ayla, aged 3, and Aston 1, immediately after coming onto Gilbert Gordon Oval through a large banner marking his milestone game.

The Woodend-Hesket reserves and senior players lined up before the match against Lancefield as Hawks' supporters applauded 'Shep'. He was also chaired from the ground with both senior teams applauding at the end of the match.
Because of COVID regulations, the special gala celebration night to mark 'Shep' becoming only the fifth Hawk to reach 200 senior games since Woodend and Hesket clubs amalgamated in 1978 could not be held.

Born in Gisborne, 'Shep' grew up in Woodend and played with the Woodend junior teams for some years before making his senior debut in 2005.
As a 17-year-old he was poised to play in the Woodend side that won the 2007 premiership, but shattered his ankle in the last home and away game of the season.
'Shep' has played largely as a defender, and his strong, courageous play has long been respected by teammates and opponents alike.

Bianca, who grew up in Macedon, said football and motorcycling had been his recreational pursuits and he had really enjoyed his time with Woodend-Hesket, a club where he was senior captain from 2011 – 2014.
A carpenter by trade (operating Timber Finish Carpentry in Woodend), Shep is pleased to have been a one-club player.
"He's loyal and humble, and he's truly a great club person," Hawks' president Paul Podbury said.