Kyneton footballers faced a daunting task against strong Sandhurst opposition at the Showgrounds on Saturday.
With plenty of players on the injury list spread across the Tigers' teams, the senior match may have been expected to be very one-sided.
It was anything but that, as the Kyneton contingent reinforced by the inclusion of several lads from the Under 18s, showed heaps of tenacity and willingness to compete against the unbeaten ladder leaders.

It was a tough, seesawing game, and the Tigers had chances to be close but inaccurate kicking for goal proved costly.
Sandhurst's class prevailed to the tune of 14.16 to 7.12 (see match details for goals and best).
The day began with the local U18s absolutely depleted through injuries, and losing four players to senior ranks.
With 17 to start the match soon reduced to 16, the Tigers were outsized and outmatched.
They can be proud of their efforts despite the 116-point margin.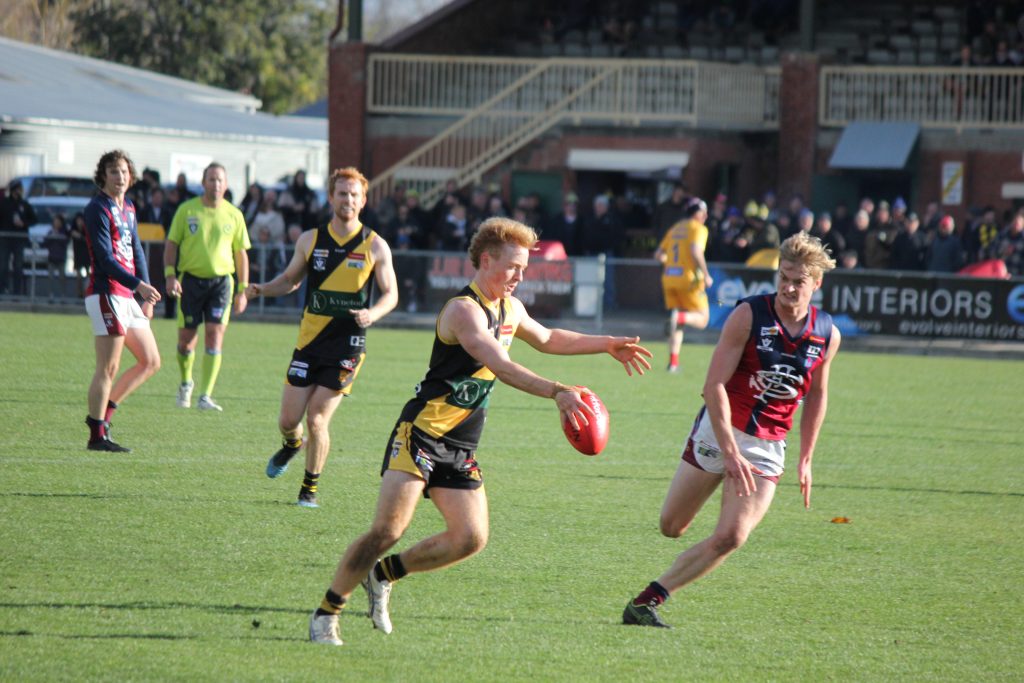 The Reserves game was well fought out, but the visitors were simply too strong in the final analysis with a 73-point victory.
Overall a day of football which showed good future signs for the club.
Kyneton teams face another tough task at Strathfieldsaye this weekend.
NETBALL ENTHUSIASM
With Kyneton coach Di Oakley fresh out of lockdown in Melbourne, the netball girls played with plenty of enthusiasm across the five matches, but class prevailed.
The A-graders went down 49-28 (details unavailable) and across the board the Sandhurst lineups had more depth.
Kyneton's A-Reserve lineup tried hard and secured some fine turnovers.
Jess Seddon was welcomed back and took out the incentive award for her excellent defence and determination despite a 69-24 scoreline.
The Tigers' B-graders welcomed back metro players and coaches and rattled the visitors with some fine play in the first quarter.
Returning captain Teghan Butler showed her midcourt versatility, and with the talented Ashleigh O'Gara, shared the incentive awards for outstanding efforts. Score – 51 to 16.
A polished and consistent Sandhurst illustrated why they head the B Reserve ladder with a 83-12 victory.
Nevertheless the Tigers were thrilled to be on the court and have coach Di back. Darby Kelly's relentless earned the incentive award.

Under 17s: Kyneton may have gone down 42-16 but there were definite positives. Inclusion Emily slotted in well at both ends of the court, and with Charli impressed in leadership, skill and individual improvement.
WOMEN'S BIG WIN

The Kyneton senior women's football side opened their match with three quick goals against a tough North Bendigo contingent.
The second term was a stalemate, but the Kyneton girls rallied in the second half to add more goals.
Ursi Van Dyke, Belinda Hately and Heidi Erasmus starred for the Tigers, and Shannon Prendergast excellent up forward to kick three goals.
Kyneton 6.15 (51) d North Bendigo 0.2 (2) in a real confidence booster.