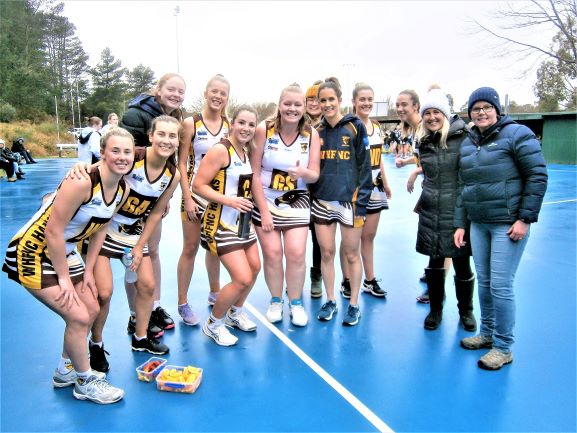 No wonder these Woodend-Hesket A-grade netballers were looking happy on Saturday ….. they had just beaten Wallan by eight goals in a crucial match, and also learnt there is going to be a modern strategically placed netball court at Gilbert Gordon Reserve.

"To say we are all excited is an understatement," stated Anne-Louise Lindner, one of the club's senior coaches, referring to last week's decision by Macedon Ranges Shire Council to find the funding for a new court to replace the problem riddled one so far from other facilities.

"Our players are super excited … it's important for our juniors to have a clear pathway to senior ranks. Our court is the only one that gets covered with black ice in winter," netball director Kellie Duff said.

The coaches emphasised the real partnership situation which has developed between senior and junior netball at Woodend in recent years, and the strong support from the football section.
They see Gilbert Gordon Reserve becoming one of the premier venues for football and netball in the Riddell League.

Carly Arkinstall, coach of the A and B-grade netball sides, is also delighted with the new court guarantee, and the progress being made in seeing local girls reach their potential.

"It's important for juniors to progress to senior ranks," Duff said.
Firmly convinced that young players develop quicker with exposure to a higher brand of netball, she pointed out the way players from the unbeaten 19 and Under side are capable of being valuable contributors in A-grade.
It's not unusual for some of the talented teenage players to play two matches in the one day.

"They (young players) develop their skills much faster this way," said Duff, who coaches the 19&U girls.

Netball Victoria is very supportive of the new court going ahead, and the provision of eight teams across seniors and juniors at Woodend.
Visiting clubs are sometimes not amused about having to play on the court "way up in the corner" with toilets quite a distance away.
The proposed new court will be sited near the southern edge of football ground, close to the social club, where the small grandstand stood for some years.

The win over Wallan was one of the club's best A-grade performance in recent years. The Hawks are no longer a "chopping block" in netball, and have real prospects of playing in A-grade finals this season.
The fast moving and skilful young side gave highly rated Wallan a start, then produced a brilliant second term to lead at half time by five goals, eventually winning 51-43.
Goalshooter Deanne Tuppen, formerly with Seymour, has given the Hawks more scoring power in the top grade this season.