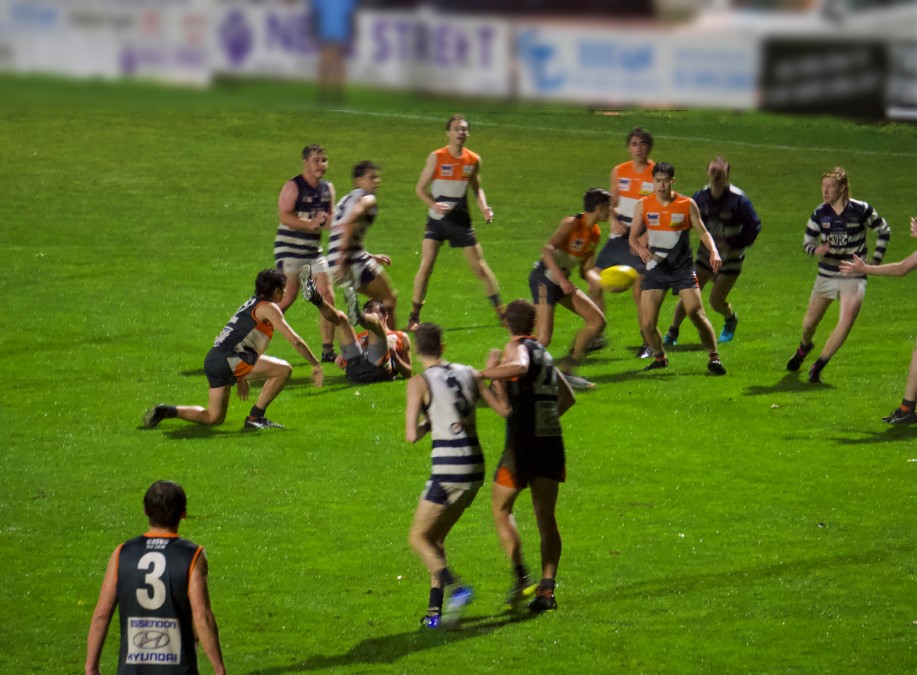 It may have been raining, but this did not dampen the enthusiasm of the Gisborne Giants Under 19.5 football team that played its first-ever home game on Friday night.

Gisborne Giants Football Netball Club is proud to be fielding its first senior team as it continues to grow and strengthen both football and netball teams.

Proudly established in 2016 with only a few junior football sides, the club has grown to the stage where this season it has a record seven football teams (U9s through to U19.5s) and seven junior netball teams.

With more than 220 members, plus volunteers and family members, the Giants' club is positioning itself for the future with an ever-expanding population in the area.

"From little things big things grow" sums up this very well-organised sporting club.

Under 19.5 football coach is Mark McKenzie, one of the foundation members of the Giants.

Before the first round this season, the Riddell District Football Netball League sent the Giants a congratulatory message on finally having a senior team in the league.

"But hopefully, in the future, they will have a full complement of senior teams," the league spokesperson said.

Comparisons are being drawn to the time when Sunbury had just one senior football club, only to see the population explosion in that area lead to several different clubs being formed, and scores of junior and senior teams filling a demand now days.

At Gardiner Reserve on Friday night the Giants U19.5 team welcomed the top of the ladder Macedon Cats.

"This inaugural U19.5 Giants team had its first training run in December with only a handful of players attending," senior football coordinator Anton Bant explained.

"From that first training session to our first match in early April we built a team with 25 confirmed player registrations.

"As a new and expanding club we are extremely proud of this great result," Bant said.

Describing the young players as an extremely tight group, he said while there has yet to be on field success, the Giants are very confident that elusive first win is not too far away.

There is also confidence the Giants have the makings of a successful team and senior club in the years to come.

There was a lead-up selection dinner for the U19.5 players earlier in the week.

The match began well for the Giants at Gardiner Reserve, with goals to Nathan Hynes and Aiden McCarthy in the first quarter.

As the match progressed, the well drilled and more experienced Macedon Cats then showed their class, with the final score 9.11 (65) to 2.4 (16) in their favour.

The Giants really appreciate so much support for their first home match.

The Under 19.5 competition comprises six teams, Macedon, Wallan, Romsey, Woodend-Hesket, Riddell and Gisborne Giants.