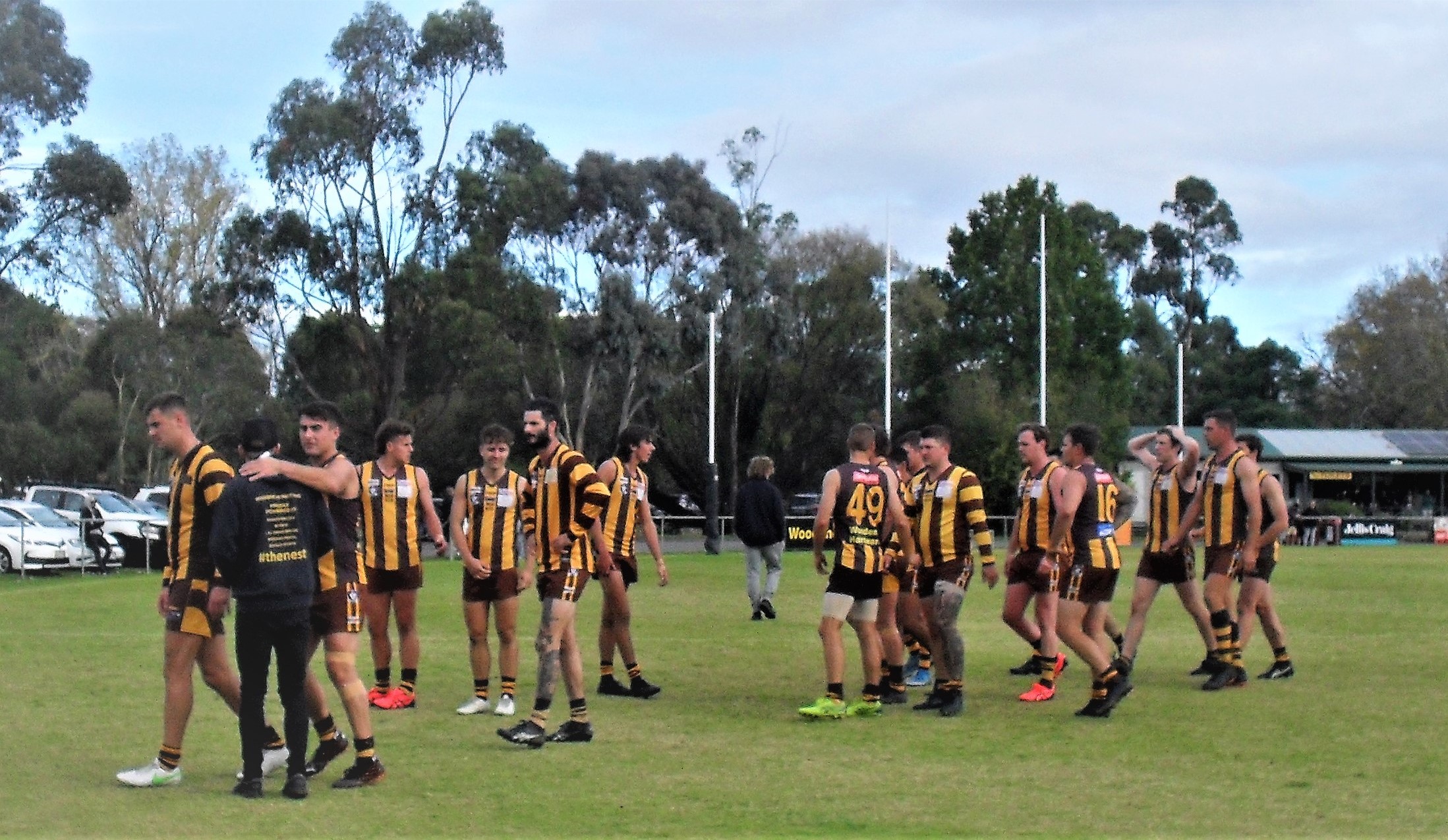 Looking down the barrel of defeat at half-time, Woodend-Hesket footballers rallied in the third quarter then survived a tense last term to beat down-the-ladder Melton Centrals by a solitary point on Saturday.

Hawks' supporters have become used to tight finishes at this season, including a tie against flag-favourite Wallan, and a two-point defeat at Riddell.

There should be some respite this Saturday against Western Rams.

It was a different story for a rejuvenated Romsey, as the Redbacks put in a huge effort at Diggers Rest only to go down by a point.

Riddell's three-match unbeaten run came to a spasmodic end, with Wallan showing no mercy in as they shut down the Bombers to win by 53 points.

In the remaining match, Lancefield built on previous promising efforts to demolish Western Rams by 77 points.

With four rounds completed, and the detrimental influence of COVID hopefully diminishing, a very interesting season lies ahead on what has been shown so far.

Heavy rain overnight cleared to enabled Saturday's fourth round of matches to be played in good conditions.

If any Woodend-Hesket players were lulled into a feeling of complacency due to Melton Centrals being thrashed by Wallan seven days earlier, it soon became apparent the visitors had come to play, and the Hawks found themselves under pressure in the first quarter.

Hawks' coach Josh Pound appealed for a vast improvement, but the second quarter saw the Hawks held goal-less with Centrals holding a 21-point half-time lead.

Positional moves and better use of the ball by the Hawks in the third term set the stage for a close finish, and in retrospect, this was a game the Hawks had to win to prove they are finals contenders.

Tom Gawthrop's four goals made a big difference in the end.

Woodend-Hesket 2.2, 2.6, 7.9, 9.15 (69) d Melton Centrals 4.2, 6.5, 7.6, 10.8 (68).
Goals (WH) – T. Gawthrop 4, J. Pound 2, J. Arceri, A. Rae, C. Dumper.
Best – M. Stapleton, T. Duff-Tytler, T. Chapman, Pound, L. Randall-Hewitt, Gawthrop.

Romsey players heeded coach Paul Kennedy's message that improvement was needed, and the match at Diggers Rest was close throughout, with scores tied at the last change.

Diggers Rest remains unbeaten, with Romsey set to regroup after a bye this weekend, knowing their best can push the top sides.

Diggers Rest 3.0, 5.4, 10.5, 14.7 (91) d Romsey 4.1, 6.5, 10.5, 14.6 (90).
Goals (R) – A. Paterson, M. Burkett, J. Jedwab, W. Di Pietro, C. Pertzel 2, L. Muir, D. Walsh, B. Way, D. Paterson.
Best – Pertzel, N. Hoy, Burkett, Muir, N. Tessari, A. Smith.

Riddell's bid to remain unbeaten fizzled in the first half as Wallan surged to a 33-point lead, with the Bombers unable to break through a strong defence.

Corey Grindlay starred with six goals to be best afield, and Matt Perri and Sean Morris also contributed three goals each as the Bombers failed to have a winning quarter.

Wallan 15.11 (101) d Riddell 7.6 (48).
Tireless ruckman Josh Grabham, Mick Edwards, Bryce Williamson, Michael Treweek, Ben Sonogan and Lucas Shaw were the Bombers' best.

At home, Lancefield gained plenty of confidence with a 15.10 (100) to 3.5 (23) victory over Western Rams.

Best for the Tigers in their first win for the season were Michael Conlon, Jay Russell (four goals), Alex Simpson, Harrison Taylor, Lukas Fellows and Brendan Crowhurst.

Reserves: Lancefield 13.10 d Western Rams 3.8, Wallan 6.11 d Riddell 6.5, Woodend-Hesket 5.8 d Melton Centrals 3.10, Romsey forfeited to Diggers Rest with COVID hitting the Redbacks' list hard.
THIS SATURDAY
Lancefield v Wallan.
Diggers Rest v Riddell.
Western Rams v Woodend-Hesket.
Melton Centrals v Macedon.
Romsey a bye.