After trailing by five goals at half-time and seemingly headed for defeat, a gallant Woodend-Hesket kicked six unanswered second half goals on Saturday to overhaul Diggers Rest, only to go down when a late goal put the visitors back in front just before siren time.

It was high drama, desperation football in good conditions at Gilbert Gordon Oval, with both these sides having become used to very close finishes this season.

Hawks' coach Josh Pound, who could not play due to a calf injury, was philosophical after the match.

"While It's another frustrating defeat, our second half shows we've turned the corner.

"There's no doubt we have a side capable of matching the others (finals contenders) if we produce our best," Pound said.

He admitted the Hawks had looked "pretty shaky" when Diggers Rest took control with five goals to two points in the second term.

Home side supporters came to life in the third quarter as the Hawks turned the game around with five straight goals, with the visitors battling to score.

An early last-term goal put the Hawks in front, and they seemed destined to hang on with both defences on top.

A painful leg injury to Diggers' forward Deven Costigan resulted in play being held up for nearly 10 minutes while he received medical attention; the drama increased as a couple of shots for goal missed narrowly and tired players on both sides pushed themselves to the limit.

Hawks' captain Alistair Rae was off with a shoulder injury for the last 15 minutes.

Finally, the stalemate was broken when star Mitch Jensen – well held by Cody Bowen for much of the match – snapped under pressure and the ball bounced through an open goal to put the visitors back in front.

Pound said Dean Bramley and Jack Arceri were excellent all match; and Tom Gawthrop did well up forward.
The Hawks look forward to playing Macedon at Tony Clarke Oval this Saturday in a big game for both sides.

Diggers Rest has a strong list, and should be there come finals time.

Diggers Rest 3.3, 7.6, 7.10, 8.13 (61) d Woodend-Hesket 2.5, 2.7, 7.7, 8.8 (56).
Goals (DR) – D. Costigan 2, M. Day, J. Wallace, W. Fellows, M. Calvaresi, C. Lawton, M. Jensen.
Best – A. Tyquin, L. Delaney, Lawton, J, Rowan, M. Krul, T. Schwarzenberg.
Goals (WH) – T. Gawthrop 4, E. Gove 2, J. Arceri, D. Bramley.
Best – Bramley, Gawthrop, Arceri, A. Rae, C. Bowen, R. Ferguson.
Romsey does well
In the other key game, Romsey was out of the blocks early with four goals to nil against Macedon.

The Redbacks has tall ruckman Nathan Hoy in top form, and were able to hold on to eventually win by two goals to stay in the finals hunt.

Romsey 4.5, 7.6, 9.10, 12.10 (82) d Macedon 0.2, 3.6, 6.7, 10.10 (70).
Goals (R) – N. Hoy 3, M. Burkett, J. Jedwab 2, D. Paterson, R. Pertzel, N. Tessari, M. Tinkler, C. Sankey.
Best – Hoy, N.Blair, Burkett, Tinkler, A. Paterson, A. Storey.
Goals (M) – M. Dick, D. Phyland, P. Doyle, J. Wright 2, A. Collins, D. Morrice.
Best – J. Wilton, J. Bullus, Dick, Collins, Z. Baggs, J. Blake.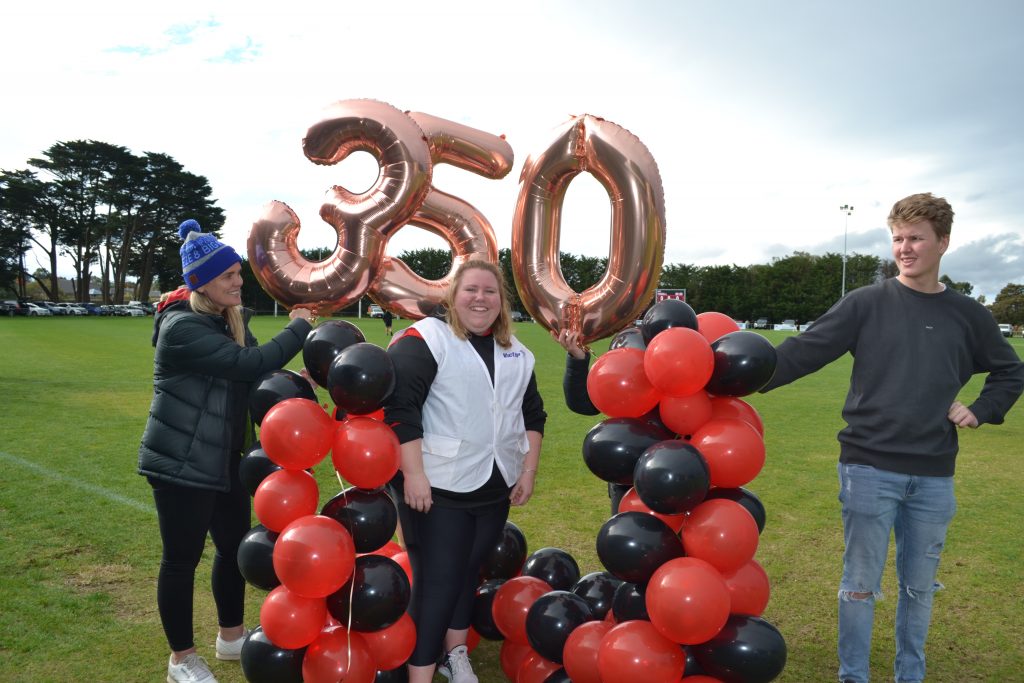 Riddell appreciated the chance to have a confidence and percentage-boosting victory by 120 points against Lancefield.

After a tight first quarter, the second-placed Bombers took control and expect to have a big margin against Western Rams on Saturday.

Riddell 25.15 (165) d Lancefield 7.3 (45).
Goals (R) – T. Alkemade, B. Sonogan 4, M. Edwards 3, L. Berry, O.Messoudi 2, R. Paterson, N. Bridgland, J. Horton.
Best – Sonogan, D. Tarczon, Alkemade, L. Shaw, Paterson, Horton.
Goals (L) – J. Russell 3, M. Bowden, L. Rae, A, Simpson, H. Taylor.
Best – Russell, R. Schembi, T. Anderson, A. Simpson, M. Conlon, T. Mitchell.

Unbeaten Wallan scored 31.20 (206) to demolish Western Rams 4.8 (32), with dangerous forwards Matt Perri and Corey Grindlay each kicking eight goals.

Ladder: Wallan 22, Riddell 20, Diggers Rest 20, Woodend-Hesket 14, Macedon 12, Melton Centrals 8, Lancefield 8, Western Rams 4.
Reserves: Macedon 5.10 d Rosey 5.2, Wallan 28.18 d Rams 0.0, Riddell 9.10 d Lancefield 5.6, Diggers Rest 8.4 d Woodend-Hesket 2.3.
Under 19.5: Romsey 13.6 d Macedon 7.6, Riddell 10.7 d Gisborne Giants 4.5, Wallan 7.13 d Woodend-Hesket 8.6.